Aromatherapy for Skin: The Science Behind Essential Oils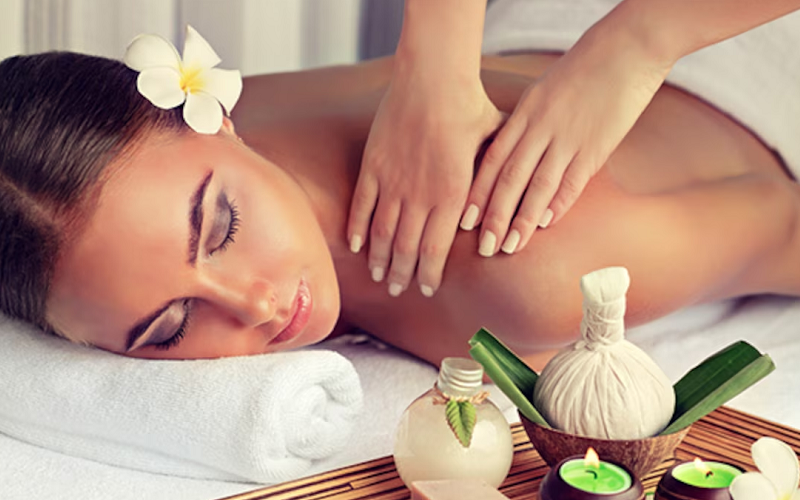 Have you ever walked through a lavender field or sniffed a freshly-cut sprig of rosemary and felt a sense of calm wash over you? Beyond their enchanting aromas, essential oils have been celebrated for centuries for their beneficial effects on the skin. Aromatherapy, the therapeutic use of essential oils, has gained recognition in recent years as a natural and holistic approach to skincare.
Introduction to Essential Oils for Skincare
Before we dive into the world of essential oils, let's first understand what aromatherapy is. Aromatherapy is a holistic healing treatment that uses natural plant extracts, mainly in the form of aromatic essential oils, to promote health and well-being. The term "aromatherapy" is derived from two words: "aroma," which means scent, and "therapy," which implies healing. It aims to unify physiological, psychological, and spiritual processes to enhance an individual's innate healing process.
Now that we have defined aromatherapy, it is essential to acknowledge its roots. Essential oils have been used for thousands of years across various cultures for medicinal and health purposes. The ancient Egyptians are often credited with being the pioneers in utilizing essential oils for skincare.
They used these oils in their daily skincare routines and in the embalming process. Meanwhile, ancient Chinese and Indian cultures incorporated essential oils into traditional medicines. For example, Ayurveda, an ancient Indian holistic healing system, has been using essential oils to improve skin health for over 3,000 years. The Greeks and Romans also recognized the benefits of essential oils and used them for skincare and relaxation.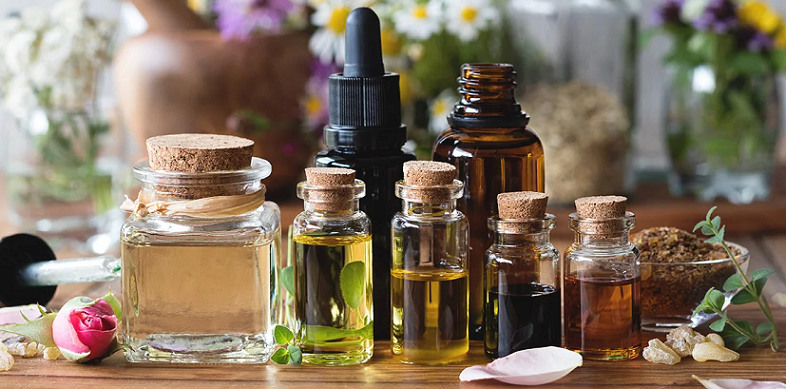 Understanding Essential Oils
As we journey into the realm of aromatherapy, it's important to lay the foundation by understanding what essential oils are. These oils are at the heart of aromatherapy and have been cherished for centuries for their diverse benefits.
Definition of Essential Oils
Essential oils are highly concentrated liquids that contain volatile aroma compounds from plants. The word "essential" indicates that the oil contains the "essence of" the plant's fragrance, which means the specific aroma or characteristic smell of the plant. Unlike what the term "oil" usually refers to, essential oils are not necessarily oily to the touch; they can range from being watery to a more viscous consistency.
Extraction Methods
The essence of the plants captured in essential oils can be extracted in several ways. It is important to note that the extraction method can significantly impact the quality of the essential oil [1].
Steam Distillation
This is one of the most common and traditional methods of extracting essential oils. In this process, steam is passed through plant material, which causes the essential oil to evaporate. The steam and evaporated oil are then condensed back into a liquid, and the oil is separated.
Cold Pressing
Cold pressing is primarily used for citrus essential oils like lemon or orange. This method involves mechanically pressing the oil from the plant material, usually the rind or peel. It doesn't involve heat, which is why it's called "cold" pressing.
Solvent Extraction
This method is used for plants that are too delicate for the steam distillation process. A solvent, like alcohol, is used to extract the essential oils. Once the extraction process is complete, the solvent is removed, leaving behind the essential oil. However, this method might leave trace amounts of solvent in the final product.
Common Essential Oils Used in Aromatherapy
Now that we have explored what essential oils are and how they are extracted, let's look at some common essential oils that are renowned for their benefits in skincare.
Lavender
Lavender essential oil is one of the most popular and versatile essential oils used in aromatherapy. It is prized for its relaxing effects on the body and its ability to relieve stress. For the skin, lavender has been known to reduce redness, blotchy patches, and acne scarring.
Tea Tree
Tea tree oil is widely celebrated for its powerful antiseptic properties and ability to treat wounds. In skincare, it's particularly touted for its ability to fight acne, reduce inflammation, and alleviate dryness.
Frankincense
Frankincense essential oil is often used for its calming and earthy aroma. It's believed to benefit the skin by reducing the appearance of wrinkles, age spots, and even scars.
Rosemary
Rosemary oil is not just a popular cooking ingredient; it's also a favorite in skincare. It has properties that can rejuvenate the skin, reduce puffiness, and increase the skin's firmness.
Geranium
Geranium essential oil is known for its floral scent and is often used in perfumes. In skincare, it's used to promote the appearance of clear skin and help reduce the signs of aging.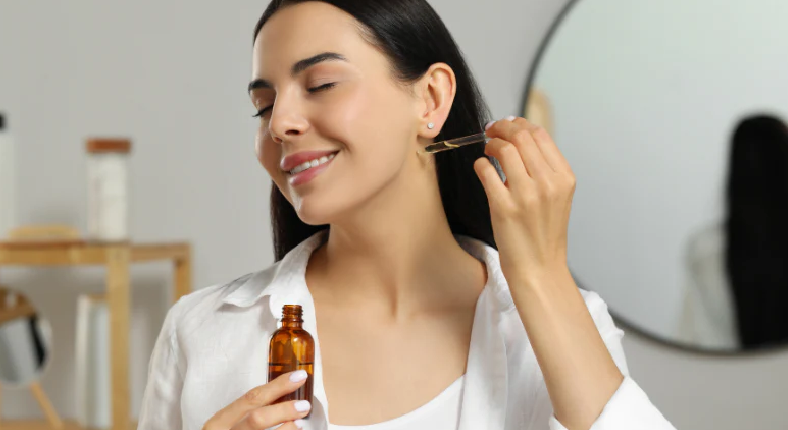 The Science Behind Essential Oils and Skin
Now that we have a foundational understanding of what essential oils are, let's get into the science behind how these natural extracts interact with our skin. The effectiveness of essential oils in skincare is not just a product of ancient wisdom; modern science has also started to shed light on the myriad ways these potent oils can benefit the skin.
Essential Oils and the Skin Barrier
Our skin acts as a protective barrier, shielding us from environmental pollutants, pathogens, and dehydration. Essential oils can play a significant role in maintaining and improving the health of the skin barrier.
Effects on the Stratum Corneum
The outermost layer of the skin, known as the stratum corneum, is crucial in protecting underlying tissue from infection, dehydration, and chemicals. Certain essential oils can help maintain the integrity of the stratum corneum by providing hydration and increasing skin elasticity. For instance, jojoba oil is known to be similar in composition to the skin's natural oils, and can thus help in maintaining the outer layer and preventing dryness [2].
Role in Hydration
Essential oils like rose and sandalwood are known to boost the skin's ability to retain moisture. They provide the skin with essential fatty acids, which can help in cell regeneration and maintaining skin elasticity. Keeping the skin hydrated is crucial for its health and can also give it a plump and youthful appearance.
Anti-Inflammatory Properties
Inflammation is often a skin's response to infection or irritation. However, chronic inflammation can lead to various skin disorders such as acne, psoriasis, or eczema. Some essential oils are rich in anti-inflammatory properties [3].
Reducing Redness and Irritation
Chamomile and rose essential oils are known for their exceptional anti-inflammatory properties that can help in reducing skin redness and irritation. They contain compounds that work in a similar way to anti-inflammatory drugs and can be particularly beneficial for sensitive skin types.
Easing Skin Conditions like Eczema and Psoriasis
Eczema and psoriasis are characterized by patches of inflamed, itchy, and red skin. Essential oils like tea tree and lavender have shown promise in soothing the symptoms associated with these conditions due to their anti-inflammatory and antimicrobial properties.
Antimicrobial Effects
The antimicrobial action of essential oils is another attribute that makes them beneficial for skin health [4].
Fighting Bacterial Infections
Some essential oils, such as tea tree and eucalyptus, are known for their potent antimicrobial properties. They can be effective in not only preventing bacterial infections on the skin but also promoting the healing of cuts and wounds.
Role in Acne Management
Oils like clary sage and juniper berry are popular for their efficacy in combating acne. Their antimicrobial properties make them effective in fighting the bacteria that cause acne. Moreover, they can regulate the production of sebum, preventing clogged pores.
Antioxidant Properties
Exposure to pollutants and ultraviolet radiation can lead to the formation of free radicals, which can cause oxidative stress and prematurely age the skin [5].
Counteracting Free Radicals
Antioxidants in essential oils such as rosemary and thyme can neutralize free radicals, protecting the skin from damage. This can help in maintaining a youthful complexion and preventing wrinkles.
Promoting Skin Regeneration and Anti-Aging
Frankincense and carrot seed oils are known for promoting cell regeneration. They not only help in the formation of new skin cells but also in getting rid of old or dead cells. This makes them particularly useful in anti-aging skincare routines.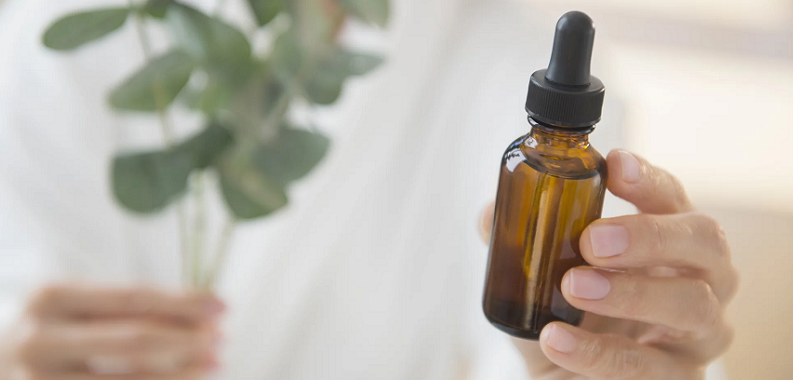 Integrating Essential Oils into a Skincare Routine
With a firm grasp on the science behind essential oils and how they interact with our skin, it's time to explore how to integrate these potent botanical extracts into a daily skincare routine. Whether you're aiming for hydration, combating acne, or seeking anti-aging effects, essential oils can be a valuable addition to your regimen.
Selecting the Right Essential Oils
Choosing the appropriate essential oils for your skincare needs is the first step. It's crucial to recognize that every essential oil has its unique properties, and what works for one person might not work for another.
Understand Your Skin Type
Knowing your skin type – whether it's dry, oily, combination, sensitive, or normal – is vital. For example, if you have dry skin, oils like sandalwood and rose can help hydrate your skin, while tea tree and clary sage are more suitable for oily and acne-prone skin.
Identify Your Skin Concerns
Beyond your skin type, pinpoint specific concerns you want to address, such as wrinkles, hyperpigmentation, or inflammation. Tailor your choice of essential oils to tackle these issues. For instance, frankincense is excellent for anti-aging, while chamomile can calm irritated skin.
The Importance of Dilution
Essential oils are highly concentrated and can be harsh on the skin if used undiluted. Therefore, it is imperative to dilute them with a carrier oil.
Choosing a Carrier Oil
Select a carrier oil that complements your skin type and the essential oil you're using. Some popular carrier oils include jojoba oil, coconut oil, almond oil, and grapeseed oil.
Dilution Ratios
A general rule of thumb is to maintain a 1-2% dilution for facial skincare, which translates to about 1-2 drops of essential oil per teaspoon of carrier oil. However, always consult the instructions on the label and consider patch testing before using it on your face.
Incorporation into Skincare Steps
Now that you have selected your essential oils and understand the importance of dilution, let's explore how to incorporate them into different skincare steps.
Cleansing
Adding a drop of essential oil to your regular cleanser can offer added benefits. For instance, a drop of tea tree oil can enhance an acne-fighting cleanser.
Toning
Create a natural toner by mixing a drop of essential oil with witch hazel or rose water. Lavender or rose essential oil can be excellent choices for a calming and hydrating toner.
Moisturizing
Enhance your moisturizer by adding a couple of drops of essential oil. For instance, add geranium or frankincense oil to your night cream for additional anti-aging benefits.
Facial Masks
Elevate your facial mask by adding essential oils. For example, mix a drop of chamomile oil into a soothing aloe vera gel mask for an extra calming effect.
Spot Treatment
For issues like acne or dark spots, you can use essential oils as a spot treatment. Dilute tea tree or lemon essential oil and apply it directly to the affected area.
Precautions and Sensitivities
While essential oils can be beneficial, it's vital to be aware of potential sensitivities and allergies. Always conduct a patch test before trying a new essential oil and avoid using oils that are known phototoxic, such as citrus oils, before sun exposure.
References

[1] 8 Essential Oils With Serious Skin Benefits
[2] 20+ Essential Oils to Promote Healthy, Glowing Skin
[3] What to know about essential oils for skin conditions
[4] Commercial Essential Oils as Potential Antimicrobials to Treat Skin Diseases
[5] 11 Essential Oils: Their Benefits and How To Use Them