Sweat it Out: How Saunas Can Revitalize Your Skin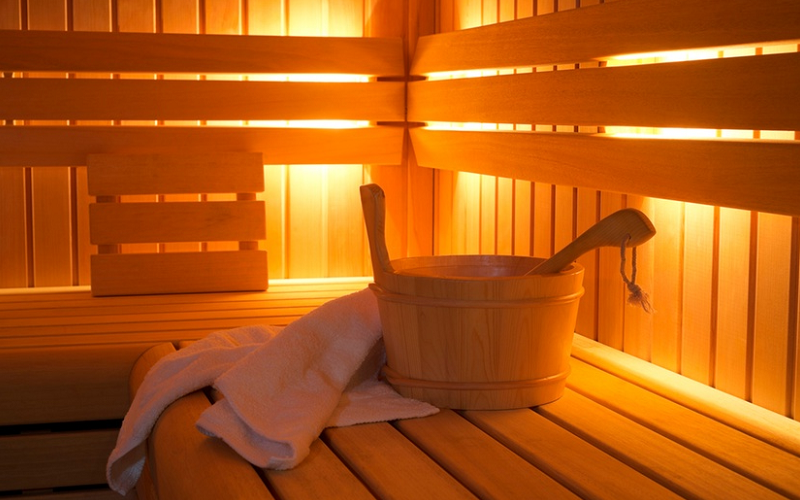 For centuries, saunas have been celebrated across different cultures for their relaxation and wellness benefits. Originating in the frosty landscapes of Finland, saunas have transcended borders and evolved into various types including traditional wood-burning saunas, infrared saunas, and steam rooms. But have you ever wondered how the gentle embrace of sauna heat can work wonders for your skin? Here we look into the science and magic behind the rejuvenating powers of saunas and guides you through the pathway to radiant skin.
Introduction to Saunas and Skin Health
Imagine stepping into a warm embrace that melts away your stress and leaves your skin glowing with health. This is not a fantasy, but the reality of what a sauna can do for you. From ancient Finnish traditions to modern wellness centers, saunas have proven to be more than just a luxury.
Brief History of Saunas
Saunas have a rich history that dates back over 2000 years. Originating in Finland, the traditional sauna was initially used as a place for cleansing and socializing. The Finns would gather in a small, wooden room heated with a stove and stones, and indulge in the warmth. They believed that the sauna had a spiritual essence, and considered it as a place for mental and physical purification. Over the years, the popularity of saunas spread across Europe and eventually, the world.
Overview of Sauna Types
As the sauna culture traversed borders, it evolved to encompass various forms. Traditional Finnish saunas, known for their dry heat, still retain their charm. However, infrared saunas, which use infrared light to heat the body directly, have gained popularity due to their lower temperature and perceived health benefits. Steam rooms, with high humidity and moist heat, are yet another variant that many wellness enthusiasts swear by. Each type of sauna offers a unique experience and benefits.
Introducing the Connection Between Saunas and Skin Health
Amidst the plethora of health benefits, one aspect of saunas that often goes unnoticed is their remarkable effect on skin health. The combination of heat, sweating, and increased circulation can work wonders on your complexion, making it an excellent addition to your skincare routine.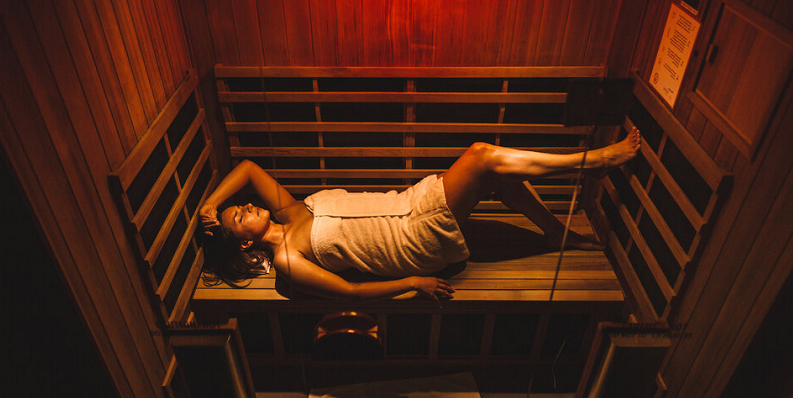 The Science Behind Saunas
Before we dive into the specifics of how saunas can revitalize your skin, it's essential to understand the science behind saunas and how they affect your body.
Definition of Sauna
A sauna is a small room or building designed to induce sweating and provide heat therapy. The temperature inside a sauna ranges from 150°F to 195°F (65°C to 90°C), and this can be achieved through various means such as heated stones, electric heaters, or infrared lights.
Temperature and Humidity Levels
In traditional saunas, the heat is usually dry, with humidity levels ranging between 5-30%. In contrast, steam rooms have a much higher humidity level, often near 100%, with temperatures around 110°F to 120°F (43°C to 49°C). Infrared saunas use a lower temperature range of 120°F to 140°F (49°C to 60°C), and focus on heating the body directly using infrared rays, instead of heating the air.
How the Body Reacts to Sauna Heat
When you step into a sauna, the heat exposure causes your skin temperature to rise, and blood vessels to dilate. This dilation, known as vasodilation, increases blood flow to the skin. Your body reacts to the heat by sweating, as it tries to maintain a normal body temperature. Sweating is a crucial aspect of the sauna experience, as it's through this process that many of the benefits for your skin are realized [1].
The Role of Sweating in Detoxification
One of the primary roles of sweating in a sauna is detoxification. Your sweat is composed of water, salt, and other substances, including toxins. As you sweat, these toxins are expelled through the skin, helping to purify your body. This is particularly beneficial for the skin, as the removal of toxins can lead to a clearer complexion and reduce the likelihood of acne and other skin problems.
The Impact of Sauna on Blood Circulation
As mentioned earlier, the heat in a sauna causes blood vessels in the skin to dilate. This increases blood flow, ensuring that your skin receives more oxygen and nutrients. Improved blood circulation is essential for the health of your skin. It not only helps to flush out waste products from the skin but also contributes to a more even skin tone and a healthier complexion [2].
Studies Supporting the Benefits of Sauna
Several scientific studies have shown the positive effects of regular sauna use on cardiovascular health, mental health, and more. Some studies specifically focus on skin health. For instance, a study published in the Journal of Cosmetic and Laser Therapy in 2006 found that regular sauna use can improve skin moisture and elasticity. Another study from The Journal of Science and Healing in 2011 suggests that sauna sessions can be an effective method for removing toxins from the body.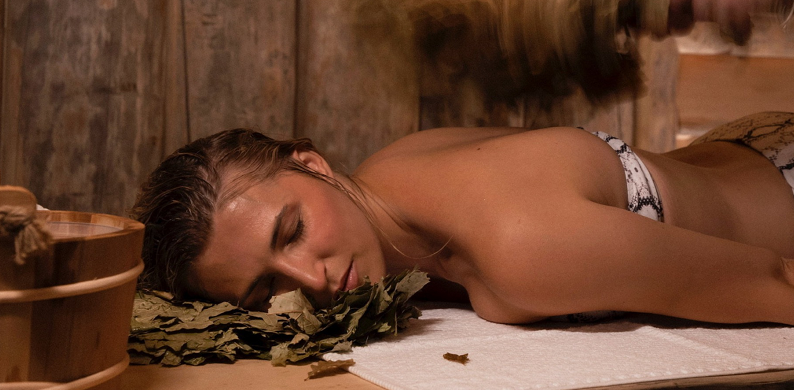 Sauna's Benefits for Skin Health
Now that we've explored the science behind saunas, let's dive into the specific ways they can benefit your skin. From deep cleansing through sweating to boosting collagen production, saunas are a treasure trove of skin revitalization.
Deep Cleansing Through Sweating
Explanation of How Sweating Cleanses Pores
Sweating is your body's natural way of cooling down and eliminating toxins. When you're in a sauna, the heat induces profuse sweating. This sweat, in turn, helps to flush out impurities and debris that might be lodged in your pores. By clearing your pores, sweating aids in reducing the occurrence of acne and blackheads, leading to cleaner and clearer skin.
The Elimination of Toxins and Its Effect on Skin Clarity
As previously mentioned, sweat isn't just water; it also contains salts and toxins. When you sweat in a sauna, you're literally sweating out some of the toxins that can contribute to skin problems. The reduction of toxins, coupled with cleaner pores, often leads to improved skin clarity. This is especially beneficial for individuals dealing with acne, as the reduction in pore-clogging material can result in fewer breakouts [3].
Improved Blood Circulation
The Link Between Blood Flow and Skin Vitality
Healthy blood flow is vital for your skin's health and appearance. With good circulation, your skin can efficiently receive oxygen and nutrients while effectively removing waste products. This can lead to a more even skin tone, faster healing of blemishes, and overall improved skin vitality.
How Saunas Contribute to Better Blood Circulation
As we've discussed, saunas induce vasodilation which increases blood flow to the skin. This increased circulation ensures that your skin is adequately nourished. As a result, you may notice that your skin looks more radiant and feels softer and smoother after regular sauna sessions.
Collagen Production
Understanding Collagen and Its Role in Skin Health
Collagen is a protein that plays a crucial role in the structure of your skin. It helps to maintain your skin's elasticity and firmness. As you age, collagen production naturally decreases, which can lead to wrinkles and sagging skin.
How Saunas May Boost Collagen Production
The heat from saunas has been shown to stimulate the production of collagen. This can help to combat the natural decline that occurs with aging, and maintain the skin's elasticity. With increased collagen production, your skin can look firmer, plumper, and more youthful [4].
Stress Reduction
The Connection Between Stress and Skin Issues
Stress can take a toll on your skin. It may cause flare-ups of acne, psoriasis, and other skin conditions. This is because stress triggers the production of cortisol, a hormone that can cause your skin to produce more oil and impair its ability to retain moisture.
How Relaxation in Saunas Contributes to Stress Reduction
Saunas offer a tranquil environment where you can relax and unwind. This relaxation can reduce the levels of stress hormones in your body. By managing stress through sauna sessions, you may see improvements in stress-related skin conditions and an enhancement in your skin's overall appearance.
Enhanced Skin Hydration
Sauna's Role in Increasing Skin's Ability to Retain Moisture
The high heat in saunas can help to improve the skin's barrier function, which is crucial for retaining moisture. A stronger skin barrier can keep your skin hydrated, which is essential for a smooth and supple appearance [5].
The Importance of Staying Hydrated Before and After Sauna Sessions
While saunas can help improve your skin's ability to retain moisture, it's important to drink plenty of water before and after your session. This will prevent dehydration, which can have adverse effects on your skin.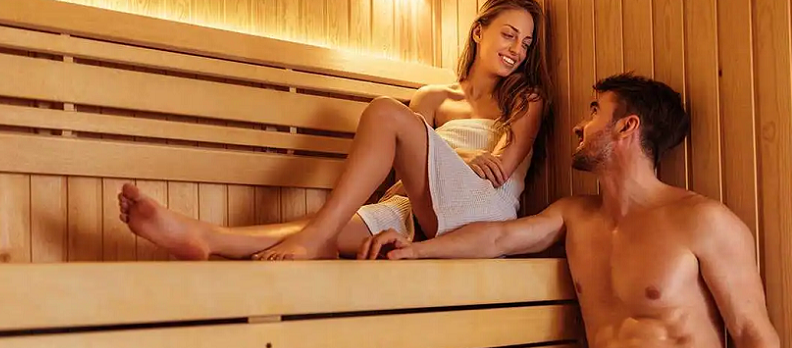 Tips and Precautions for Using Saunas
While saunas offer a plethora of benefits for your skin, it's crucial to use them responsibly to ensure a positive and safe experience.
Choosing the Right Type of Sauna for Your Skin Type
Selecting a sauna that matches your skin type and preferences is key to reaping the benefits without any adverse effects. For instance, if you have sensitive skin that doesn't react well to high temperatures, an infrared sauna may be a better choice due to its lower heat. Conversely, if you are looking to deeply cleanse your pores, a steam room or traditional sauna might be more suitable.
Recommended Frequency and Duration of Sauna Sessions
It's important not to overdo it. Starting with shorter sessions of around 10-15 minutes and gradually building up as your body acclimates is advisable. Moreover, limiting your sauna visits to 2-3 times a week can help prevent excessive strain on the body and allow your skin to reap the benefits without the risk of dehydration or irritation.
Staying Hydrated
As you'll be losing fluids through sweating in the sauna, staying hydrated is critical. Drink plenty of water before, during, and after your sauna session. This not only prevents dehydration but also helps in flushing out toxins more effectively.
Pairing Sauna Sessions with Proper Skincare Routine
To maximize the benefits of saunas for your skin, it's essential to pair your sessions with a proper skincare routine. Cleansing your skin before entering the sauna can open up the pores, while applying a moisturizer afterwards can lock in hydration. It's also a good idea to avoid wearing makeup in the sauna, as this can clog your pores.
Understanding and Listening to Your Body
Pay attention to how your body reacts during and after the sauna session. If you feel dizzy, excessively thirsty, or uncomfortable in any way, it's best to leave the sauna. Listening to your body is crucial in ensuring that the experience is both safe and beneficial.
When to Avoid Saunas: Health Conditions and Contraindications
Though saunas are generally safe for most people, there are certain conditions where caution is advised or usage should be avoided altogether. People with certain cardiovascular conditions, respiratory issues, or those who are pregnant should consult their healthcare provider before using a sauna. Additionally, avoid saunas if you have open wounds, are ill, or have a skin infection.
References

[1] Benefits of Infrared Sauna for Your Skin
[2] How to Sauna Your Way to Clear Skin
[3] Cardiovascular and Other Health Benefits of Sauna Bathing: A Review of the Evidence
[4] Infrared Saunas Can Help Improve Acne & Other Skin Conditions
[5] Effect of regular sauna on epidermal barrier function