Fibromyalgia: Skincare for Sensitive Skin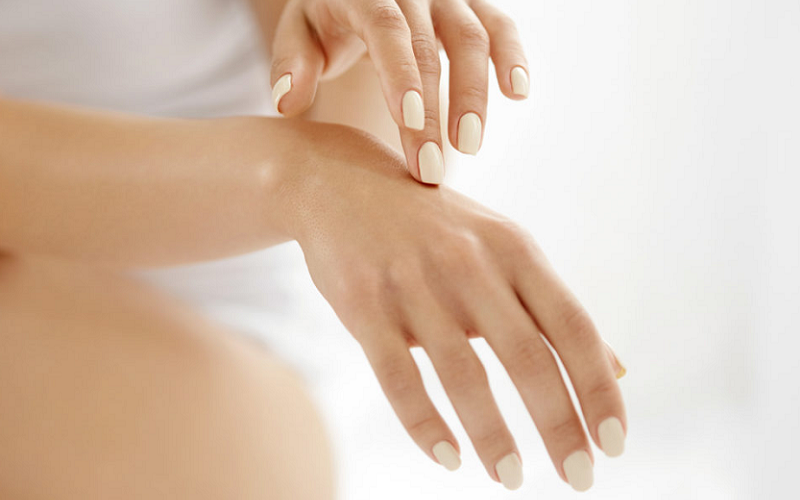 Fibromyalgia, often characterized by widespread pain and fatigue, is a condition that impacts many facets of a person's life, including their skin's health. For those living with this condition, the skin can be an unexpected battleground — manifesting increased sensitivity, dryness, and even rashes. While fibromyalgia's underlying causes and its relationship with skin sensitivity remain areas of ongoing research, there's no doubt that many individuals with fibromyalgia struggle with skin-related concerns. Here we examine the unique skincare challenges faced by those with fibromyalgia and offer tailored advice for maintaining healthy, radiant skin despite these challenges.
Understanding Skin Sensitivity in Fibromyalgia
Navigating the world of skincare can be tricky for many, but for individuals with fibromyalgia, it often feels like walking through a minefield. The increased sensitivity that accompanies fibromyalgia often magnifies common skin concerns. To tailor a skincare routine that is both effective and gentle, it's crucial to first understand how fibromyalgia affects the skin.
How Fibromyalgia Affects the Skin
While fibromyalgia primarily presents itself as a musculoskeletal condition accompanied by fatigue and sleep disturbances, its effect on the skin is a lesser-known but equally significant concern for many sufferers.
Skin Pain and Tenderness
Known as allodynia, many fibromyalgia patients experience a heightened sensitivity or a painful response to stimuli that wouldn't usually cause pain. This can mean that even the simple act of lightly brushing the skin or feeling the weight of clothes can be uncomfortable or painful. It's not uncommon for individuals with fibromyalgia to find certain fabrics or skincare products too harsh for their hyper-sensitive skin.
Dryness and Itching
Alongside pain, dryness and itching are frequent complaints. The skin may appear flaky or red, leading to further discomfort. While the direct link between fibromyalgia and skin dryness is still being explored, it's evident that the skin's natural barrier can be compromised in fibromyalgia patients, leading to increased moisture loss and vulnerability to irritants [1].
Fibro Flares and Skin Response
"Fibro flares" refer to periods where fibromyalgia symptoms intensify. During these times, skin reactions can also escalate. Not only can the pain and sensitivity become more pronounced, but other skin concerns like rashes or breakouts may also appear. It's essential to monitor and adjust your skincare routine during these times, ensuring that it remains as soothing and non-irritating as possible.
Common Skin Concerns Among Fibromyalgia Patients
Beyond heightened sensitivity, fibromyalgia can also exacerbate or give rise to other skin concerns.
Rashes and Blemishes
Rashes are a common concern among those with fibromyalgia. These rashes can take many forms, from red blotches to small bumps. While the exact cause remains uncertain, it's believed that inflammation and increased skin sensitivity play a role.
Increased Sensitivity to Chemicals
Many fibromyalgia sufferers report an increased sensitivity to certain chemicals, fragrances, or ingredients in skincare and cosmetic products. This heightened sensitivity can lead to allergic reactions, dermatitis, or other skin irritations. It emphasizes the importance of patch-testing products before full application and opting for products with fewer synthetic ingredients [2].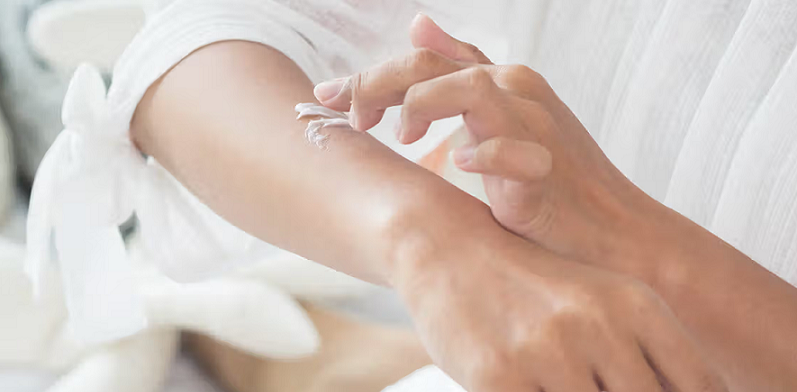 Essential Skincare Tips for Fibromyalgia Patients
Living with fibromyalgia presents its own set of unique challenges when it comes to skincare. The increased skin sensitivity coupled with other symptoms necessitates a tailored approach. To truly care for your skin, it's not just about selecting the right products; it's about understanding your skin's unique needs and responding to them.
Understanding Your Skin Type
Before diving into specific products or routines, it's imperative to have a clear grasp on your skin type and its particular needs.
Identifying Your Unique Concerns
Everyone's skin is different, and even within the fibromyalgia community, skin responses can vary widely. Some might grapple with excessive dryness, while others are prone to oiliness or breakouts. Taking time to assess your skin and its specific concerns can guide your product choices and routine.
Importance of Personalized Care
Given the wide range of skin reactions and concerns among fibromyalgia patients, one-size-fits-all solutions are rarely effective. Instead, opt for personalized skincare routines that target your specific issues, keeping in mind the overarching sensitivity that fibromyalgia may cause.
Gentle Cleansing
Cleansing is a foundational step in any skincare regimen, but it's even more critical for those with heightened skin sensitivity.
Choosing the Right Cleanser
For those with fibromyalgia, it's advisable to steer clear of harsh, stripping cleansers. Instead, look for gentle, hydrating formulations, preferably free from synthetic fragrances and potential irritants. Ingredients like glycerin, ceramides, and hyaluronic acid can be beneficial, offering a clean feel without compromising the skin's barrier [3].
Proper Technique to Minimize Irritation
Beyond the product itself, the method of cleansing matters. Use lukewarm water, avoiding extremes of hot or cold. Gently massage the cleanser in using your fingertips, and rinse without excessive rubbing. Patting the face dry with a soft towel rather than rubbing can also reduce potential irritation.
The Role of Moisturizers
Hydration plays a pivotal role in maintaining skin health, especially for those grappling with fibromyalgia-induced dryness.
Importance of Hydration
A compromised skin barrier can lead to increased moisture loss. By replenishing hydration with a suitable moisturizer, you not only address dryness but also strengthen the skin's natural defense against irritants.
Natural and Hypoallergenic Options
Given the sensitivity that many fibromyalgia patients experience, opting for natural or hypoallergenic moisturizers can be beneficial. These products tend to have fewer potential triggers and are formulated with skin-soothing ingredients.
Importance of Sun Protection
Exposing sensitive skin to the sun without protection can exacerbate existing concerns and introduce new ones.
Selecting Fibromyalgia-friendly Sunscreens
Chemical sunscreens, while effective, might irritate sensitive fibromyalgia skin. Instead, look for physical sunscreens containing zinc oxide or titanium dioxide, which act as barriers deflecting the sun's rays. Opt for fragrance-free and non-comedogenic formulations to further reduce potential irritants [4].
Daily Sun Care Routine
Incorporate sun protection into your daily routine, even on cloudy days. Wearing protective clothing, hats, and sunglasses can also help shield sensitive skin from harmful UV rays.
Reducing External Irritants
For fibromyalgia patients, minimizing exposure to irritants is key to preventing flare-ups and maintaining skin health.
Identifying Common Irritants
Common irritants include synthetic fragrances, certain alcohols, and harsh chemicals. Familiarizing yourself with these can guide you in making informed product choices.
Products and Ingredients to Avoid
Avoid products with a high alcohol content, sulfates, and synthetic fragrances. Instead, opt for gentle, natural formulations that prioritize skin health.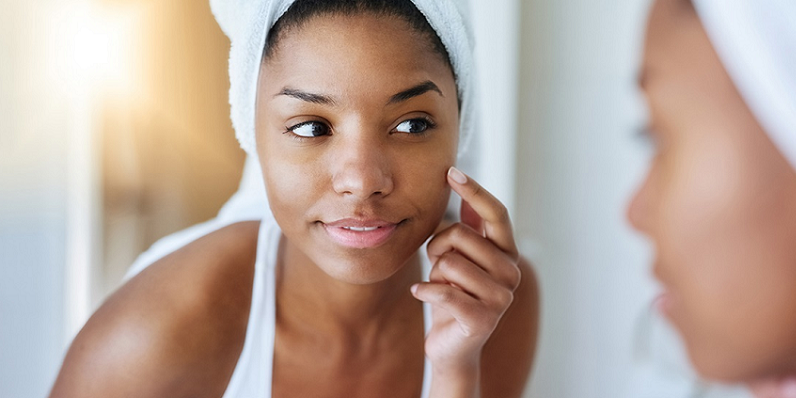 The Role of Diet and Hydration for Skincare of Fibromyalgia Patients
Skincare is more than skin deep. What we nourish our bodies with internally plays a significant role in our external appearance, especially for those with fibromyalgia. For many sufferers, specific foods or deficiencies can trigger or exacerbate symptoms, which can directly or indirectly impact skin health. With this interconnected relationship between diet, hydration, and skin wellness, it becomes essential to approach skincare holistically.
Foods that Can Improve Skin Health
Dietary choices significantly influence our skin's condition. By incorporating certain foods into your diet, you can aid in maintaining skin health, even amidst the challenges of fibromyalgia.
Omega-3 Fatty Acids
Found in foods like salmon, walnuts, and flaxseeds, Omega-3s help maintain the skin's lipid barrier, which is crucial for keeping skin hydrated [5].
Antioxidants
Fruits and vegetables rich in vitamins A, C, and E provide antioxidants that protect the skin from the damaging effects of free radicals and can aid in skin repair.
Lean Proteins
Chicken, turkey, fish, and tofu are great sources of lean protein. Proteins are vital for tissue repair and the production of enzymes and hormones that can aid in skin health.
Zinc
Found in nuts, seeds, and whole grains, zinc is essential for skin development and can help reduce inflammation and production of sebum, which can be beneficial for those battling breakouts.
The Importance of Staying Hydrated
Hydration plays a paramount role in skin health, influencing its elasticity, appearance, and function.
Effects on Skin
Well-hydrated skin appears plump, radiant, and less prone to fine lines. On the other hand, chronic dehydration can make the skin look dull, emphasize wrinkles, and even lead to skin disorders.
Optimal Hydration Levels
While the "8×8" rule (eight 8-ounce glasses of water a day) is a good general guideline, individual hydration needs can vary based on weight, activity level, and overall health. It's important to listen to your body's cues and hydrate accordingly.
Supplements to Consider for Skin Health
While a balanced diet is key, some individuals might benefit from supplements to ensure they're getting all the nutrients their skin needs.
Collagen
As a primary building block of skin, supplemental collagen can support skin structure and elasticity.
Biotin
Often hailed for its benefits for hair and nails, biotin can also support skin health by aiding in the metabolism of fats, which are crucial for maintaining skin hydration.
Vitamin D
Especially for those in areas with limited sunlight or with limited sun exposure, a vitamin D supplement can help in maintaining skin health and immune function.
Probiotics
A healthy gut can lead to healthy skin. Probiotics support gut health, potentially reducing inflammation and promoting better skin health.
References

[1] 20 Products People With Fibromyalgia Swear By
[2] Use less cosmetics – suffer less from fibromyalgia?
[3] Frustrated By Fibromyalgia Rash
[4] Fibromyalgia
[5] Getting the best treatment for your fibromyalgia