Hypothyroidism: Skincare for Sluggish Skin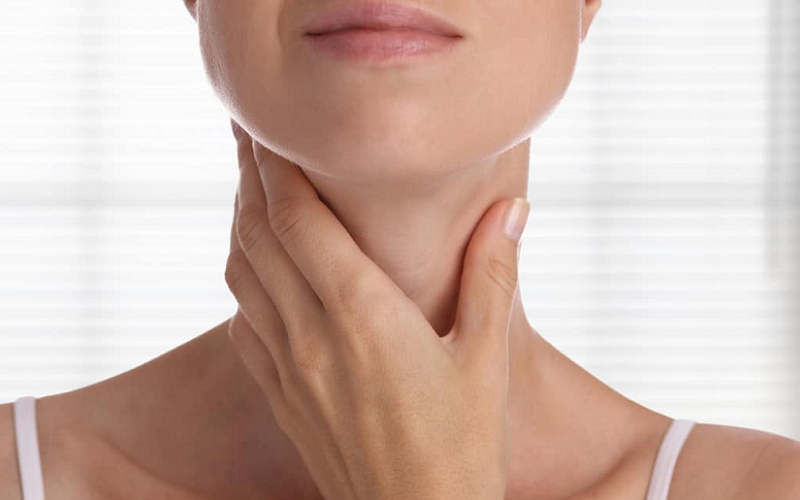 Your thyroid, a tiny butterfly-shaped gland in the neck, plays a pivotal role in determining how radiant, hydrated, and youthful your skin looks. Surprised? Many people are. When the thyroid becomes sluggish or underactive — a condition known as hypothyroidism—it doesn't just slow down metabolism; it can also cause a series of skin-related woes. From dryness and loss of elasticity to an unexplained paleness, the skin often signals when the thyroid isn't functioning optimally.
Introduction to Hypothyroidism and Skin Health
Whether you've been diagnosed with hypothyroidism or are curious about the connection between this condition and skin health, this article dives deep into understanding the link and offers actionable skincare tips for a rejuvenated glow.
Definition of Hypothyroidism
Hypothyroidism, in simple terms, is a condition where the thyroid gland doesn't produce enough thyroid hormones. These hormones, primarily thyroxine (T4) and triiodothyronine (T3), are vital for a slew of bodily functions, most notably for regulating our metabolism.
Brief Overview of the Thyroid Gland
The thyroid gland, located at the base of your neck, is a key player in the endocrine system. Shaped somewhat like a butterfly, it secretes hormones that play essential roles in many bodily functions, from digestion to energy production and, yes, skin health.
Role of Thyroid Hormones in Metabolism
Thyroid hormones, T3 and T4, maintain the body's metabolism, which is the rate at which your body uses energy. When these hormone levels are low, metabolism slows down, leading to symptoms like fatigue, weight gain, and often, changes in the skin's texture and appearance.
Link Between Hypothyroidism and Skin Health
While most people are familiar with common symptoms of hypothyroidism such as fatigue and sensitivity to cold, its impact on the skin is less widely recognized. However, the skin, as the largest organ of our body, often provides clear signals when something's amiss internally.
Overview of Symptoms
When the thyroid is underactive, the skin may become dry, flaky, and less elastic. Some individuals also notice a pale or yellowish tint to their skin, and puffiness, particularly around the eyes, can be a common complaint.
Why the Skin is Affected
The skin's health is directly related to various internal factors, including hydration, nutrient supply, and hormonal balance. Since the thyroid influences many of these factors, it's no surprise that an underactive thyroid can lead to visible skin concerns. Reduced metabolic rate can mean less blood flow to the skin, resulting in decreased radiance and vitality. Additionally, a sluggish thyroid can reduce sweating, leading to drier skin [1].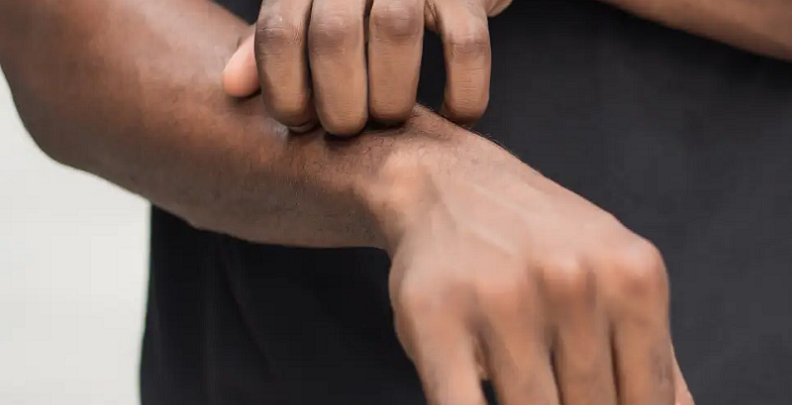 Skin Concerns Related to Hypothyroidism
When the delicate balance of hormones is disrupted by conditions like hypothyroidism, the skin often becomes the canvas that displays these internal changes. In many cases, such skin changes might even be the first visible signs of thyroid issues, prompting individuals to seek medical evaluation.
Dryness and Flakiness
One of the hallmark symptoms of hypothyroidism on the skin is increased dryness. As your body's outer protective layer, the skin relies on a certain level of hydration to maintain its barrier and appearance.
Cause and Explanation
The reduced level of thyroid hormones can decrease the activity of oil and sweat glands. This diminished glandular activity leads to reduced skin moisture, causing it to appear flaky and dry. Additionally, a slower metabolic rate means fewer nutrients reach the skin, depriving it of essential hydration and nourishment.
Practical Skincare Tips
Hydration: Prioritize using hydrating serums containing hyaluronic acid, which can hold multiple times its weight in water, providing deep hydration.
Moisturize Regularly: Opt for richer moisturizers with ceramides and fatty acids to lock in moisture and reinforce the skin's natural barrier.
Limit Harsh Cleansers: Avoid cleansers with high alcohol content or sulfates which can strip the skin's natural oils.
Reduced Elasticity
Loss of skin elasticity can make the skin look more aged than it is, leading to premature sagging and wrinkles.
What Causes Loss of Elasticity
Reduced thyroid function can decrease collagen production. Collagen is the primary structural protein in skin, responsible for its suppleness and elasticity. With decreased collagen, skin loses its bounce and resilience [2].
Importance of Collagen and Elastin
Both collagen and elastin are fibers that provide support and elasticity to the skin. While collagen offers firmness, elastin allows the skin to return to its original shape after being stretched. An imbalance in their production and breakdown, as seen in hypothyroidism, can compromise skin structure.
Skincare Solutions
Collagen Boosters: Look for products with ingredients like retinol or peptides, known to promote collagen production.
Sun Protection: UV rays can further degrade collagen and elastin. Always wear sunscreen to protect and preserve skin elasticity.
Antioxidant-rich Products: These can combat free radicals which break down collagen and elastin fibers.
Pale or Yellowish Skin
A distinct change in skin tone, particularly a pale or yellowish hue, can be quite concerning for many.
Cause of Color Changes
Low thyroid hormone levels can decrease blood circulation, giving the skin a paler appearance. The yellowish tint, on the other hand, can be attributed to an accumulation of carotene, especially when the conversion of carotene to vitamin A is slowed due to hypothyroidism [3].
Cosmetic and Skincare Solutions
Brightening Serums: Products with vitamin C can offer a brighter complexion and counteract dullness.
Gentle Exfoliation: Regular exfoliation can help remove the top layer of dead skin cells, revealing a brighter complexion underneath.
Tinted Moisturizers: A temporary solution, these can help mask any discoloration and provide an even skin tone.
Swelling and Puffiness
Puffy eyes and swollen face? Your thyroid might be playing a role.
Underlying Factors Leading to Swelling
Hypothyroidism can lead to an accumulation of substances called mucopolysaccharides in the skin. These substances attract and bind water, leading to puffiness and swelling, especially noticeable in the face and around the eyes.
Remedies and Practices to Reduce Puffiness
Elevate the Head While Sleeping: This simple measure can help reduce morning puffiness.
Cool Compresses: Applying cold packs can constrict blood vessels and reduce swelling.
Gentle Massages: Boosting circulation through facial massages can help disperse accumulated fluids.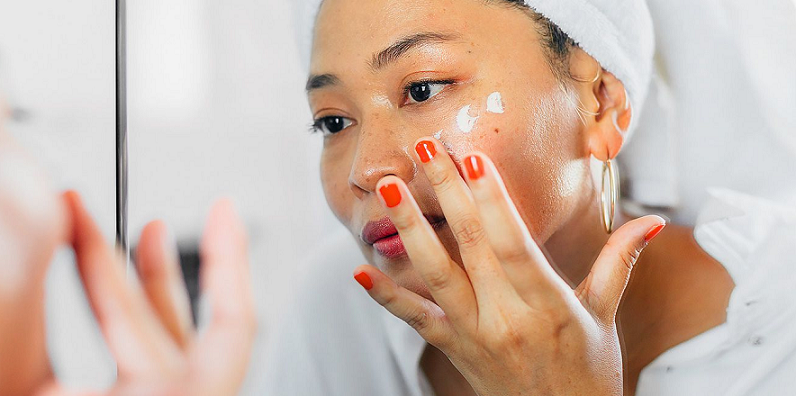 General Skincare Guidelines for Hypothyroid Sufferers
Managing the skin effects of hypothyroidism extends beyond addressing individual concerns. Adopting a holistic skincare routine that considers the unique needs of hypothyroid sufferers can make a significant difference.
Importance of Moisturizing
Maintaining hydration levels is paramount for those with an underactive thyroid. Regular moisturization not only combats dryness but also preserves the skin's protective barrier, ensuring it remains resilient against external aggressors [4].
Recommended Ingredients
When selecting moisturizers, certain ingredients can be particularly beneficial:
Hyaluronic Acid: A hydration powerhouse, it draws moisture into the skin and helps retain it for a plump appearance.
Ceramides: These lipid molecules bolster the skin's barrier, preventing moisture loss and shielding against environmental irritants.
Glycerin: A humectant that attracts water, glycerin helps hydrate the skin and enhances its smoothness.
Proper Moisturizing Technique
Technique matters just as much as the product itself:
Apply on Damp Skin: After cleansing, apply moisturizer while your skin is still damp. This traps moisture, ensuring deeper hydration.
Layering: For extremely dry skin, start with a lightweight hydrating serum, followed by a thicker cream or ointment to seal in the moisture.
Frequency: Reapply moisturizer as needed throughout the day, especially in drier climates or seasons.
Exfoliation: Friend or Foe?
Exfoliation can be a double-edged sword for those with hypothyroidism. While it can reveal fresher, brighter skin, over-exfoliation can exacerbate dryness and sensitivity [5].
Benefits of Gentle Exfoliation
Removes Dead Skin Cells: This aids in rejuvenating the skin's appearance and enhancing its absorption capacity.
Boosts Circulation: The physical or chemical exfoliation process can promote blood flow, giving the skin a healthier glow.
Unclogs Pores: Regular exfoliation can help prevent breakouts by keeping pores clear.
Products to Avoid
For those with hypothyroid-induced skin sensitivities, it's crucial to choose exfoliants wisely:
Avoid Harsh Scrubs: Abrasive scrubs can cause microtears and irritate the skin.
Limit Strong Acids: While chemical exfoliants can be beneficial, strong acids may be too intense. Opt for milder versions like lactic acid or mandelic acid.
Frequency: Depending on skin sensitivity, exfoliate only 1-2 times a week to avoid over-stripping the skin.
The Role of Diet and Hydration
Topical treatments are only one facet of skin health. What we consume plays an equally critical role, especially when managing conditions like hypothyroidism.
Nutritional Components Beneficial for Skin Health
Antioxidants: Foods rich in vitamins C and E, selenium, and beta-carotene can protect skin cells from damage.
Omega-3 Fatty Acids: Found in fish, walnuts, and flaxseeds, they maintain skin hydration and barrier function.
Zinc: Present in meats, dairy, and nuts, zinc aids in skin development and inflammation control.
Importance of Staying Hydrated
Hydration isn't just about applying moisturizers. Drinking ample water:
Boosts Skin Hydration: Well-hydrated skin appears plumper and more radiant.
Flushes Toxins: Drinking water aids in detoxification, promoting clearer skin.
Supports Nutrient Transport: Water facilitates nutrient transport to skin cells, ensuring they receive the nourishment they need.
References

[1] Thyroid Disease: A Checklist of Skin, Hair, and Nail Changes
[2] Thyroid hormone action on skin
[3] Hyperthyroidism
[4] Older Patients and Thyroid Disease
[5] Are Thyroid Issues Causing Your Acne?