PCOS (Polycystic Ovary Syndrome) and Skin: A Skincare Guide for Hormonal Imbalance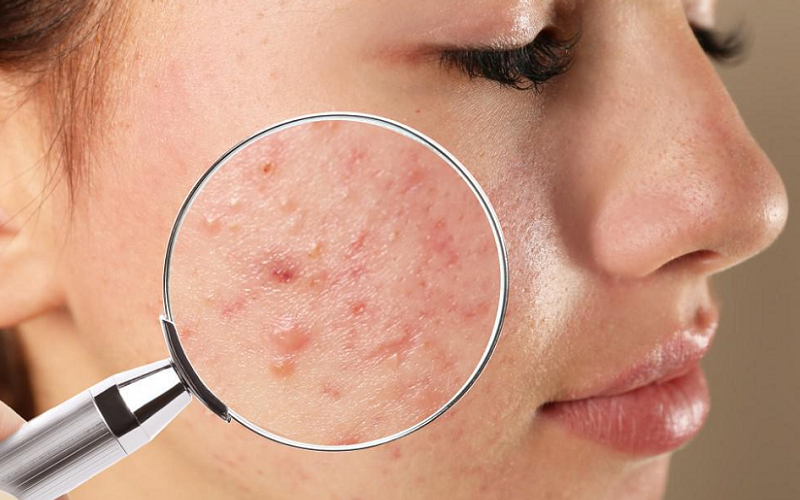 For many, skincare is a straightforward journey of cleansing, moisturizing, and sun protection. However, when hormonal imbalances like Polycystic Ovary Syndrome (PCOS) come into play, the path to clear, healthy skin can become more intricate. PCOS, a condition that affects millions worldwide, has notable implications on the skin's health and appearance. From stubborn acne to unusual hair growth, the nuances of managing skin affected by PCOS demand understanding and a tailored approach.
Understanding the Link Between PCOS and Skin Issues
The complex interplay between hormones and skin health is pivotal in understanding the manifestations of PCOS on the skin. Hormonal fluctuations, inherent in PCOS, can be a leading factor in several skin issues.
Role of Hormones in Skin Health
Hormones are crucial regulators of many bodily functions, including the health and appearance of our skin. In the context of PCOS, particular hormones play a more prominent role.
Androgens and their Effects on Skin
Androgens, often referred to as 'male hormones,' are present in both males and females. However, elevated levels of androgens, a characteristic of PCOS, can lead to various skin problems. Increased androgens can enlarge the skin's oil glands and amplify oil production. This excessive oil can clog pores, leading to acne and other skin concerns. In addition, higher androgen levels can also stimulate hair growth, which is why some women with PCOS experience hirsutism or excessive hair growth in areas where men typically grow hair, such as the face, chest, and back.
Insulin Resistance and its Connection to PCOS
A significant number of women with PCOS also have insulin resistance, where the body's cells don't respond well to insulin. This can lead to elevated insulin levels in the bloodstream. High insulin can, in turn, increase the production of androgens in the ovaries, further aggravating skin issues. Moreover, insulin resistance can contribute to skin conditions like acanthosis nigricans, where certain areas of the skin become dark and thick.
Common Skin Issues Associated with PCOS
The hormonal imbalances characteristic of PCOS manifest in various ways on the skin. Here are some of the common skin conditions related to this syndrome.
Acne and Breakouts
While many factors can contribute to acne, the hormonal imbalances in PCOS often lead to more persistent, deep-seated acne, primarily on the lower third of the face, jawline, and neck. These breakouts tend to be more inflammatory and can be resistant to conventional treatments.
Excessive Hair Growth (Hirsutism)
As discussed, increased androgen levels in PCOS can lead to hirsutism. This results in thick, coarse hair growing in areas typically associated with male-pattern hair growth. Managing hirsutism can be challenging but understanding its link to PCOS can guide effective treatment strategies [1].
Dark Patches on the Skin (Acanthosis Nigricans)
This condition manifests as darkened, velvety patches on various parts of the body, commonly the neck, armpits, and under the breasts. It is often linked with insulin resistance, a common concern in those with PCOS.
Skin Tags
These are small, benign growths that can appear on areas of the body with skin folds, such as the neck, armpits, and groin. Insulin resistance and elevated insulin levels, which are frequently seen in PCOS, can contribute to the formation of skin tags.
Oily Skin
Excess sebum production, stimulated by higher androgen levels, can make the skin notably oilier. This can lead to a shiny appearance and can also be a precursor to acne and breakouts.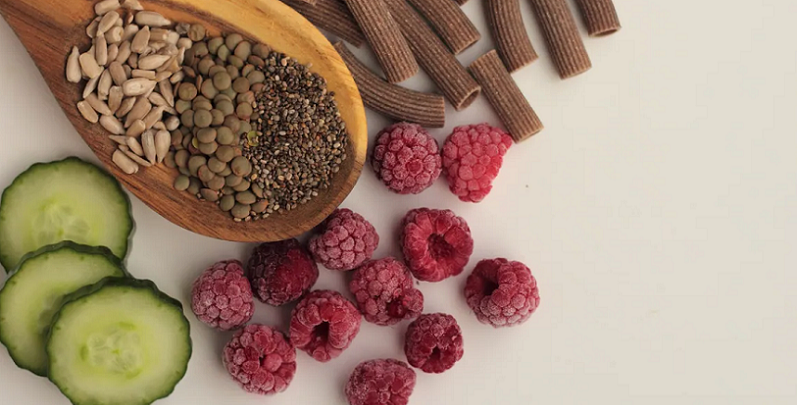 Skincare Recommendations for PCOS-Affected Skin
Nurturing skin affected by PCOS requires a multi-faceted approach. With the unique challenges that come with this hormonal imbalance, such as excessive oiliness and heightened sensitivity, tailored skincare can make a significant difference. While everyone's skin is individual, certain overarching principles can guide those with PCOS in their skincare journey.
Gentle Cleansing
The importance of a suitable cleanser cannot be overstated, especially for those with PCOS who often grapple with excess sebum and acne.
Importance of Avoiding Harsh Ingredients
Harsh cleansers can strip the skin of its natural oils, leading to an overproduction of sebum as the skin tries to compensate. This can exacerbate acne and oiliness. Ingredients like sulfates, which can be overly drying, should ideally be avoided. Instead, opt for gentle, hydrating ingredients that respect the skin's natural barrier.
Recommendations for Cleansers Suitable for Hormonally Imbalanced Skin
Look for non-comedogenic formulas that won't clog pores. Ingredients like salicylic acid can be beneficial for acne-prone skin, as they help unclog pores. Hydrating ingredients like glycerin or hyaluronic acid can ensure the skin remains moisturized during the cleansing process. Gel-based or micellar cleansers are often a good choice, offering thorough cleansing without being overly harsh.
Exfoliation
Regular exfoliation can be a game-changer, particularly when dealing with clogged pores and uneven skin texture.
Benefits of Regular Exfoliation
Exfoliating helps remove dead skin cells that can trap oils and lead to breakouts. It also aids in skin renewal, leading to a brighter and more even complexion. However, it's crucial not to overdo it, as excessive exfoliation can irritate the skin and exacerbate issues.
Suitable Exfoliants for PCOS Skin
Chemical exfoliants like salicylic acid or glycolic acid can be especially effective. Salicylic acid penetrates oil to exfoliate inside the pore, making it ideal for acne-prone skin. Remember, always follow up with sunscreen after using exfoliating products, as they can make the skin more sensitive to the sun [2].
Hydration and Moisturization
Even if your skin is oily, hydration is crucial. Moisturizing can balance sebum production and maintain skin health.
The Importance of Keeping the Skin Hydrated
Hydrated skin is plumper, more resilient, and less prone to irritations. It can also help regulate oil production, as dehydrated skin can often produce more oil as a compensatory mechanism.
Best Moisturizers for PCOS Skin Types
Opt for lightweight, oil-free, or non-comedogenic moisturizers. Ingredients like niacinamide can help regulate sebum, while hyaluronic acid can provide deep hydration without clogging pores. Gel-based moisturizers or those with a water-based formula are often suitable choices.
Sun Protection
Protecting the skin from the sun is paramount, especially when using products that can increase sun sensitivity.
Role of Sun Damage in Aggravating PCOS-Related Skin Issues
Sun exposure can worsen hyperpigmentation, which may be more common in those with PCOS. It can also exacerbate acne scars and reduce the efficacy of topical treatments.
Sunscreen Recommendations
For acne-prone skin, choose sunscreens labeled as non-comedogenic. Mineral sunscreens with zinc oxide or titanium dioxide can be particularly effective, offering broad-spectrum protection without irritating the skin. Remember to reapply every 2 hours or after sweating or swimming.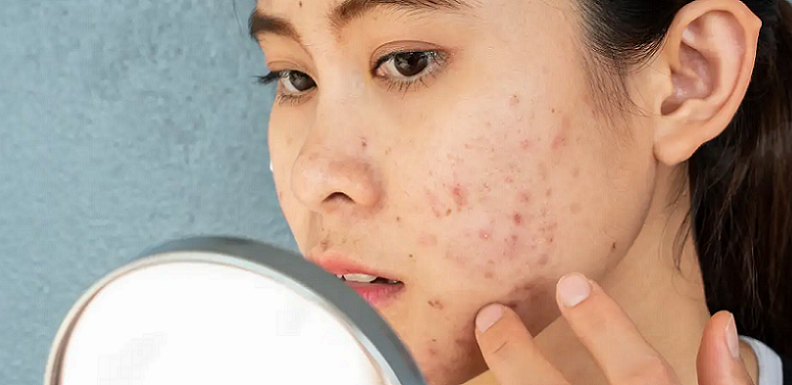 Addressing Specific PCOS-Related Skin Concerns
Beyond the foundational skincare routines lie the targeted treatments tailored for specific skin concerns related to PCOS. Recognizing these concerns and addressing them with specialized care can profoundly influence the appearance and health of the skin.
Treating Acne and Breakouts
Acne can be a persistent challenge for those with PCOS. Understanding the root cause and employing effective treatments is the key to clearer skin [3].
Topical Treatments
A variety of over-the-counter and prescription treatments can target acne. Common ingredients include benzoyl peroxide, which kills acne-causing bacteria; salicylic acid, which helps unclog pores; and retinoids, which increase cell turnover and clear pores. If you opt for retinoids, ensure you're using sunscreen daily, as they can make your skin more sun-sensitive.
Oral Medications
For more severe or persistent acne, oral medications might be prescribed. Birth control pills can regulate hormones and reduce acne in women with PCOS. Spironolactone, an anti-androgen, might be recommended to counter the effects of high androgen levels. In extreme cases, isotretinoin might be prescribed, but its usage requires strict monitoring due to its potential side effects.
Professional Treatments
For those seeking additional interventions, treatments like chemical peels, laser therapy, or microdermabrasion might be beneficial. It's crucial to consult with a dermatologist to determine the best approach based on individual skin needs.
Managing Excessive Hair Growth
Hirsutism, or unwanted hair growth, can be emotionally challenging. Addressing it requires both short-term and long-term strategies.
Hair Removal Methods
Common methods include shaving, waxing, or using depilatory creams. For more lasting results, laser hair removal or electrolysis can be effective. Laser hair removal targets the pigment in hair follicles and can be especially successful for individuals with light skin and dark hair.
Topical and Oral Solutions
Topical creams like eflornithine can slow facial hair growth in women. As mentioned earlier, spironolactone can also help reduce hair growth in women with PCOS, although it's essential to discuss potential side effects with a healthcare provider [4].
Reducing Appearance of Dark Patches
Acanthosis nigricans, characterized by dark patches of skin, can be a concern for many with PCOS. Addressing this requires consistent care and often a multi-pronged approach.
Topical Lightening Agents
Ingredients such as niacinamide, licorice root extract, and azelaic acid can help lighten dark patches. Prescription-strength hydroquinone might also be recommended for more pronounced hyperpigmentation.
Professional Treatments
Chemical peels, laser treatments, and microdermabrasion can be beneficial in treating acanthosis nigricans. These treatments can remove the top layer of skin, revealing lighter skin underneath. It's crucial to work with a skilled professional to ensure the safest and most effective results.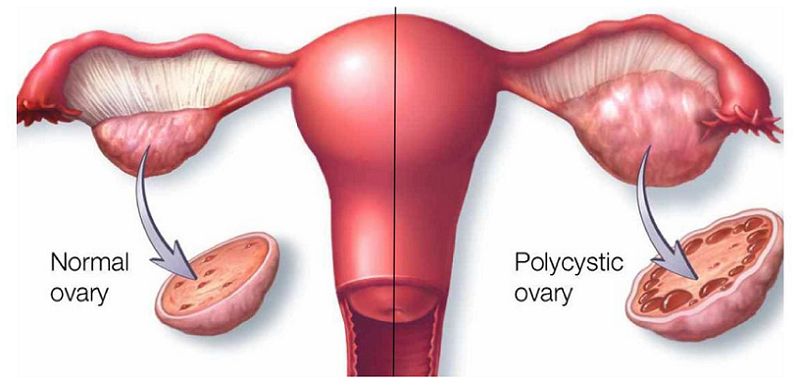 Lifestyle Changes to Complement Skincare for PCOS
While topicals and treatments play a pivotal role in managing PCOS-related skin concerns, lifestyle modifications can significantly enhance these efforts. A holistic approach, integrating both external and internal care, often provides the most profound and lasting benefits. Here's a closer look at how adapting certain habits and practices can support healthier skin for those grappling with PCOS.
Diet and Nutrition
The foods we consume can either aggravate or alleviate PCOS symptoms, including its impact on the skin.
Anti-Inflammatory Foods
An anti-inflammatory diet can help reduce acne flare-ups and other skin issues. Incorporate foods rich in omega-3 fatty acids like fatty fish (salmon, mackerel), walnuts, and flaxseeds. Also, include antioxidants-rich foods like berries, green leafy vegetables, and nuts.
Low Glycemic Index (GI) Foods
Since insulin resistance is common in PCOS, opting for low GI foods can stabilize blood sugar levels. Whole grains, legumes, and most fruits and vegetables fall under this category.
Hydration
Drinking adequate water supports overall health and keeps the skin hydrated. Proper hydration can also help flush out toxins, potentially reducing breakouts [5].
Limiting Dairy and Processed Foods
Some individuals with PCOS find that reducing dairy and processed food intake can lead to clearer skin. While this isn't universally applicable, it might be worth experimenting with dietary adjustments to observe any positive changes.
Exercise and Physical Activity
Regular physical activity can aid in regulating hormones, improving insulin sensitivity, and promoting better skin health.
Cardiovascular Workouts
Aerobic exercises, like walking, running, or cycling, can enhance blood circulation, ensuring that skin cells receive more oxygen. This can contribute to a radiant complexion.
Strength Training
Activities like weight lifting or resistance training can help manage insulin resistance, a common concern in PCOS. Improved insulin sensitivity can subsequently impact skin health positively.
Stress-Reducing Exercises
Activities like yoga or pilates not only provide physical benefits but also help manage stress, which can exacerbate PCOS symptoms and skin issues.
Stress Management
Stress can worsen hormonal imbalances, making stress management crucial for those with PCOS.
Relaxation Techniques
Practices like deep breathing, meditation, and progressive muscle relaxation can alleviate stress and, by extension, its impact on the skin.
Adequate Sleep
Prioritizing 7-9 hours of quality sleep nightly can regulate cortisol (the stress hormone) levels. Balanced cortisol can reduce inflammation and potentially lessen acne breakouts.
Hobbies and Activities
Engaging in enjoyable hobbies and activities can serve as a distraction, reducing stress and its consequent effects on the skin.
Limiting Environmental Aggressors
External factors can compound skin issues, so it's important to be mindful of one's environment.
Avoiding Pollution
If possible, limit exposure to highly polluted areas. Airborne pollutants can clog pores and lead to breakouts.
Reducing Alcohol and Tobacco Intake
Both alcohol and tobacco can affect hormone levels and skin health. Reducing or eliminating their intake can potentially improve PCOS-related skin concerns.
Using Clean Makeup and Skincare Products
Opt for non-comedogenic makeup and skincare products. Being mindful of product ingredients and choosing cleaner, less-irritating formulations can reduce the risk of breakouts and sensitivities.
References

[1] How To Deal With Your Skin If You Have PCOS, According To 2 Experts
[2] Polycystic ovarian syndrome and the skin
[3] PCOS, acne, and how they're related
[4] Management of Polycystic Ovarian Syndrome for Dermatologists
[5] Treating PCOS Acne for Skin Care Specialists