Phoenix Rising: Skincare After Burn Injuries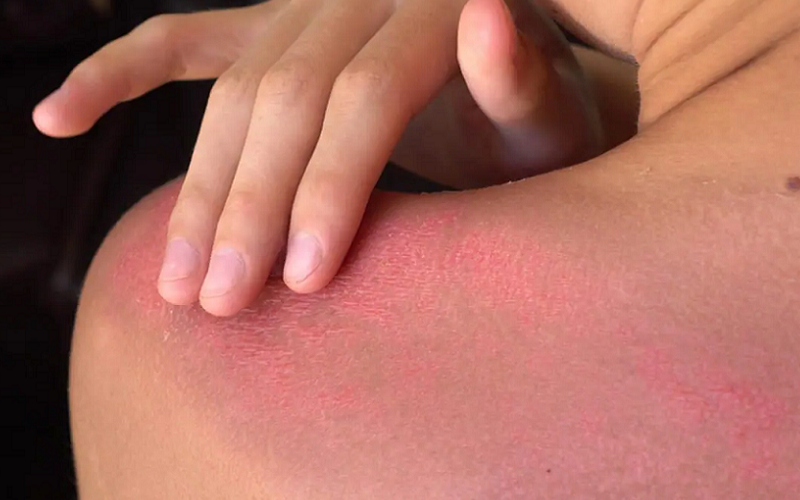 In the aftermath of fire, the mythical phoenix emerges reborn from the ashes, resplendent and renewed. Like this legendary creature, individuals who have endured burn injuries also possess the power of transformation and renewal. Burn injuries can be a harrowing experience, leaving both physical and emotional scars. With the right care, however, the skin, much like the phoenix, can undergo a metamorphosis.
Introduction to Burn Injury Skincare
Burn injuries are one of the most traumatic experiences that can occur to the skin. They can be caused by a plethora of factors including heat, electricity, chemicals, or radiation. As the largest organ in the human body, the skin plays a crucial role in protecting us from infections and regulating body temperature.
When this barrier is damaged through burns, it's not only the physical repercussions that we must be wary of but also the emotional toll it can take. The journey of recovery is often arduous, but with the right care and attention, it's possible to greatly improve both the functional and aesthetic outcomes.
Brief Introduction to Burn Injuries
Burn injuries range from minor instances that need simple first aid to major cases that require extensive medical intervention. They are characterized by damage to the skin's layers and can sometimes involve muscle, bone, or internal organs. The severity is categorized into degrees, with first-degree burns being the most superficial and fourth-degree burns being the most severe.
The Importance of Skincare in Burn Injury Recovery
In the aftermath of a burn injury, the skin goes through various phases of healing. During this time, it's particularly vulnerable and requires attentive care to prevent infections and promote the best healing. Proper skincare is essential in reducing the risk of complications, minimizing scarring, and improving the skin's appearance and function. It also plays a significant role in boosting the confidence and mental well-being of the individual affected by the burn injury.
Understanding the Types of Burn Injuries
Before we delve into the skincare strategies for burn injuries, it is vital to understand the different types of burns. Burns vary in severity and require different approaches to care. Knowing the type of burn will help in determining the appropriate treatment and what skincare regimen to follow during the healing process [1].
First-Degree Burns
First-degree burns are the mildest form of burn injuries. They only affect the outer layer of the skin, known as the epidermis. Common causes of first-degree burns include sunburn, brief contact with hot surfaces, or mild scalds.
Symptoms
Redness
Minor inflammation or swelling
Pain
Dry, peeling skin as the burn heals
Treatment
First-degree burns usually don't require professional medical treatment. Cooling the burn with cold water, applying a soothing lotion like aloe vera, and taking over-the-counter pain relievers are typically sufficient for healing.
Second-Degree Burns
Second-degree burns are more severe than first-degree burns as they extend beyond the epidermis and into the dermis, which is the second layer of the skin.
Symptoms
Blisters
Red, white or splotchy skin
Severe pain and swelling
Wet or shiny appearance
Treatment
Care must be taken not to burst any blisters as this can cause infection. Keep the burn cool and cover it with a clean cloth or bandage. For pain, over-the-counter pain relievers can be used. It's advisable to seek medical attention for second-degree burns to prevent infection and ensure proper healing.
Third-Degree Burns
Third-degree burns are critical and involve all layers of the skin. These burns can be caused by prolonged contact with flames, hot objects, scalding liquids, or chemicals.
Symptoms
Leathery or waxy skin
White, brown, or black coloration
Lack of pain initially due to nerve damage
Charred skin
Treatment
Third-degree burns require immediate medical attention. Do not attempt to self-treat these burns. Hospitalization, skin grafts, and specialized care are often necessary.
Fourth-Degree Burns
Fourth-degree burns are the most severe type of burns. They extend through both layers of the skin and can affect muscles, bones, and organs.
Symptoms
Charred skin, often black in color
No pain in the burned area due to nerve destruction
Hard, dry texture
Treatment
Fourth-degree burns are medical emergencies that require intensive treatment, often including surgery, rehabilitation, and long-term care.
Chemical and Electrical Burns
In addition to burns caused by heat, burns can also be caused by chemicals or electricity. Chemical burns result from skin contact with irritants such as acids or bases. Electrical burns occur when an electric current passes through the body.
Symptoms
For chemical burns: redness, irritation, pain, blisters
For electrical burns: entry and exit wounds, burns along the path of electrical current
Treatment
Chemical burns should be rinsed with large amounts of water and covered with a clean cloth or bandage before seeking medical help. Electrical burns require immediate emergency care as the damage can be extensive, even if not immediately visible.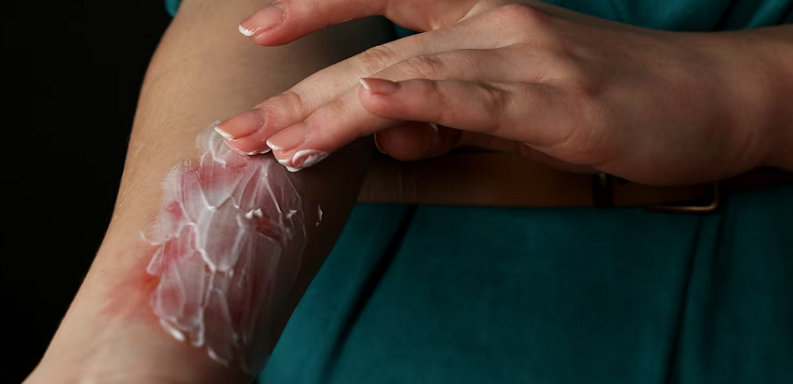 The Stages of Burn Injury Healing
As we proceed on the path of recovery, it is vital to understand that healing from a burn injury is a process that occurs in stages. Each stage is characterized by different physiological responses and requires specific care strategies. The three primary stages of burn injury healing are the Inflammatory Phase, the Proliferative Phase, and the Maturation Phase. By comprehending these stages, you will be better equipped to provide optimal care for your skin during the healing process.
Inflammatory Phase
The Inflammatory Phase begins immediately after the injury and typically lasts for about 48 hours. During this phase, the body's immune system responds to the injury by increasing blood flow to the area. This is a defense mechanism aimed at fighting infection and clearing damaged tissue [2].
Symptoms
Redness
Swelling
Heat around the burn area
Pain
Skincare Strategies
Cooling the burn: Gently cooling the burn with cold water can help reduce pain and swelling.
Keeping it clean: It is vital to keep the burn clean to avoid infection.
Avoiding irritants: Refrain from using products that could irritate the skin, such as soaps with fragrances or alcohol-based cleansers.
Pain management: Using over-the-counter pain relievers as needed.
Proliferative Phase
The Proliferative Phase starts around the third day after the injury and can last for several weeks. During this phase, the body works to repair and rebuild the damaged tissue [3].
Symptoms
Granulation, or the formation of new tissue, which appears red and bumpy
The development of scabs over the burn area
Possible itching as the skin begins to heal
Skincare Strategies
Moisturizing: Apply a gentle moisturizer to the skin to alleviate dryness and itching.
Keeping it clean and protected: Continue to keep the burn clean, and protect it with a bandage or dressing.
Nutrition: Ensuring a diet rich in proteins and vitamins, as these nutrients are essential for tissue repair.
Managing itching: Avoid scratching, and consult a healthcare provider if itching becomes severe.
Maturation Phase
The Maturation Phase is the final stage of the healing process. It can begin as early as three weeks after the injury but may last for months or even years. During this stage, the new tissue gains strength, and the scar begins to flatten and fade.
Symptoms
Scars may be red and raised initially
Gradual flattening and fading of scars
Possible limited mobility in the affected area due to tightening of the skin
Skincare Strategies
Continued moisturization: Keep applying moisturizer to keep the skin supple.
Gentle massage: Gently massaging the area can improve mobility and reduce scar tissue.
Sun protection: Protecting the new skin from the sun is critical as it's very sensitive to UV rays.
Professional consultation: For extensive scarring, consult a healthcare provider for possible treatments like pressure garments or silicone sheets.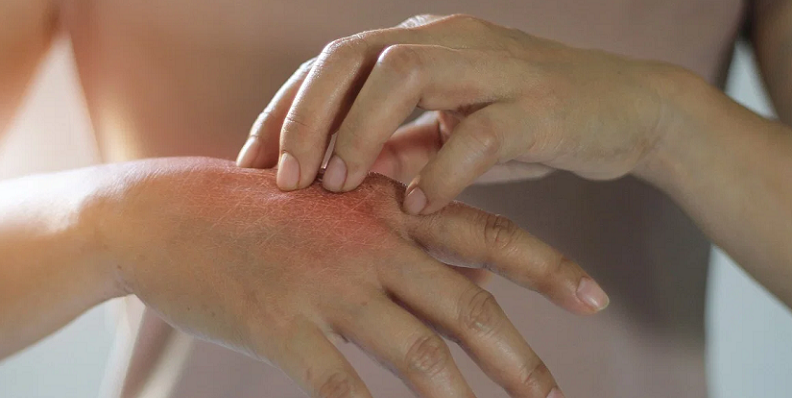 Immediate Care: First Steps After a Burn Injury
The immediate care given to a burn injury is crucial in minimizing damage and promoting effective healing. The first steps taken can greatly affect the outcome of the recovery process. Whether it's a minor or major burn, knowing how to respond quickly and efficiently can make a significant difference.
Assessing the Severity
The first step in providing immediate care is to assess the severity of the burn. As we learned in the types of burn injuries, the depth and size of the burn are important indicators of its severity. The degree of the burn will dictate the subsequent steps in treatment [4].
Minor Burns
For first and second-degree burns that are not extensive, the immediate care can usually be handled at home.
Major Burns
If the burn is third or fourth-degree, or if the second-degree burn is extensive, it's crucial to treat it as a medical emergency.
Cooling the Burn
For first and second-degree burns, one of the most immediate relieving actions is to cool the burn.
Method
Run cool (not cold) water over the burn for about 10 to 15 minutes. This helps in reducing swelling by conducting heat away from the skin.
Do not use ice or icy water as extreme cold can cause more damage to the tissue.
What to Avoid
Do not use butter, toothpaste, or any home remedy on the burn as they can make it more difficult to clean and can increase the risk of infection.
Covering the Burn
Once the burn has cooled, it should be covered to keep it clean and avoid infection.
Method
Use a sterile non-stick bandage or cloth.
Wrap it loosely to avoid putting pressure on the burned skin.
What to Avoid
Do not use adhesive bandages or anything that can stick to the skin.
Pain Management
Burn injuries can be extremely painful. Managing pain is an important aspect of immediate care.
Over-The-Counter Pain Relievers
For minor burns, over-the-counter pain relievers like ibuprofen or acetaminophen can be used.
Stay Calm
Try to remain calm as anxiety can increase the perception of pain. Take deep breaths and keep the environment calm.
Seeking Medical Help
After taking these immediate steps, it's important to evaluate whether medical help is needed.
When to Seek Help
For third and fourth-degree burns, call emergency services immediately.
For second-degree burns that are larger than three inches in diameter or are on the face, hands, buttocks, groin, or over a major joint, it's important to seek professional medical attention.
If there are signs of infection, such as increased pain, redness, fever, swelling, or oozing.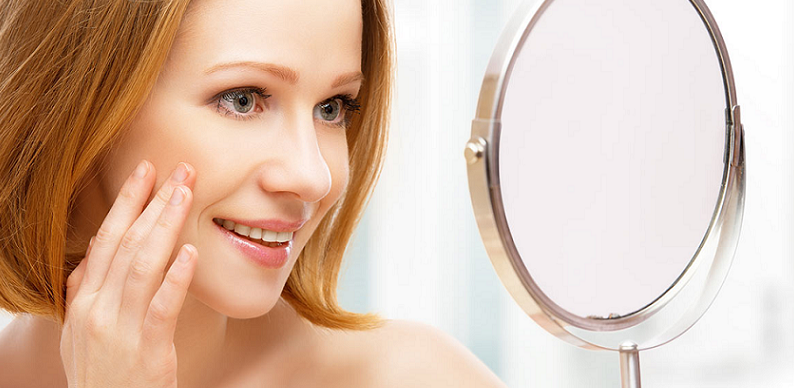 Short-Term Skincare Strategies for Burn Injuries
After administering the immediate care for a burn injury, the subsequent days and weeks are critical in fostering the healing process. During this short-term phase, it's crucial to remain vigilant in caring for the wound to minimize the risk of infection, reduce scarring, and promote faster recovery [5].
Keep the Burn Clean
One of the fundamental aspects of short-term skincare for burns is ensuring that the wound is kept clean to prevent infection.
Cleaning Process
Gently clean the burn with mild soap and water daily.
Avoid scrubbing the burn to prevent further irritation.
Applying Antibiotic Ointments
Apply an antibiotic ointment to prevent infection.
This also keeps the wound moist, which can promote healing.
Change Dressings Regularly
Changing the dressings on the burn wound regularly is crucial in reducing the risk of infection.
Steps for Changing Dressings
Before touching the dressing, make sure your hands are clean.
Remove the old dressing gently.
After cleaning the burn, apply antibiotic ointment if needed.
Apply a new sterile non-stick bandage.
Frequency
The dressing should be changed daily or whenever it becomes wet or dirty.
Manage Swelling
Reducing swelling is important in alleviating pain and promoting healing.
Elevate the Injured Area
Keep the burned area elevated to reduce swelling.
For burns on limbs, use pillows to prop the area above the level of the heart.
Stay Hydrated
Drink plenty of water. Proper hydration can also help reduce swelling.
Combat Itching
As the skin begins to heal, it may become itchy. Managing itching is important to prevent the wound from opening or becoming infected.
Moisturizing
Keep the skin moisturized with fragrance-free lotions.
Cold Compress
Apply a cold compress to alleviate itching.
Medication
Consult a doctor about medications that can relieve severe itching.
Wear Protective Clothing
While the skin is healing, it's important to protect it from further damage.
Loose and Soft Fabrics
Wear clothing that is loose and made of soft fabrics to avoid irritation.
Ensure that clothing does not stick to the wound.
Sun Protection
When going outside, make sure the burned area is covered or protected with a high SPF sunscreen, as healing skin is very sensitive to the sun.
Monitor for Signs of Infection
Keeping a close eye on the wound for any signs of infection is vital.
Signs of Infection
Increased redness, swelling, or pain
Foul-smelling discharge
Fever
Action to Take
If there are signs of infection, seek medical help immediately.
Long-Term Skincare Strategies for Burn Injuries
As the burn wound transitions from the immediate healing phase to long-term recovery, skincare strategies need to evolve. Long-term care focuses on improving the appearance and functionality of the affected area, reducing scarring, and helping the skin regain its strength and elasticity [6].
Continued Moisturization
Even after the wound has closed, it's important to keep the skin moisturized to improve its texture and elasticity.
Choice of Moisturizer
Opt for hypoallergenic, fragrance-free moisturizers.
Products containing silicone or hyaluronic acid can be beneficial.
Frequency
Apply moisturizer to the affected area at least twice a day.
Massage Therapy
Gentle massage can be beneficial in reducing scar tissue and improving the mobility of the skin.
Techniques
Use gentle circular motions to massage the area with a moisturizer.
Avoid applying too much pressure.
Benefits
This helps in breaking down scar tissue.
It also improves blood circulation to the area, promoting healing.
Sun Protection
Healed burns can be extremely sensitive to the sun and are at risk of sunburn, which can worsen scarring.
Using Sunscreen
Use a broad-spectrum sunscreen with an SPF of at least 30.
Reapply every two hours when outdoors.
Wearing Protective Clothing
Wear long sleeves and pants to protect the skin.
Opt for clothing with built-in sun protection.
Pressure Garments
For more severe scarring, pressure garments can be used to flatten and soften scars.
How They Work
These are tight-fitting garments that apply pressure to the scarred area.
Professional Consultation
It's important to consult a healthcare provider for proper fitting and advice on using pressure garments.
Silicone Sheets or Gels
Silicone sheets or gels can be used to reduce the appearance of scars.
How They Work
They create a moist environment that can help in flattening and softening scars.
Application
Follow the manufacturer's instructions and consult a healthcare provider for advice.
Physical Therapy
If the burn has affected the mobility of joints or limbs, physical therapy may be needed.
Professional Assessment
A physical therapist can assess the area and create a personalized plan.
Exercises and Stretching
Physical therapy may include exercises and stretching to improve mobility and strength.
Monitoring and Regular Check-Ups
Long-term recovery from burn injuries may require regular check-ups with healthcare professionals.
Monitoring Progress
Regularly assess the skin for changes in the scars or any new issues.
Doctor Visits
Attend scheduled appointments with healthcare providers to monitor the progress of healing and address any concerns.
References

[1] Caring for your healed burn
[2] Skin Care After A Burn Injury
[3] Helping Thermal Burns Heal With Nutrient-Rich Skin Care
[4] Minor burn management: potions and lotions
[5] How To Treat A First-Degree, Minor Burn
[6] Burns Diagnosis and Treatment