Postpartum Glow: Skincare After Pregnancy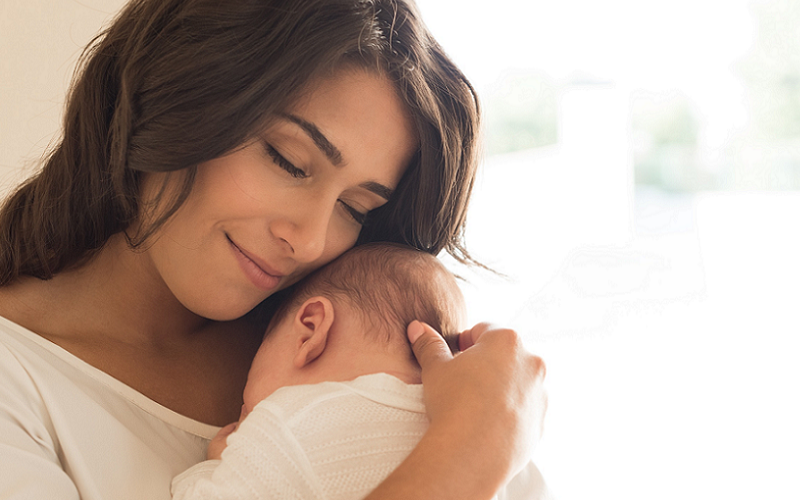 As you navigate the rewarding journey of motherhood, it's essential to remember that, much like the life-altering transformations you've experienced internally, your skin, too, undergoes significant changes during and after pregnancy. While the coveted "pregnancy glow" might have been a delightful perk, postpartum skin can present a set of unique challenges. From hormonal shifts to the appearance of stretch marks, understanding and addressing these changes is key to maintaining healthy, radiant skin in this new chapter of your life.
Understanding Postpartum Skin
Navigating the world of postpartum skincare requires a fundamental understanding of the changes your skin undergoes after pregnancy. While some of these shifts are temporary, others might linger a little longer, urging you to tweak your skincare routine.
The Science Behind Skin Changes After Pregnancy
Pregnancy is a whirlwind of hormonal fluctuations, and these don't just halt the moment you give birth. Your postpartum period is characterized by a series of hormonal adjustments, and these, unsurprisingly, influence your skin.
Hormonal Shifts
After childbirth, estrogen and progesterone levels drop dramatically, leading to potential dryness, sensitivity, or even breakouts. Additionally, the presence of the hormone prolactin, essential for breastfeeding, might cause your skin to become oilier than usual.
Effects of Stretching and Weight Gain/Loss
The rapid weight gain and stretching of the skin during pregnancy, followed by postpartum weight loss, can affect skin's elasticity. This stretching might lead to loose skin or changes in skin texture, especially around the abdominal area.
Impact of Breastfeeding
Breastfeeding, while profoundly beneficial for your baby, can leave mothers dehydrated. Dehydration can impact skin health, making it appear dull or exacerbating dryness [1].
Common Postpartum Skin Issues
With the science of postpartum skin changes in mind, it's easier to understand the skin concerns that many new mothers face.
Acne Breakouts
The drastic hormone shifts can lead to postpartum acne. Some mothers might experience breakouts similar to teenage acne, with pimples appearing not just on the face but also on the body.
Hyperpigmentation
Melasma, also known as the "mask of pregnancy", doesn't always fade away after childbirth. Due to heightened melanin production during pregnancy, you might notice brown patches on your face, especially on the forehead, upper lip, and cheeks.
Stretch Marks
While stretch marks develop during pregnancy due to the stretching of the skin, they become more noticeable postpartum as the skin contracts. These reddish or purplish lines can be found on the stomach, thighs, hips, breasts, and even arms.
Dry or Sensitive Skin
As mentioned, the significant drop in estrogen can cause skin dryness. You might also find your skin reacting more to products that you've previously used without issue, making it essential to adopt a gentler skincare routine.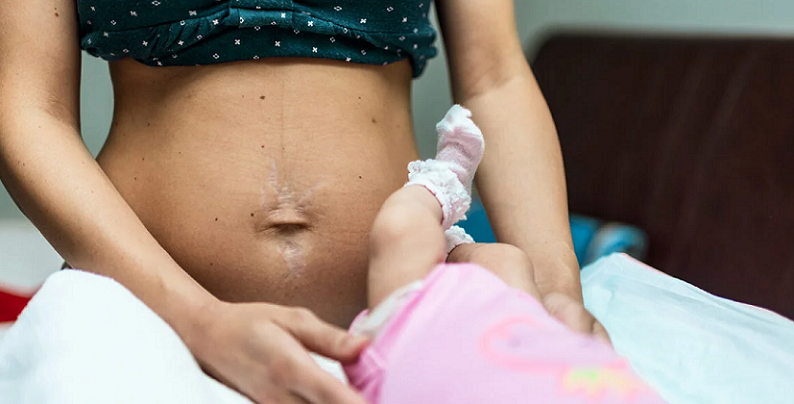 Tailoring Your Postpartum Skincare Routine
Now that we've uncovered the mysteries behind postpartum skin changes, it's time to tailor a skincare routine that addresses these concerns. While you might be tempted to return to your pre-pregnancy skincare routine, your post-baby skin has unique needs that warrant special attention.
Cleansing
A robust cleansing routine remains the cornerstone of any effective skincare regimen. Given the possible changes in skin texture and increased sensitivity post-pregnancy, it's vital to select products that cleanse without over-stripping the skin [2].
Choosing Gentle Cleansers
Opt for cleansers that are sulfate-free, as sulfates can be drying and irritating. Cream or gel-based cleansers are ideal as they effectively remove dirt and excess oil without compromising the skin's natural barrier.
Importance of Daily Cleansing
Regardless of hormonal fluctuations or fatigue from late-night feedings, maintaining a daily cleansing ritual helps prevent clogged pores and the build-up of sebum – both contributors to postpartum acne.
Water Temperature Recommendations
Hot water can strip the skin of its natural oils, leading to dryness. It's best to cleanse with lukewarm water, ensuring the skin remains supple and hydrated after each wash.
Exfoliating
Exfoliation plays a crucial role in skin rejuvenation, especially when combatting textural irregularities or hyperpigmentation. But remember, it's all about balance.
When to Exfoliate Postpartum
Start with once-a-week exfoliation, observing how your skin reacts. If there's no undue sensitivity, you can gradually increase to two or three times per week.
Safe Exfoliating Products and Methods
Chemical exfoliants, like alpha hydroxy acids (AHAs) or beta hydroxy acids (BHAs), are preferred over physical scrubs as they provide a more even and gentler exfoliation. However, always conduct a patch test before trying a new product.
Avoiding Over-exfoliation
Exfoliating too often or using products too potent can damage the skin's barrier. Always follow exfoliation with a moisturizer to rehydrate and protect the skin.
Moisturizing
Hydration is vital during the postpartum period. With the body diverting nutrients to milk production and hormonal shifts potentially drying out the skin, moisturizing becomes a non-negotiable step [3].
Importance of Hydration
Hydrated skin is plumper, brighter, and more resilient. Moisturizing can counteract the effects of dehydration from breastfeeding and the general drying impact of hormonal shifts.
Recommended Moisturizers for Postpartum Skin
Creams containing hyaluronic acid, ceramides, and peptides are ideal for postpartum skin. These ingredients not only hydrate but also support skin barrier function and elasticity.
Benefits of Natural Oils
Natural oils like argan, rosehip, and jojoba mimic the skin's sebum, ensuring moisture is locked in. They can be especially helpful for those dealing with dry patches or stretch marks.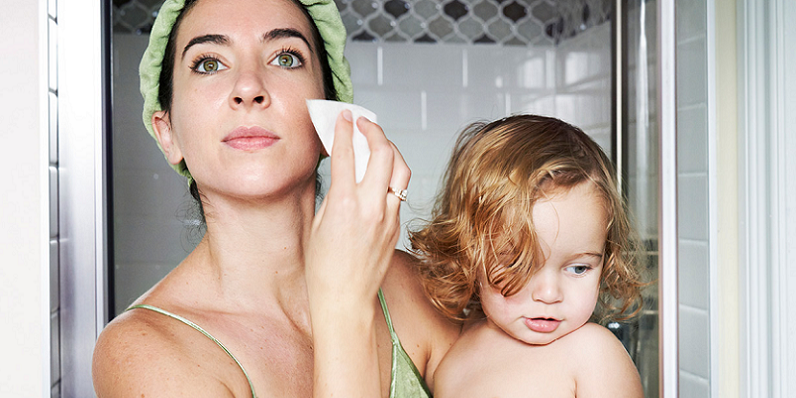 Addressing Specific Postpartum Concerns
While every new mom's journey is unique, many find solace in knowing that they're not alone in facing postpartum skin challenges. From pesky acne flare-ups to the lingering reminders of pregnancy in the form of stretch marks, these concerns can often impact self-confidence during an already vulnerable time. Fortunately, with a combination of targeted treatments and patience, you can effectively address these skin woes.
Combatting Hyperpigmentation
The remnants of the "mask of pregnancy" or melasma can linger long after childbirth. But with consistent care and the right products, you can significantly reduce or even eliminate these discolorations.
Safe Topical Treatments
Vitamin C serums can be a game-changer for postpartum skin, helping to brighten and even out skin tone. Similarly, niacinamide can reduce the appearance of dark spots. Remember, consistency is key, and it's crucial to follow up with sunscreen to prevent further darkening.
Importance of Sunscreen
Sun exposure can exacerbate hyperpigmentation. Always wear a broad-spectrum SPF of at least 30, even on cloudy days or when you're indoors, as UVA rays can penetrate windows.
Home Remedies
Natural ingredients like aloe vera, licorice root, and turmeric have been cited for their skin-brightening properties. Incorporating these into DIY face masks can offer a gentle approach to tackling hyperpigmentation [4].
Minimizing Stretch Marks
While stretch marks are a testament to the incredible capability of your body, you might wish to reduce their appearance. Here's how:
Effective Oils and Creams
Products containing ingredients like retinol (ensure it's safe if you're breastfeeding), hyaluronic acid, and rosehip oil can be effective. Regularly massaging these into affected areas can improve skin elasticity and appearance over time.
Laser Treatments and Professional Options
For those seeking quicker results, laser treatments can boost collagen production, making stretch marks less noticeable. Always consult with a dermatologist to discuss the best options for your skin type and needs.
Handling Postpartum Acne
Those unexpected postpartum breakouts can be a blow to the self-esteem, but with a few adjustments, clearer skin is within reach.
Gentle Acne Treatments
Salicylic acid and benzoyl peroxide are classic acne-fighting ingredients. However, ensure you're using them in moderation and watch for any signs of irritation.
Factors Causing Postpartum Acne
Other than hormonal fluctuations, factors like lack of sleep, stress, and sometimes even the foods you consume can contribute to breakouts. Monitoring these and making lifestyle adjustments can help in acne management.
Dietary Considerations
Incorporate skin-loving foods like omega-3 rich fish, antioxidant-packed berries, and leafy greens. Staying hydrated with water and reducing dairy or high-glycemic foods might also help in some cases.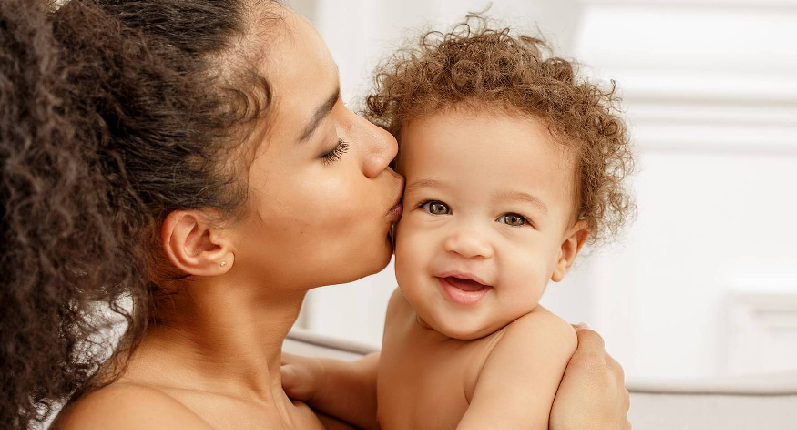 Nourishing from the Inside Out for Postpartum
While external skincare practices are undeniably vital, radiant skin is often a reflection of internal health and wellbeing. In the postpartum phase, your body is recovering and readjusting, making it imperative to fuel it with the right nutrients and care. Nourishing yourself from the inside out is not just about embracing a balanced diet, but also ensuring mental and emotional wellness.
Nutritional Building Blocks for Radiant Skin
It's an age-old saying – "you are what you eat" – and it rings particularly true when addressing skin health. By incorporating specific nutrients, you can boost skin's elasticity, brightness, and overall health [5].
Essential Fatty Acids
Omega-3 and Omega-6 fatty acids, found in foods like salmon, flaxseeds, and walnuts, are crucial for skin health. They keep the skin hydrated and may even help combat acne by regulating skin's oil production.
Vitamins and Minerals
Vitamin C (found in citrus fruits and bell peppers), Vitamin E (found in almonds and spinach), and zinc (found in legumes and whole grains) are vital for skin repair and protection.
Antioxidant-rich Foods
Berries, nuts, dark chocolate, and green tea are packed with antioxidants that combat free radicals, which can lead to premature skin aging.
Hydration
Drinking ample water daily helps maintain skin's elasticity and brightness. It also aids in flushing out toxins, potentially reducing the likelihood of breakouts.
Mindful Practices for Emotional Wellbeing
The connection between mental health and skin health is profound. Stress, anxiety, and sleep deprivation can take a toll on your complexion.
Embracing Self-care Rituals
Whether it's a five-minute meditation, a calming bath, or journaling, finding moments of peace can significantly reduce stress levels, benefiting both your emotional state and your skin.
Quality Sleep
Prioritizing good sleep is paramount. While newborn responsibilities might disrupt regular sleep patterns, grabbing short naps or ensuring deep, uninterrupted sleep when possible can rejuvenate the skin.
Seeking Support
It's okay to ask for help. Whether it's leaning on family, joining a support group, or seeking professional counseling, talking about your feelings and experiences can be therapeutic.
Physical Activity and Its Benefits
Keeping active post-pregnancy has myriad benefits, not just for the body, but for the skin and mind too.
Improved Circulation
Engaging in light exercises, such as walking or yoga, can boost blood circulation, delivering essential nutrients to the skin and imparting a natural glow.
Stress Reduction
Physical activity releases endorphins, the body's natural stress-relievers and mood elevators. This can indirectly lead to improved skin health by reducing breakout-causing stress.
Detoxification Through Sweat
Exercise-induced sweating can help clear out pores, aiding in reducing the appearance of acne and giving the skin a fresher look.
References

[1] Postpartum Skin Care Guide
[2] Postpartum Skin Care Guide: Everything You Need to Know
[3] The only 3 steps you need in your postpartum skincare routine
[4] 11 Best Pregnancy-Safe Skin Care and Postpartum Beauty Products
[5] Postpartum Acne