Psoriasis Peace: Skincare Routines for Flaky Skin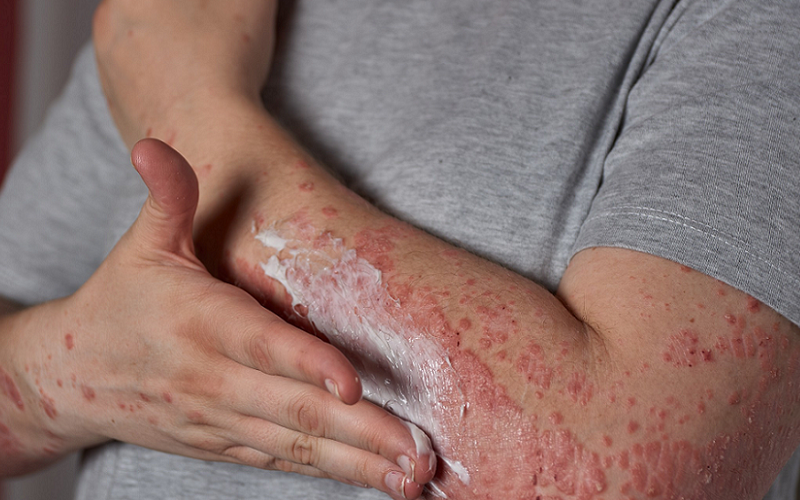 Living with psoriasis often means navigating a world of unpredictable skin flare-ups, with many sufferers endlessly searching for relief from the discomfort and appearance of flaky patches. While this skin condition is rooted in complex internal factors, external care is pivotal. Tailoring a skincare routine can significantly alleviate symptoms, restoring both the health and confidence of your skin. Here we explore the nature of psoriasis, key ingredients to embrace, and effective routines to achieve the much-desired psoriasis peace.
Understanding Psoriasis
Psoriasis isn't merely about dry, flaky skin—it's a complex condition that requires a nuanced understanding. This autoimmune disease affects millions worldwide, manifesting itself in different forms and severities.
What Causes Psoriasis?
Before diving into specific types, it's crucial to understand the root causes of psoriasis. Knowing what's happening beneath the skin's surface can better inform treatment and prevention strategies.
Genetic Factors
While not everyone with a genetic predisposition will develop psoriasis, genetics play a significant role. If a close family member has the condition, the chances of you developing it increase.
Immune System Triggers
At its core, psoriasis is an autoimmune condition. This means the body's immune system mistakenly targets healthy skin cells. Certain triggers, such as infections, stress, or even some medications, can set off or exacerbate these attacks.
Types of Psoriasis
Understanding the various manifestations of psoriasis is essential. Not all psoriasis is the same, and identifying the specific type can help in formulating a more targeted approach to skincare and treatment [1].
Plaque Psoriasis
This is the most common type, characterized by raised, red patches covered with a silver-white buildup of dead skin cells. These patches are often found on the elbows, knees, scalp, and lower back but can appear anywhere on the body.
Guttate Psoriasis
Guttate psoriasis presents as small, dot-like lesions. It often begins in childhood or young adulthood and can be triggered by a strep infection.
Inverse Psoriasis
This type affects skin folds, such as those found in the armpits, behind the knees, and around the groin. It's characterized by red, smooth, shiny lesions that can become aggravated by friction or sweating.
Pustular Psoriasis
Less common than other types, pustular psoriasis features white blisters surrounded by red skin. The blisters contain non-infectious pus consisting of white blood cells. This type can be triggered by medications, infections, stress, or even some topical products.
Erythrodermic Psoriasis
The least common but most severe type, erythrodermic psoriasis, can cover the entire body with a red, peeling rash. It can be life-threatening, so immediate medical attention is crucial.
Psoriasis vs. Dry Skin: Knowing the Difference
It's easy to mistake psoriasis for simple dry skin, especially in milder cases. However, while both conditions can cause flaking and itching, psoriasis is an autoimmune condition with deeper inflammatory roots. Psoriatic scales tend to be thicker and can have a silvery sheen, unlike the fine flakes seen in dry skin. Additionally, psoriasis may be accompanied by other symptoms like joint pain, pointing to its systemic nature. Knowing the difference ensures that you're not just treating the symptom (dryness) but addressing the underlying condition if it's indeed psoriasis [2].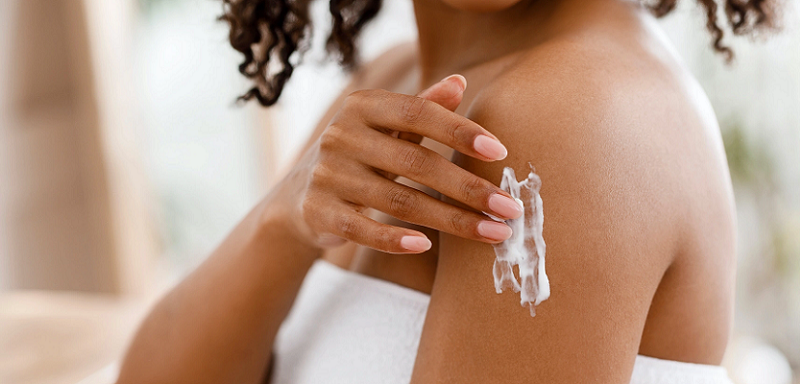 Skincare Ingredients to Look For If You Have Psoriasis
When it comes to managing psoriasis, the products you choose to apply to your skin can make a world of difference. However, not all skincare ingredients are created equal. Some can offer soothing relief and protection, while others might aggravate the condition.
Moisturizing Agents
Moisture is paramount for skin affected by psoriasis. These agents help to lock in hydration, reduce flaking, and ease the tightness associated with dry patches.
Hyaluronic Acid
Often hailed as a super-moisturizer, hyaluronic acid can hold up to 1,000 times its weight in water. This means it can provide deep hydration, helping to plump and soothe the skin, reducing the appearance of flakes.
Ceramides
These are essential lipids found naturally in the skin's barrier. When applied topically, they help restore and reinforce the skin's protective layer, keeping moisture in and potential irritants out.
Glycerin
A popular humectant in many skincare products, glycerin draws moisture to the skin, ensuring prolonged hydration. It's particularly effective in lotions and creams formulated for extremely dry skin [3].
Soothing Ingredients
Inflammation and redness are common with psoriasis. Ingredients that can soothe and calm the skin can help manage these symptoms.
Aloe Vera
Renowned for its cooling and healing properties, aloe vera can offer immediate relief to irritated skin. It's hydrating, anti-inflammatory, and can reduce redness.
Chamomile
This age-old remedy isn't just for teas. Chamomile, particularly in the form of extracts or oils, can soothe inflamed skin, reducing redness and discomfort.
Niacinamide
Also known as vitamin B3, niacinamide boasts a range of skin benefits. It's anti-inflammatory, can improve the skin barrier function, and helps reduce redness, making it an excellent choice for psoriatic skin.
Exfoliating Ingredients
Gentle exfoliation can assist in removing the buildup of dead skin cells, which is a hallmark of psoriasis. However, it's crucial to choose exfoliants that won't irritate the skin further.
Lactic Acid
A milder alpha hydroxy acid (AHA), lactic acid can gently exfoliate the skin's surface without being too harsh. It also has the added benefit of being a humectant, drawing moisture to the skin.
Salicylic Acid
This beta hydroxy acid (BHA) can penetrate oil and exfoliate inside the pore. For psoriasis, it's beneficial in breaking down the thick, scaly patches, especially when found in medicated creams and ointments [4].
Sun Protectants
Protecting psoriatic skin from the sun is vital. While some sun exposure can be beneficial, overexposure can trigger flare-ups. Here are ingredients to look for in sunscreens.
Broad-Spectrum SPF
Ensure your sunscreen offers protection against both UVA and UVB rays. A broad-spectrum label indicates this dual protection.
Zinc Oxide
A physical sunblock, zinc oxide provides a barrier against the sun's rays. It's suitable for sensitive skin and offers immediate protection upon application.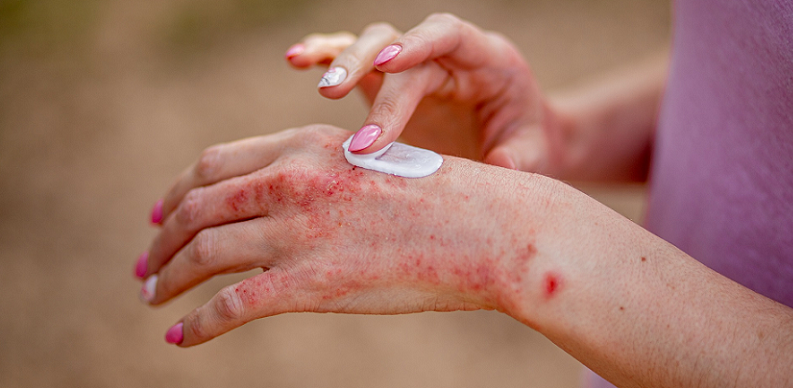 Recommended Skincare Routine for Psoriasis
Maintaining a consistent skincare routine is paramount for managing psoriasis. The key lies in finding products that cater to the unique needs of psoriatic skin while integrating beneficial ingredients. As we move through the ideal routine, keep in mind that everyone's skin is different. What works wonders for one person might not be as effective for another. As always, listening to your skin's signals and adjusting your routine accordingly is essential.
Morning Routine
Kickstarting your day with a gentle yet effective skincare routine can set the tone for comfortable, hydrated skin all day long.
Gentle Cleansing
Begin your day by cleansing your face with a mild, hydrating cleanser. Avoid products with alcohol or other drying agents. A creamy or oil-based cleanser can be especially beneficial for psoriatic skin, offering hydration while cleansing.
Moisturizing
After cleansing, apply a moisturizer enriched with the agents we discussed earlier, like hyaluronic acid, ceramides, or glycerin. This step will lock in hydration and ensure your skin remains supple throughout the day [5].
Sun Protection
Never skip this step, even on cloudy days. Apply a broad-spectrum sunscreen, preferably one with zinc oxide, to protect your skin from potential UV-triggered flare-ups. If your moisturizer has SPF protection, ensure it's broad-spectrum and meets the recommended SPF level.
Evening Routine
Nighttime is when our skin naturally repairs and regenerates. An effective evening routine can support this process and provide relief from the day's stresses.
Deep Cleansing
Especially if you wear makeup or sunscreen, ensure all traces are thoroughly removed. Consider using a gentle micellar water followed by your morning cleanser for a double-cleansing effect. This approach ensures a clean slate without stripping the skin.
Treatment (If Applicable)
If you use medicated creams or treatments prescribed by your dermatologist, apply them post-cleansing. Always follow your physician's instructions regarding the application.
Intensive Moisturization
Night creams or heavier moisturizers can offer deeper hydration. Look for products with soothing ingredients like aloe vera or chamomile to calm any irritation. Don't forget areas like the neck and ears, which can also be affected by psoriasis.
Weekly Care
While daily care addresses immediate needs, weekly treatments can enhance your skincare game, offering deeper nourishment and exfoliation.
Gentle Exfoliation
Once a week, use a mild exfoliant containing lactic or salicylic acid. This will help shed the buildup of dead skin cells. Remember to follow up with a good moisturizer to soothe the skin.
Masks for Soothing and Hydration
Consider integrating a weekly hydrating or soothing mask into your routine. Masks containing ingredients like oatmeal, honey, or even green tea can offer deep hydration and calming benefits.
References

[1] Psoriasis – Diagnosis and treatment
[2] Skin, Hair, and Nail Care for People Who Have Psoriasis
[3] Psoriasis Must-Have Lotions
[4] This skin-care toolkit can help psoriasis
[5] The Exact Routine This Dermatologist Uses to Fight Her Psoriasis