Rosacea Rescue: Skincare Tips for Redness and Flare-ups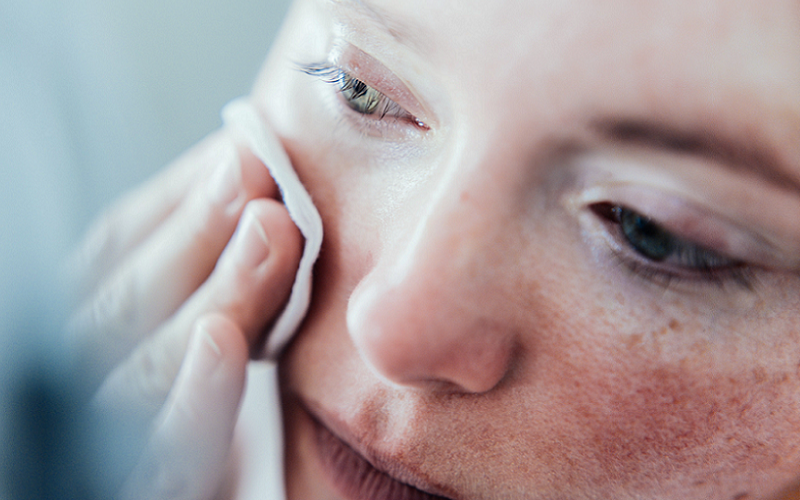 Rosacea, often marked by its telling flush and unpredictable flare-ups, is more than just a cosmetic concern; it's a complex skin condition that affects millions globally. For many, the journey to understanding and managing rosacea is filled with trial and error, often exacerbated by well-meaning but misguided skincare choices. Here we examine this condition, offering clarity on its various types and, most importantly, guiding you through a comprehensive skincare regimen. By understanding the dos and don'ts of rosacea care, you can pave the way to more predictable, calmer skin days.
Understanding Rosacea
Rosacea, at its core, is not just about red cheeks or occasional flushes. It's a chronic skin condition characterized by various symptoms, each hinting at the different subtypes of the disease. To truly address the issue, one must first recognize its underlying triggers and manifestations.
Definition and Characteristics
Rosacea is primarily identified by persistent redness on the face, particularly the cheeks, nose, chin, and forehead. Its progression can lead to visible blood vessels, pimples, and in some cases, a swollen nose. The condition often begins subtly, with individuals noting episodes of flushing or transient redness. Over time, these episodes can lead to lasting facial redness and other symptoms.
Common Triggers and Causes
Navigating rosacea becomes more straightforward when one is aware of its triggers. While the root cause of rosacea remains somewhat elusive, several common triggers have been identified.
Environmental Factors
Sun exposure is the leading trigger for many. Other environmental factors include strong winds, humidity, and extreme temperatures. Protecting oneself from harsh weather conditions and using sunscreen can help in managing the symptoms.
Diet and Lifestyle
Certain foods and beverages can cause flare-ups in some people. Spicy foods, alcohol (especially red wine), caffeine, and dairy are often listed as dietary culprits. Additionally, a diet high in processed foods and sugars can exacerbate symptoms for some.
Stress and Hormones
Emotional stress is a recognized trigger for rosacea. Hormonal changes, particularly those during menopause, menstruation, or due to certain medications, can also lead to flare-ups [1].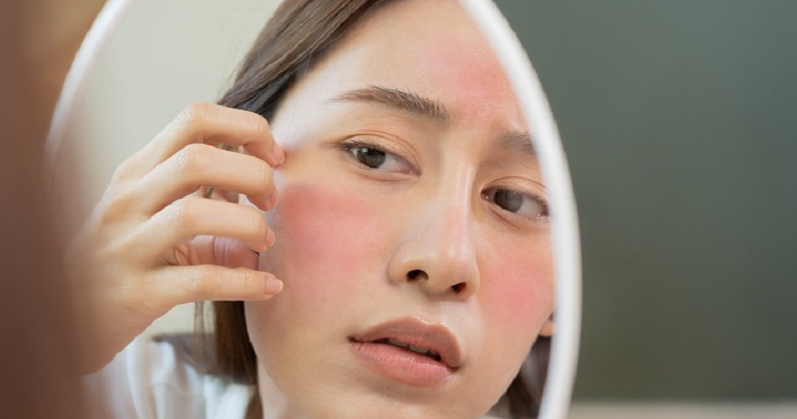 Different Types of Rosacea
While the redness and flush associated with rosacea are widely recognized, few are aware that rosacea presents itself in diverse ways. There are, in fact, four main subtypes of rosacea, each with its unique symptoms and characteristics. Identifying which type of rosacea you might be dealing with is crucial for targeted treatment and better management.
Erythematotelangiectatic Rosacea (Redness)
This subtype is perhaps what most envision when they hear the term rosacea. Erythematotelangiectatic Rosacea, or ETR, is characterized by:
Persistent facial redness, especially in the central parts of the face.
Visible small blood vessels near the surface of the skin.
A tendency to flush or blush more easily than others.
Regular use of gentle skincare products and sun protection can be effective in managing ETR.
Papulopustular Rosacea (Breakouts)
Resembling acne, this type is often misunderstood, leading some to apply acne treatments that may worsen the condition [2]. Symptoms of Papulopustular Rosacea include:
Redness accompanied by small, pus-filled bumps.
Occasional swelling and burning sensations.
Unlike traditional acne, this type of rosacea is not typically associated with blackheads. Identifying it correctly is vital to ensure the application of suitable treatments and not exacerbate the condition.
Phymatous Rosacea (Skin Thickening)
Less common than the other subtypes, Phymatous Rosacea is often recognized by:
Thickening skin, often on the nose, leading to an enlarged appearance (a condition known as rhinophyma).
A bumpy skin texture.
Visible pores and oily skin.
Men are more likely to experience this subtype, particularly the rhinophyma aspect. Early diagnosis and treatment can help manage and minimize these symptoms.
Ocular Rosacea (Eye Irritation)
Though not always immediately associated with the skin condition, Ocular Rosacea can be quite debilitating for those it affects. Symptoms revolve around the eyes and include:
Redness and irritation.

Swollen eyelids.

The sensation of something being stuck in the eye.

Dry or teary eyes.
Regularly consulting an ophthalmologist is crucial for those suspecting or diagnosed with Ocular Rosacea.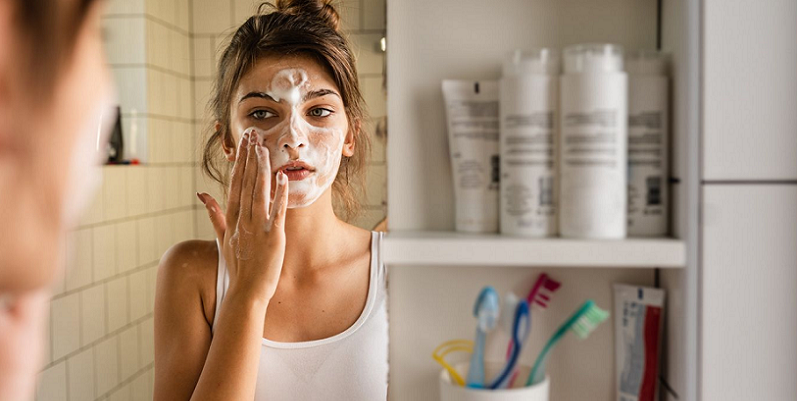 Skincare Do's for Rosacea
For those living with rosacea, a carefully curated skincare routine can mean the difference between aggravated symptoms and a calm complexion. It's not only about the products you apply but how you use them.
Gentle Cleansing
Keeping the skin clean is paramount, but for rosacea-prone skin, the kind of cleansing matters just as much as the act itself.
Recommended Cleansers
Opt for sulfate-free and soap-free cleansers that won't strip the skin of its natural oils. Ingredients like ceramides can be beneficial as they help reinforce the skin's natural barrier [3].
Proper Cleansing Techniques
Use lukewarm water—never hot—and gently massage the cleanser onto your skin using your fingertips. Avoid rough washcloths or brushes. Rinse thoroughly and pat dry with a soft towel, avoiding any rubbing motions.
Soothing Moisturizers
A good moisturizer can act as a shield, locking in essential moisture and protecting the skin from external irritants.
Ingredients to Look for
Go for products with calming agents like chamomile, aloe vera, or colloidal oatmeal. Hyaluronic acid is also excellent for hydration without aggravating rosacea-prone skin. Always opt for fragrance-free products.
Moisturizer Application Tips
Apply your moisturizer on damp skin to lock in hydration. Using gentle upward strokes, spread the product evenly. If your skin feels greasy afterward, you might be using too much; remember, a little often goes a long way [4].
Sun Protection
The importance of sun protection for rosacea-prone skin cannot be overstated, given how common sun exposure is as a trigger.
Importance of SPF
Daily sun protection can prevent flare-ups and further skin damage. Aim for a broad-spectrum sunscreen with an SPF of at least 30.
Best Sunscreens for Sensitive Skin
Mineral sunscreens containing zinc oxide or titanium dioxide are typically better tolerated by sensitive or rosacea-prone skin. They offer physical protection against the sun's rays without the potential irritation of chemical sunscreens.
Anti-inflammatory Ingredients
Some skincare ingredients are known for their anti-inflammatory properties, which can help soothe rosacea flare-ups and reduce redness.
Niacinamide
A form of vitamin B3, niacinamide helps reduce inflammation and can strengthen the skin's barrier function. It's suitable for most skin types and can be found in various serums and moisturizers.
Azelaic Acid
This acid is frequently used to treat rosacea because of its anti-inflammatory and skin-lightening properties. It can help reduce the redness and the appearance of pimples associated with some rosacea subtypes.
Green Tea Extract
Green tea has powerful antioxidant properties and can help calm the skin and reduce redness when applied topically.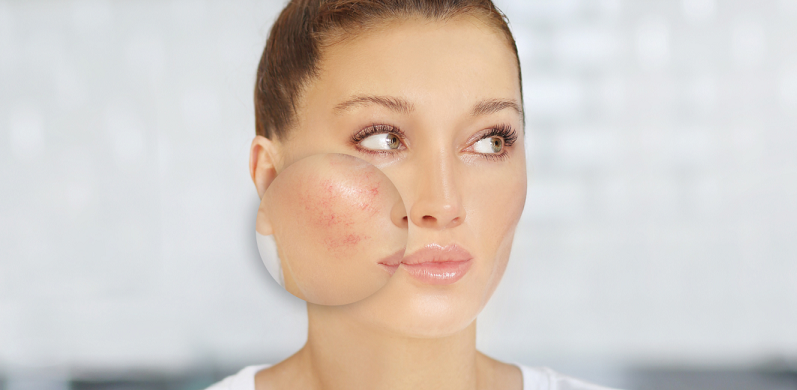 Skincare Don'ts for Rosacea
While understanding the best practices for rosacea skincare is fundamental, being aware of what not to do is equally vital. Avoiding certain habits and ingredients can prevent exacerbating the condition, making the journey to clearer skin less challenging.
Avoiding Harsh Ingredients
Not all skincare ingredients, even if they're popular or trending, are friendly to rosacea-prone skin. Here are some to approach with caution:
Alcohol and Fragrances
These can be incredibly drying and irritating. Alcohol, especially denatured alcohol, can disrupt the skin's barrier, leading to increased sensitivity. Fragrances, whether natural or synthetic, are common irritants for sensitive skin [5].
Strong Acids and Peels
High concentrations of glycolic acid, salicylic acid, and other chemical exfoliants can be too harsh. While they can offer benefits to many, for rosacea sufferers, they might lead to increased redness and irritation.
Steering Clear of Physical Scrubs
Exfoliation is beneficial for skin renewal, but when you have rosacea, the method matters.
Physical exfoliants, or scrubs, often have gritty particles that can cause microtears in the skin, leading to more redness and inflammation. Instead of these, consider a gentle enzymatic exfoliant or a mild lactic acid product, but always ensure to patch-test and use infrequently.
Being Cautious with DIY Treatments
The allure of natural, homemade skincare remedies can be tempting. However, many DIY treatments can be problematic for rosacea.
Common natural ingredients like lemon juice, peppermint, or witch hazel can be irritating. It's essential to remember that "natural" doesn't always mean "suitable for sensitive skin." Always be discerning and do your research before applying homemade concoctions.
References

[1] Rosacea – Diagnosis and treatment
[2] Skincare in Rosacea from the Cosmetologist's Perspective
[3] Rosacea Skin Care & Cosmetics
[4] The 20 Very Best Skin-Care Products for Redness and Rosacea
[5] 6 Rosacea Skin Care Tips Dermatologists Give Their Patients