Scleroderma Skin: A Skincare Routine for Hardened Skin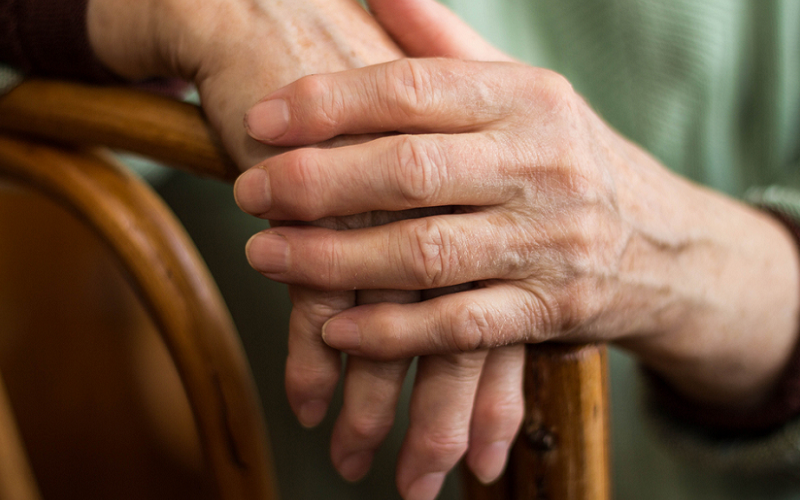 Living with scleroderma is not only a journey of resilience and strength but also one of constant adaptation, especially when it comes to skincare. Scleroderma, a chronic autoimmune disease, primarily affects the skin, leading to hardening and tightening in various areas. For those navigating these unique skin challenges, establishing an effective and soothing skincare routine is paramount.
Recognizing the Symptoms of Scleroderma on the Skin
For those unfamiliar with scleroderma, recognizing its symptoms can be challenging. While its manifestations can vary from person to person, understanding the most common skin-related signs is crucial for early detection and management. If you or someone you know is experiencing unusual skin changes, it's essential to consult a dermatologist.
Hardened or Tightened Skin Areas
One of the hallmark symptoms of scleroderma is skin that becomes increasingly hard or tight. Often starting as small patches, these areas can expand and sometimes feel like a tightened drum over the underlying tissue. This symptom is a result of excessive collagen production, which causes the skin to lose its elasticity. While any part of the body can be affected, it's most commonly observed on the hands, arms, and face.
Changes in Skin Coloration
Another common manifestation is the alteration in skin color. People with scleroderma may notice their skin taking on a shiny appearance, particularly in areas where the skin has tightened. Additionally, there might be visible patches of either darker (hyperpigmentation) or lighter (hypopigmentation) skin [1].
Skin Ulcers and Sores
Due to decreased circulation and skin tightness, small sores or ulcers might appear, primarily on the fingertips or toes. These ulcers can be painful and are prone to infection if not properly cared for. For some, these ulcers might heal slowly, underscoring the need for vigilant care and attention.
Shiny Areas on Forearms and Hands
With the progression of the disease, some individuals might observe shiny patches on the skin, especially on the forearms and hands. This shininess is a result of the skin being stretched taut over underlying tissue, reflecting light more than the usual skin.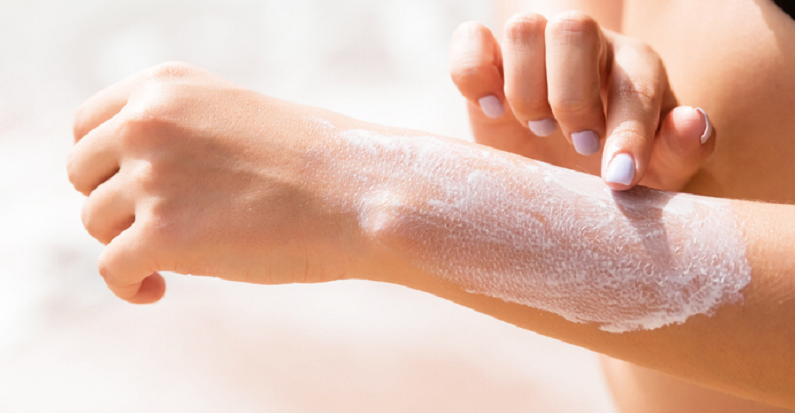 General Skincare Recommendations for Scleroderma
Skincare for scleroderma is not merely about aesthetic appeal; it's a crucial aspect of managing the condition and improving the quality of life. Given the unique challenges that scleroderma presents, the approach to skincare must be both gentle and effective.
Importance of Moisturizing
Moisturizing stands as a cornerstone in skincare for scleroderma patients. As the skin tightens and loses its natural elasticity, it can become dry and prone to cracking. Regularly applying a high-quality moisturizer helps replenish the skin's natural moisture, improving its texture and reducing the chances of fissures. Opt for a moisturizer that's hypoallergenic, fragrance-free, and specifically designed for sensitive or compromised skin [2].
Protection Against Sun Exposure
Sun protection isn't just a recommendation; it's a necessity for those with scleroderma. Changes in skin coloration, combined with increased sensitivity, can make the skin more susceptible to sunburns and other UV-related damages. It's essential to use a broad-spectrum sunscreen with at least SPF 30 daily. Additionally, protective clothing and hats can further shield the skin from harmful UV rays.
Avoiding Skin Irritants
The compromised nature of scleroderma-affected skin means it's more susceptible to irritation from various external agents. Fragranced products, harsh detergents, and certain fabrics can exacerbate skin issues. Opt for gentle, hypoallergenic skincare products, and avoid using products that contain alcohol, dyes, or other potential irritants. When choosing clothing, soft fabrics like cotton can be more comfortable and less irritating than synthetic materials.
Regularly Monitoring Skin Changes
Regular self-examinations are crucial. Being proactive and vigilant can help detect new or worsening symptoms early on. Keep an eye out for any changes in skin texture, color, or the appearance of new sores or ulcers. Any sudden or significant change warrants a consultation with a dermatologist or healthcare professional [3].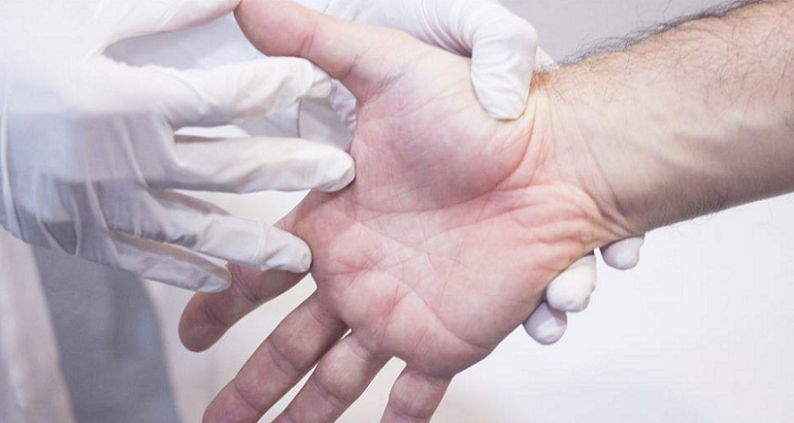 Daily Skincare Routine for Scleroderma
Crafting a daily skincare routine tailored to the unique needs of scleroderma skin is essential for maintaining its health and addressing specific concerns. While the basics might resemble a traditional skincare regimen, there are some nuanced steps and product recommendations that can make all the difference.
Morning Routine
Waking up with scleroderma requires a gentle approach to energize and protect the skin for the day ahead. Here are some steps to consider incorporating into your morning routine.
Gentle Cleansing
Start your day with a mild, hydrating cleanser. This step helps remove any impurities or residues from the previous night without stripping the skin's essential oils. Opt for cream or gel-based cleansers, steering clear of products with alcohol or sulfates [4].
Hydrating Serum Application
Once your skin is clean, apply a hydrating serum, ideally one with hyaluronic acid. This molecule can hold up to 1,000 times its weight in water, ensuring your skin stays hydrated throughout the day.
Moisturizing with a Barrier Cream
Lock in the hydration with a moisturizing barrier cream. Such creams not only offer moisture but also form a protective layer, shielding the skin from external irritants and environmental factors.
Sunscreen Application
Never skip this step. Even if you'll be indoors for most of the day, ensuring your skin is protected from any UV exposure is crucial. A broad-spectrum SPF of 30 or higher is recommended. For added protection, consider sunscreens with zinc oxide or titanium dioxide.
Evening Routine
Nighttime is an opportunity for the skin to heal and rejuvenate. A well-thought-out evening routine can help amplify this natural restoration process.
Cleansing Without Stripping Natural Oils
Much like in the morning, start with a gentle cleanser. Evening cleansing helps remove pollutants and impurities accumulated throughout the day. If you wore makeup, consider a two-step cleanse, starting with an oil-based cleanser followed by your regular gentle cleanser [5].
Application of Targeted Treatments (if prescribed)
If your dermatologist has prescribed any topical treatments, apply them post-cleansing. This ensures maximum absorption and efficacy.
Overnight Deep Moisturizing
Night creams or heavy moisturizers can offer a more profound hydration level, essential for scleroderma skin. These creams often contain ingredients like peptides, ceramides, and natural oils, which support the skin's repair process overnight.
Gentle Exfoliation (Frequency Recommendations)
While daily exfoliation isn't recommended for scleroderma skin, incorporating a gentle exfoliant once a week can help remove dead skin cells and promote cell turnover. Look for products with mild exfoliating agents and avoid harsh scrubs.
References

[1] Self-Care: 10 Ways to Relieve Discomfort from Scleroderma
[2] Skin Care Tips for Systemic Sclerosis
[3] Skin care and topical treatments for common symptoms of scleroderma
[4] How to Create a Skin Care Routine with Scleroderma
[5] Products and Advices to Help with Scleroderma