Double Cleansing Your Skin: Ancient Ritual or Modern Necessity?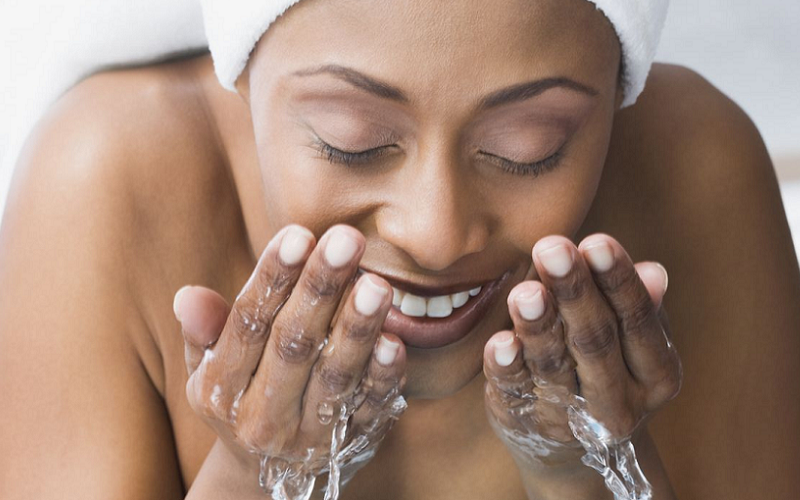 In the vast universe of skincare routines, double cleansing stands out as a topic of intrigue and debate. Stemming from ancient traditions, this method has found its way into modern vanities and evening rituals. But is it a timeless secret from our ancestors or a contemporary solution to today's skin challenges?
The Ancient Origins of Double Cleansing Your Skin
The allure of double cleansing doesn't spring from a newfound trend; its roots run deep, traced back to ancient civilizations where beauty rituals were both an art and a science. Understanding the historical context of double cleansing provides perspective on why this method has endured for centuries and is still cherished today.
Historical Use in Ancient Civilizations
Korean and Japanese Traditions
Long before the term "double cleansing" became a buzzword in the skincare world, it was a fundamental part of traditional Korean and Japanese beauty routines. In ancient Korea, women utilized plant-based oils to remove layers of colored powders and herbal makeup. They followed this with a secondary cleanse using water-based ingredients to ensure a thorough purification of the skin.
Similarly, in ancient Japan, Geishas were known for their iconic white facial makeup called 'oshiroi.' This thick, paint-like foundation could not be removed with water alone. They turned to a combination of camellia oil to dissolve the makeup, followed by a rice bran cleanser to wash away residual impurities, laying the foundation for what we recognize as double cleansing today.
Ancient Egypt and Oil Cleansing
Historical records show that the ancient Egyptians were pioneers in many beauty rituals, one of which was oil cleansing. They believed in the power of oils like moringa, castor, and sesame to not only cleanse but also protect the skin from the harsh desert climate. This practice laid the groundwork for the first step of modern double cleansing, emphasizing the importance of oil in removing dirt and makeup [1].
Evolution of Skincare Rituals Over Time
Middle Ages and Renaissance Period
During the Middle Ages and the Renaissance, European beauty standards idolized pale, clear skin. To achieve this, women would often layer lead-based powders on their faces. Removing these toxic powders without causing harm was a challenge. Olive oil became a popular choice for its cleansing and moisturizing properties. After massaging the skin with oil, women would then use herbal-infused waters or early forms of soap to cleanse the face further.
Modern Era and Revival of Double Cleansing
The 20th century witnessed an explosion of cosmetic innovations and a plethora of makeup products entering the market. With waterproof mascaras, long-wear foundations, and heavy-duty sunscreens becoming popular, the need for an effective cleansing method became paramount. Drawing inspiration from ancient rituals, the beauty industry reintroduced the concept of double cleansing to ensure that modern makeup formulations could be removed thoroughly without harming the skin's delicate barrier.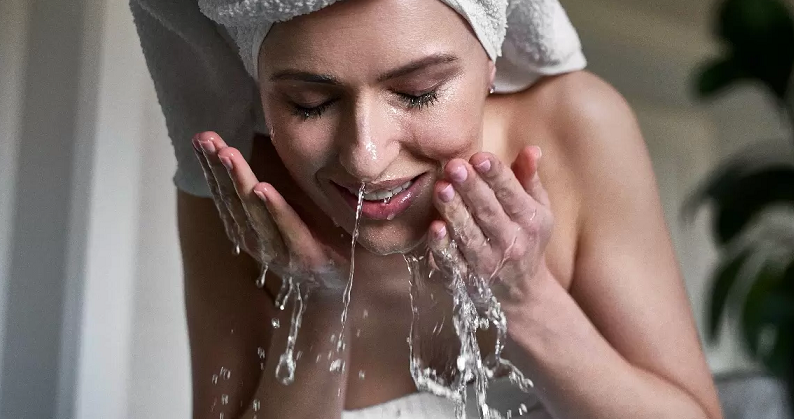 The Science Behind Double Cleansing
Double cleansing isn't merely a trend built upon historical practices—it's also rooted in scientific understanding. When we explore the mechanics of how dirt, makeup, and pollutants interact with our skin, the rationale for a two-step cleanse becomes even clearer. Here, we'll dive into the science that underpins the double cleansing method and explore its undeniable efficacy.
The Importance of Removing Makeup and Sunscreen
Implications of Incomplete Cleansing
Leaving makeup, sunscreen, or any heavy products on the skin overnight can lead to an array of problems. These products can mix with the natural oils (sebum) produced by our skin, leading to clogged pores. Over time, this can result in breakouts, an increase in blackheads, and a dull complexion. On a microscopic level, residue from makeup and sunscreens can create a barrier that prevents essential skincare products from penetrating the skin effectively [2].
Benefits of Ensuring a Clean Face
A thoroughly cleansed face serves as the ideal canvas for subsequent skincare steps. With no residual makeup or product barriers, active ingredients in toners, serums, and moisturizers can be absorbed more effectively, maximizing their benefits. Furthermore, removing all impurities reduces the risk of inflammation and promotes balanced sebum production, leading to a brighter and healthier complexion.
The Two-Step Process of Double Cleansing
The Role of Oil-Based Cleansers
To understand the efficiency of oil-based cleansers, one must be familiar with the basic chemistry principle: "like dissolves like." Oil-based cleansers are adept at breaking down and dissolving makeup, sunscreens, and the excess sebum that water-based cleansers might struggle with. This ensures that all oil-soluble impurities are lifted off the skin's surface, preparing it for the next step in the cleansing process.
The Role of Water-Based Cleansers
Following the initial oil cleanse, water-based cleansers target the water-soluble debris like sweat and environmental pollutants. These cleansers typically contain surfactants that bind to dirt and oil, allowing them to be washed away effectively. By using a water-based cleanser second, one ensures that any remaining residue from the oil cleanser, along with the oil-soluble impurities it has lifted, are entirely rinsed away, leaving the skin feeling refreshed and deeply cleansed.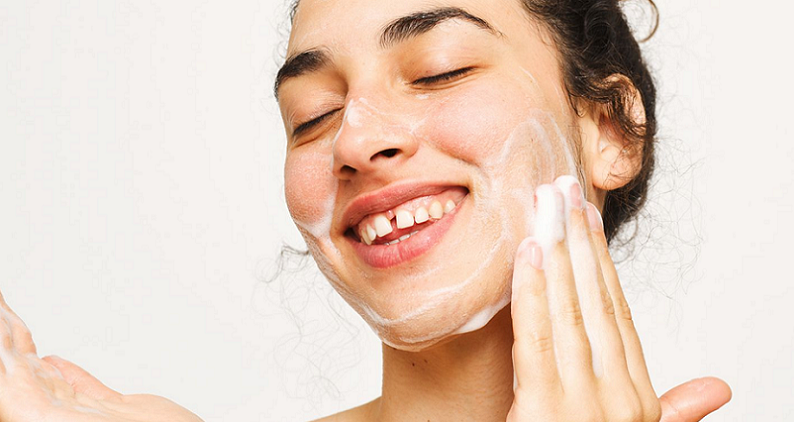 Benefits of Double Cleansing
While the origins and science behind double cleansing provide compelling reasons to adopt the method, the tangible benefits it delivers truly set it apart. From improved skin texture to enhanced efficacy of skincare products, double cleansing promises a myriad of advantages that make the extra effort worthwhile.
Enhanced Skincare Product Absorption
A face free from makeup residue, oils, and pollutants acts as the perfect palette for your skincare products. When the skin is thoroughly cleansed:
Skincare Products Penetrate Deeper
Layers of dirt and makeup can obstruct the skin's surface. By removing these barriers, skincare products can penetrate more deeply into the skin, optimizing their efficacy [3].
Improved Efficiency of Active Ingredients
Ingredients like retinoids, peptides, and vitamins find it easier to immerse into the skin, ensuring you get the most out of your skincare investments.
Reduction in Breakouts and Improved Skin Texture
The consistent removal of debris, oils, and makeup reduces the chances of pores becoming clogged, which is a significant cause of breakouts.
Fewer Breakouts
By ensuring that the pores aren't blocked with a combination of sebum and makeup, the skin can breathe better, leading to fewer breakouts and pimples.
Smoother Skin Texture
Consistent double cleansing can help in reducing the appearance of blackheads and whiteheads, resulting in a smoother and more refined skin texture.
Prevention of Premature Aging
Dirt and pollutants aren't just a cosmetic concern—they can accelerate the aging process of the skin.
Protection Against Free Radicals
Daily pollutants and particulate matter can introduce free radicals to the skin, which damage skin cells and reduce collagen production. By thoroughly cleansing the skin, we can mitigate the effects of these harmful free radicals [4].
Healthier Skin Barrier
A clean skin surface supports the skin's natural repair processes, fostering a resilient barrier that retains moisture and defends against environmental aggressors.
How to Properly Double Cleanse
Understanding the principles and benefits of double cleansing is a great start, but knowing how to implement it correctly is crucial for maximizing its advantages. Much like any art, mastering the double cleanse requires the right tools and techniques. Whether you're a newcomer to this method or looking to refine your approach, this guide will illuminate the pathway to achieving the cleanest and most nourished skin.
Selecting the Right Products for Your Skin Type
The effectiveness of double cleansing doesn't only hinge on the method but also on the products chosen. Picking the right cleansers for your skin type ensures that the process is both gentle and thorough.
Recommended Oil-Based Cleansers
For Dry Skin: Look for oil cleansers rich in hydrating oils like avocado, almond, or olive. These not only cleanse but also provide added moisture.
For Oily Skin: Lighter oils such as grapeseed, jojoba, or safflower can be beneficial, as they cleanse without adding extra heaviness.
For Sensitive Skin: Opt for oil cleansers that are fragrance-free and contain soothing ingredients like chamomile or calendula.
Recommended Water-Based Cleansers
For Dry Skin: Cream or milk-based cleansers can offer a gentle cleanse without stripping the skin of its natural oils.
For Oily Skin: Gel or foaming cleansers with ingredients like salicylic acid or tea tree can help control excess sebum.
For Sensitive Skin: Gentle, fragrance-free cleansers with calming ingredients like aloe vera or oat extract can help soothe skin irritations.
Step-by-Step Guide
Navigating the world of double cleansing becomes simpler with a step-by-step approach. Here's a guide to ensure you get the most out of your double cleanse ritual [5].
Applying the Oil Cleanser
Start with dry hands and a dry face.
Take a small amount of the oil cleanser into your palms and gently massage it over your face in circular motions. Pay special attention to areas with more makeup or sunscreen.
Once the makeup and sunscreen have dissolved, rinse your face with lukewarm water or use a soft, damp cloth to wipe off the oil.
Rinsing and Applying Water-Based Cleanser
Wet your face.
Apply your chosen water-based cleanser, again using gentle circular motions, ensuring every part of your face is covered.
Rinse thoroughly with lukewarm water. Pat your skin dry with a soft towel; avoid rubbing.
Drying and Post-Cleansing Care
After patting your skin dry, immediately follow with your regular skincare routine. This often involves toner, serum, and moisturizer to lock in hydration and nutrients.
References

[1] Double Cleansing Method Explained: Should You Try It?
[2] Everything You Need to Know About Double Cleansing
[3] Unpacking the Double Cleansing Method
[4] Why you should wash your face twice
[5] Your Guide to Double Cleansing for the Best, Clearest Skin of Your Life