Is There a Perfect Temperature for Washing Your Face? An Investigation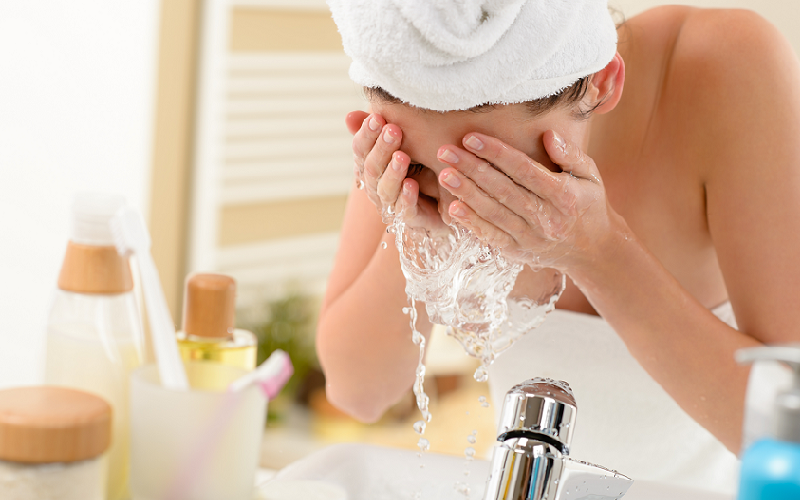 Skincare is a delicate art, harmoniously combining science, personal preference, and daily rituals. A question that frequently bubbles up in skincare circles is about the seemingly simple act of washing our face: What is the ideal temperature for water? Is it the comforting warmth that many crave, the brisk cold that others swear by, or perhaps somewhere in between? The temperature of the water we use can play an unexpected, yet crucial role in the health and appearance of our skin.
Why Temperature Matters for Skin
The complex interplay between water temperature and skin health might seem inconspicuous at first, but it's foundational in understanding skincare. Before diving into the pros and cons of hot and cold water, it's vital to first understand why temperature plays such a pivotal role in our skincare routine.
The Physiology of Skin and Temperature's Role
Our skin isn't just our body's largest organ; it's a highly sensitive, responsive shield that reacts to external stimuli, including temperature. At a cellular level, temperature can influence various processes, including the rate of chemical reactions, cellular metabolism, and the integrity of proteins and lipids that form the protective barrier of our skin. These reactions are not just limited to the outermost layer, the epidermis, but also resonate deeper within the dermis, affecting blood vessels, nerve endings, and collagen structures.
How Temperature Affects the Skin's Barrier Function
The skin's barrier function is our frontline defense against external aggressors like pollutants, allergens, and harmful microorganisms. This barrier, primarily made up of lipids and proteins, is sensitive to temperature changes. Warm temperatures can make the skin's barrier more fluid and permeable, while excessively cold temperatures can stiffen it. A compromised barrier can lead to moisture loss, irritation, and increased susceptibility to harmful agents. Thus, the water temperature you choose can directly impact the effectiveness and health of your skin's defense mechanisms.
Pore Behavior in Relation to Temperature
A common misconception is that pores can "open" and "close" like windows. In reality, pores don't have muscles to enable such actions. However, temperature does influence the behavior of sebum, the natural oil produced by our skin. Warm temperatures can soften the sebum, making it easier to cleanse away, potentially giving the impression of "opened" pores. Conversely, cold temperatures can solidify sebum, which might make pores seem less visible but could also lead to potential clogging [1].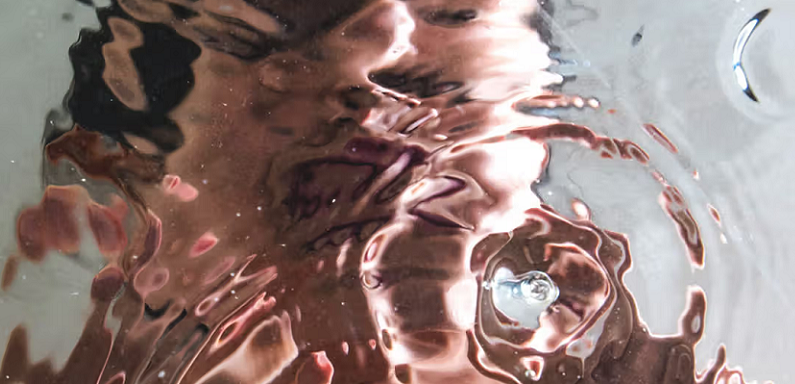 Hot Water and the Skin
There's a unique allure to the sensation of warm water cascading over our skin. Whether it's a comforting morning shower or a relaxing evening bath, hot water is often equated with cleansing and rejuvenation. However, when it comes to our face, how does this beloved warmth truly affect our skin?
The Appeal of Hot Showers and Facials
Hot showers and steamy facials are more than just a luxurious experience; they are believed to offer various skin benefits. The warmth is said to stimulate blood flow, aid in relaxation, and help in the efficient removal of surface-level impurities. Many spa treatments incorporate steam and warmth, claiming to detoxify and rejuvenate the skin. While these experiences can feel invigorating and leave our skin temporarily glowing, it's essential to differentiate between the sensory pleasure and the physiological impacts.
Potential Dangers of Using Hot Water
As indulgent as it feels, consistently using hot water on our face might not be the best choice for maintaining skin health.
Stripping Natural Oils
Hot water can strip the skin of its natural oils, leading to dryness and a compromised skin barrier. This can increase sensitivity, making the skin more prone to irritants and allergens [2].
Skin Dehydration
The intense heat can cause trans-epidermal water loss, which is when water from our skin evaporates into the air. Over time, this can result in dehydration, making the skin look dull and accentuating fine lines.
Aggravation of Certain Skin Conditions
Conditions like rosacea, eczema, and some forms of acne can flare up with excessive heat exposure. This is because the heat can cause dilation of blood vessels, leading to redness and potential exacerbation of inflammation.
Situations Where Warm Water Can Be Beneficial
Despite the potential drawbacks, warm water isn't always the villain in our skincare narrative. Used judiciously, it can serve specific purposes.
Opening Pores Prior to Treatment
While pores don't technically "open," warm water can soften the sebum and facilitate easier extraction during facials or deep-cleansing treatments.
Improving Blood Circulation
Warmth promotes vasodilation, which means it can increase blood flow to the skin. This can bring in essential nutrients, oxygen, and can be beneficial for overall skin health when not overdone.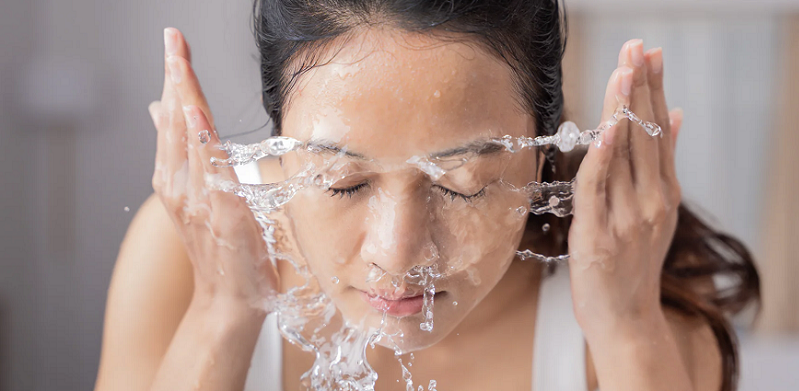 Cold Water and Its Effects on the Skin
On the opposite end of the temperature spectrum, we have cold water. For many, the refreshing jolt of cold water on the face is an invigorating way to kick-start the day or to close off a skincare routine. But beyond the immediate alertness it provides, what are the deeper implications of cold water on our facial skin?
The Myth of "Closing Pores"
As we splash cold water onto our faces, there's a prevailing belief that it helps to "close" pores. However, as we've established earlier, pores aren't equipped with a mechanism to open and close like doors. What cold water actually does is cause a temporary tightening of the skin, making pores appear smaller for a short duration. This effect, combined with the solidification of sebum in cooler temperatures, might give the illusion of "closed" pores, but it's essential to understand the science behind it to dispel myths [3].
Benefits of Using Cold Water
Cold water isn't just about shock value. It brings along a set of benefits that can be harnessed for better skincare:
Reducing Inflammation
Cold temperatures can help constrict blood vessels, reducing redness and swelling. This is why cold compresses are often recommended for puffy eyes or inflamed blemishes.
Tightening and Refreshing the Skin
A splash of cold water can instantly invigorate the skin, giving it a tighter and more radiant appearance, albeit temporarily. This can be particularly beneficial after a long day or when you need a quick refresh [4].
Potential Drawbacks of Excessively Cold Water
While cold water has its perks, it's crucial not to go overboard. Extremely cold water can lead to:
Compromised Blood Flow
Excessive vasoconstriction from prolonged cold exposure can reduce essential blood flow to the skin, depriving it of necessary nutrients and oxygen.
Increased Sensitivity
Just as with hot water, extreme cold can compromise the skin's barrier function, leading to increased sensitivity and potential irritation.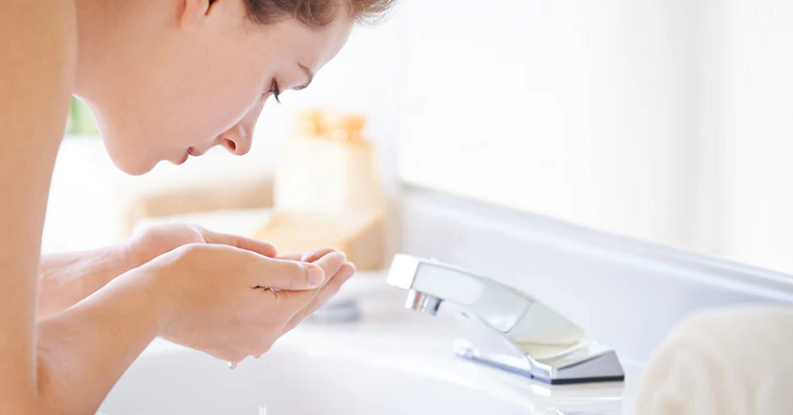 Finding the "Goldilocks" Temperature for Skin Cleansing
Navigating the waters, quite literally, between the warmth of hot showers and the refreshing chill of cold water brings us to a crucial question: Is there a 'just right' temperature? In our quest for the optimal water temperature for facial cleansing, let's explore what dermatologists suggest and how we can attune ourselves to the needs of our skin.
Importance of Listening to Your Skin
Our skin speaks to us, albeit subtly. It might not always vocalize its needs through discomfort or immediate reactions. Some responses, like dryness or mild irritation, may appear hours or even days after exposure to unsuitable water temperatures. To find your "Goldilocks" temperature, start by paying attention to how your skin feels post-wash. Does it feel tight or dry? Perhaps you need slightly warmer water. Does it appear red or feel irritated? Maybe you went a little too hot. Your skin's feedback is invaluable in this journey [5].
Recommendations from Dermatologists
Most dermatologists and skincare experts recommend lukewarm water for facial cleansing. Lukewarm water, which feels neither distinctly hot nor cold to the touch, provides a balanced medium. It's warm enough to aid in the dissolution of facial cleansers and the gentle removal of makeup, dirt, and oils, yet cool enough to avoid stripping the skin of its natural moisture or causing undue irritation.
Signs that the Water Temperature Is Just Right
Comfort During Cleansing: Your skin should feel comfortable during the wash, without any burning sensation or immediate need to cool down.
No Post-Wash Redness: If you're not naturally prone to flushing, your skin shouldn't turn red post-wash.
Skin Feels Clean, Not Stripped: After washing, your skin should feel clean but still supple, not overly dry or tight.
References

[1] Should You Wash Your Face With Hot or Cold Water?
[2] Face Washing 101
[3] Quick Tips: Should you wash your face with warm or cold water?
[4] Ideal water temperature for washing the face
[5] Is it better to wash your face with cold water?