Stratum Corneum: The Outer Fortress of Skin Explained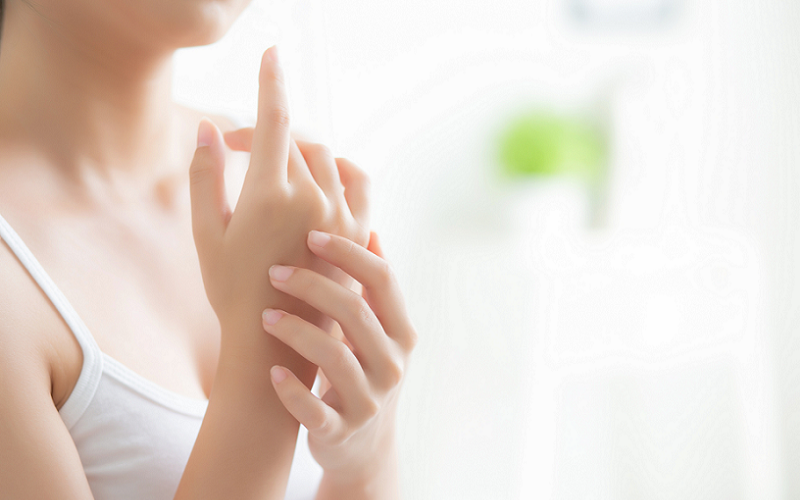 The skin, our body's largest organ, is not just a simple protective covering but a complex barrier with multiple layers, each having its unique function and importance. At the forefront of this intricate system is the stratum corneum, often referred to as the skin's "outer fortress." This mighty layer plays an essential role in protecting our bodies from external aggressors and maintaining hydration. But what really is the stratum corneum, and why is it so crucial in skincare?
Historical Context of Stratum Corneum
The journey of understanding the skin's structure, specifically the stratum corneum, is a rich tapestry woven through the annals of scientific discovery and dermatological research. While today we possess intricate knowledge about this outermost layer, our awareness was not always so detailed. Let's take a step back in time and traverse the path of the stratum corneum's discovery and the subsequent evolutions in its understanding.
Discovery and Initial Research of Stratum Corneum
In the late 17th century, as microscopy began to gain traction among scientists, the minute structures of the human skin started to be unveiled. The stratum corneum was first identified as a distinct layer by early dermatologists peering through their rudimentary microscopes. They observed a dense, flattened layer of cells at the skin's surface, markedly different from the underlying layers. Although the precise functions of these cells weren't entirely understood at that point, the realization that the skin had multiple, distinct layers was groundbreaking.
Evolution of Understanding in Skincare
As technology advanced and research methods became more sophisticated in the 19th and 20th centuries, the stratum corneum was thrust into the limelight. Researchers began to discern its crucial role as the primary barrier, shielding the body from environmental elements and preventing moisture loss. This newfound understanding signified a paradigm shift in the skincare industry.
With the dawn of the 20th century, the skincare industry started harnessing this knowledge. Products aimed at bolstering the stratum corneum's function began to emerge, leading to innovations in moisturizers, sunscreens, and exfoliants. The concept of the skin's barrier function became a cornerstone in dermatological studies, highlighting the stratum corneum's importance beyond its mere anatomical presence.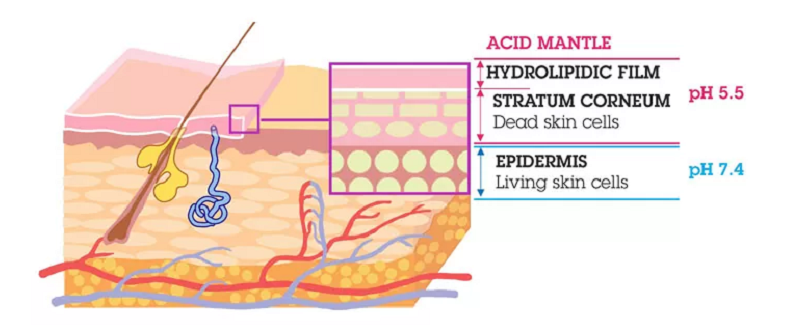 Stratum Corneum Location and Structure
Our skin, a dynamic organ boasting incredible diversity in function and form, is beautifully layered, each strata serving its specific purpose. At the very surface lies the stratum corneum, the unsung hero of the skin's protective armor. Before we go deeper into the function and care of this layer, it's imperative to understand its position and architectural brilliance.
Place in the Epidermal Layer
Our skin is primarily divided into three layers: the epidermis, the dermis, and the hypodermis. The epidermis itself is further segmented into several layers, with the stratum corneum seated as the outermost shield. Directly exposed to the external environment, it bears the brunt of daily challenges – from fluctuating temperatures to harmful UV rays, from pollutants to abrasive elements. Beneath the stratum corneum, layers like the stratum granulosum and stratum basale play their own unique roles, but it's our topmost layer that first confronts and fends off the world around us [1].
Composition and Layering
The architecture of the stratum corneum is more complex than one might imagine for such a thin layer. Designed for durability and protection, its composition is a marvel of nature.
Keratinocytes
These are the primary cells found in the stratum corneum. By the time they reach this outer layer, they've transformed into corneocytes – flat, dead cells rich in keratin, a protein that provides structure and strength. Packed closely together, these cells create a barrier that's tough for unwanted substances to penetrate.
Natural Moisturizing Factor (NMF)
Interspersed among the corneocytes, NMF is a collection of water-soluble compounds, vital for maintaining skin hydration. It helps attract and bind water, ensuring the skin remains supple and well-hydrated.
Lipid Matrix
Acting as the "mortar" between the "bricks" (corneocytes), the lipid matrix is a blend of ceramides, cholesterol, and fatty acids. This matrix plays a pivotal role in barrier function, preventing the loss of water from the deeper layers of the skin and blocking the entrance of potential irritants.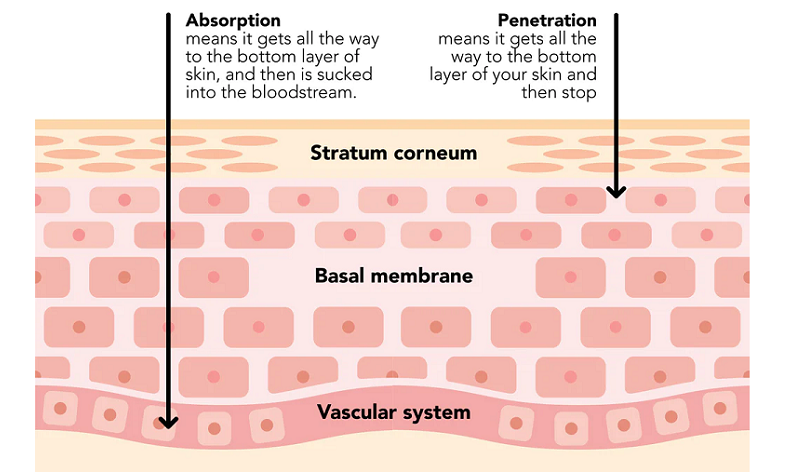 Function and Importance of Stratum Corneum
The stratum corneum, while seemingly just a superficial sheath, holds profound significance in the realm of dermatology and personal skincare. Its functions go beyond the obvious protective role, intertwining with aspects of beauty, health, and even the tactile sensations we experience daily.
Protective Barrier
The prime directive of the stratum corneum is to serve as our skin's first line of defense. This protective nature is manifested in a couple of distinct yet interconnected ways:
Defense against Environmental Factors
Our skin is under constant assault from a myriad of external agents – be it UV radiation, pollutants, or pathogens. The stratum corneum acts as a sentinel, absorbing and reflecting harmful UV rays, resisting the intrusion of pathogens, and minimizing damage from pollutants. Its intricate architecture, composed of densely packed corneocytes and lipids, renders it a formidable barrier [2].
Prevention of Dehydration
Water is vital for our skin's health and appearance. The stratum corneum plays a crucial role in ensuring that this precious moisture doesn't evaporate into the atmosphere, a phenomenon referred to as transepidermal water loss (TEWL). Through its lipid matrix and the Natural Moisturizing Factor, this layer retains moisture, ensuring skin remains hydrated, plump, and radiant.
Role in Natural Exfoliation Process
Exfoliation, the process of shedding dead skin cells, is pivotal for maintaining the skin's glow and smoothness. The stratum corneum is where this action predominantly takes place. As new cells form in the deeper layers of the epidermis, older cells migrate upwards, ultimately reaching the stratum corneum, where they flake off. This natural turnover process ensures the skin's surface remains fresh and rejuvenated. However, when this process is hampered, issues like dullness, roughness, and even acne can ensue. Thus, the stratum corneum's exfoliative function holds both aesthetic and health implications.
Influence on Overall Skin Health and Appearance
The state of the stratum corneum indirectly mirrors the overall health of our skin. When it's compromised, whether due to external aggressors, aging, or poor skincare habits, the effects ripple down. A weakened or damaged stratum corneum can lead to sensitivities, increased susceptibility to infections, and even premature aging. On the other hand, a well-maintained outer barrier ensures radiant, resilient, and youthful skin.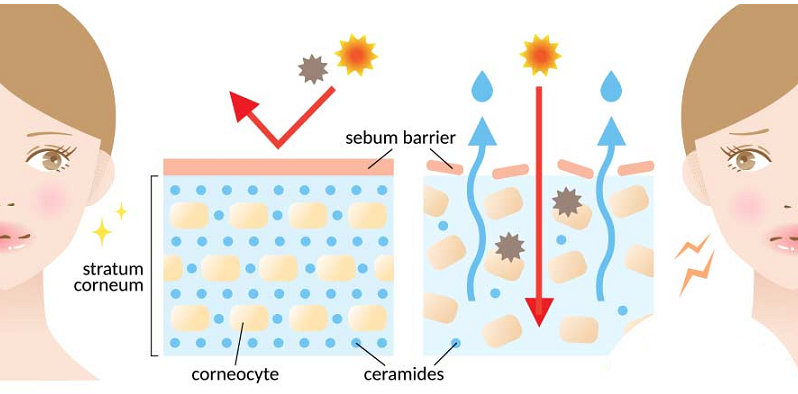 Common Stratum Corneum Issues
While the stratum corneum is nature's meticulously crafted shield, it isn't invincible. Numerous external and internal factors can impair its function, leading to a cascade of skin concerns. Recognizing these issues is the first step toward addressing them and restoring the skin's outer fortress to its optimal state.
Dryness and Flakiness
One of the most frequently encountered problems, especially in colder climates or during winter months, is the dryness and flakiness of the skin's surface.
When the stratum corneum is stripped of its essential lipids or when its Natural Moisturizing Factor is depleted, it loses its ability to retain moisture effectively. This can lead to a rough, uneven texture and visible flakes. Environmental factors like low humidity, excessive washing, and the use of harsh soaps can exacerbate this condition. Moreover, the sensation of tightness, itchiness, and even discomfort often accompanies a dehydrated stratum corneum, making it a pressing concern for many [3].
Excessive Buildup (Hyperkeratosis)
Conversely, there are instances where the stratum corneum doesn't shed its cells efficiently, leading to an accumulation. This condition, termed hyperkeratosis, manifests as a thick, rough layer on the skin's surface.
Several factors can contribute to this buildup, including genetics, age, and certain skin conditions like psoriasis or eczema. Additionally, lack of regular exfoliation can further contribute to this accumulation. This buildup not only dulls the skin's appearance but can also clog pores, leading to breakouts and an uneven texture.
Impact of Age on Stratum Corneum Integrity
Ageing, an inevitable aspect of our lives, doesn't spare the stratum corneum. As we age, this layer tends to thin out, losing its robustness.
The production of lipids and other essential components declines, weakening the barrier function. The skin becomes more susceptible to external aggressors and loses moisture more rapidly. Additionally, the natural exfoliation process slows down, often resulting in a dull complexion. Understanding the impact of ageing on the stratum corneum is essential, as it requires tailored care and attention to maintain its health and function.
Maintaining and Caring for the Stratum Corneum
Now that we've shed light on the common challenges faced by the stratum corneum, it's paramount to explore the avenues available for its care. A proactive approach, encompassing protective measures and nourishing treatments, can ensure this crucial barrier remains robust and resilient.
Hydration: The Keystone of Care
At the core of maintaining the health and vitality of the stratum corneum lies hydration. Ensuring that this outermost layer retains optimal moisture can ward off a host of concerns [4].
Moisturizers and Emollients
These products are designed to lock in moisture and replenish the lipid content of the skin. When choosing a moisturizer, look for ingredients like ceramides, hyaluronic acid, and glycerin, which not only hydrate but also reinforce the skin's barrier function.
Limiting Water Exposure
Paradoxically, excessive contact with water, especially hot water, can dehydrate the skin. It's advised to take shorter showers with lukewarm water and to always moisturize post-shower to seal in hydration.
Humidifiers
For those living in arid climates or facing harsh winters, using a humidifier can help maintain ambient moisture levels, benefiting the stratum corneum immensely.
Gentle Exfoliation: Renew and Refresh
To combat the issue of excessive buildup and promote a radiant complexion, regular exfoliation is key. However, the operative word here is 'gentle'.
Chemical Exfoliants
Ingredients like alpha hydroxy acids (AHAs) and beta hydroxy acids (BHAs) offer a mild exfoliation, helping to dissolve the bonds between old cells and revealing fresher skin beneath.
Physical Exfoliants
While effective, these should be used with caution. Opt for products with smooth, rounded beads to prevent microtears and always use a light hand.
Regularly but Not Too Often
Over-exfoliation can compromise the barrier function. It's crucial to strike a balance, tailoring the frequency based on skin type and the exfoliant's strength.
Shielding from External Aggressors
The stratum corneum is in perpetual confrontation with environmental elements. Bolstering its defense is paramount.
Sunscreens
UV rays pose one of the most significant threats to our skin. A broad-spectrum sunscreen with an SPF of at least 30 is non-negotiable, ensuring the stratum corneum is protected from photoaging and other damages.
Antioxidant-rich Products
Free radicals from pollutants can wreak havoc. Incorporating serums and creams laden with antioxidants like vitamin C and E can neutralize these threats, safeguarding the skin.
Modern Innovations in Stratum Corneum Care
In the ever-evolving landscape of skincare, innovations emerge, promising enhanced results and tailored solutions for the myriad challenges our skin faces. The realm of stratum corneum care is no exception. Modern science and technology have heralded breakthroughs that specifically target the needs of this vital barrier, optimizing its health and resilience.
Advanced Moisturizing Technologies
Ensuring optimal hydration for the stratum corneum has always been a priority. However, today's solutions are far more sophisticated than the standard emollients of yesteryears [5].
Barrier Repair Emulsions
These are next-generation moisturizers that not only hydrate but actively repair breaches in the skin barrier. Infused with skin-identical lipids like ceramides, they mimic and replenish the stratum corneum's natural composition.
Hyaluronic Acid Microspheres
A recent innovation, these microspheres penetrate the upper layers of the skin, swelling as they absorb moisture. This provides both immediate plumping effects and sustained hydration.
Enhanced Exfoliation Methods
Modern exfoliation transcends traditional scrubs and acids, venturing into realms previously uncharted.
Ultrasonic Exfoliation
Leveraging ultrasonic vibrations, this method gently sloughs off dead skin cells, promoting a brighter and smoother complexion without the abrasiveness of physical exfoliants.
Enzymatic Peels
These peels employ enzymes, often derived from fruits, to break down the keratin protein, facilitating a gentler removal of dead skin cells without disturbing the skin's pH.
Barrier Boosting Serums and Treatments
Addressing the very essence of the stratum corneum's function, these treatments amplify the skin's defensive capabilities.
Biomimetic Peptides
These synthetic peptides imitate the natural signaling processes of the skin, promoting barrier repair and fortification.
Probiotic Skincare
Harnessing the power of beneficial bacteria, these products support the skin's microbiome, ensuring a balanced and robust stratum corneum. The inclusion of prebiotics, which nourish these beneficial microbes, further amplifies the effects.
Personalized Skincare and Analysis
One of the most exciting innovations in skincare is the move towards personalization. With advancements in diagnostic tools and analytics:
Skin Barrier Analysis Devices
Portable, user-friendly devices are now available that assess the state of one's stratum corneum, providing insights into hydration levels, lipid balance, and overall barrier health.
Customized Product Formulations
Leveraging the data from such analyses, companies can now formulate products tailored to an individual's specific stratum corneum needs, ensuring optimal care.
References

[1] Stratum Corneum Lipids: Their Role for the Skin Barrier Function
[2] The important role of stratum corneum lipids for the cutaneous barrier function
[3] Skin Barrier Health: Regulation and Repair of the Stratum Corneum and the Role of Over-the-Counter Skin Care
[4] What is the stratum corneum and its importance in skin care?
[5] Stratum corneum: our skin's protection and major challenge