The Role of Hormones in Acne: More Than Just Teenage Trouble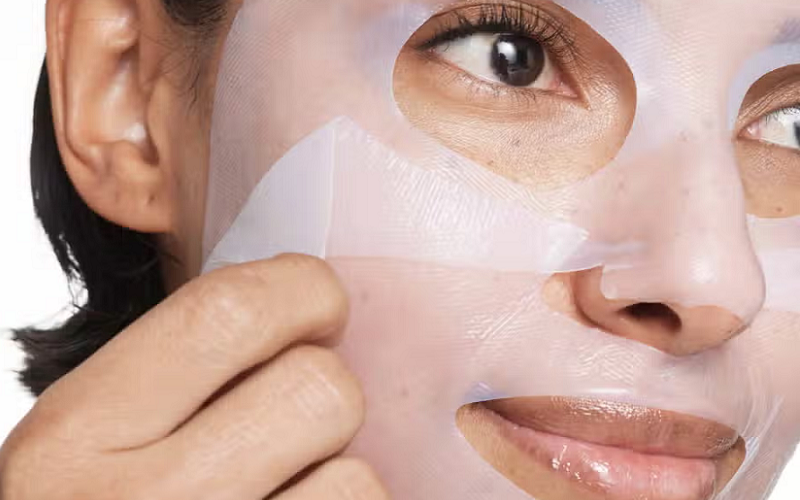 For many, the word "acne" instantly brings back memories of teenage angst, school photos marred by unsightly pimples, and a medicine cabinet stocked with every acne-fighting potion available. Yet, acne is not a concern reserved exclusively for the teenage years. Its root cause — hormonal changes — can affect us at various stages of our lives, from the tumultuous teen years to the transitions of adulthood and even into menopause. But what exactly is the relationship between hormones and those pesky breakouts? Why do hormones wield so much power over our skin's behavior?
Understanding Acne: A Quick Overview
When we think of acne, many of us imagine those pesky red pimples that seemed to sprout overnight during our adolescent years. However, acne is a complex condition that varies in type, severity, and causes. To fully grasp the influence of hormones on acne, we first need a clear understanding of what acne truly is and what contributes to its development.
What is Acne?
Acne is a skin condition characterized by the appearance of inflamed or non-inflamed lesions on the skin. These lesions can manifest in various forms.
Whiteheads
Also known as closed comedones, these are formed when dead skin cells and oil block the pores. They appear as small, round, and white bumps on the skin.
Blackheads
Open comedones are what we commonly refer to as blackheads. They appear when a pore is clogged by dead skin cells and oil but remains open at the surface, causing the content to oxidize and turn black.
Pustules
These are what most people imagine when they think of pimples. Pustules are red, tender bumps with white pus at their tips.
Nodules and Cysts
These are severe forms of acne. Both are large, painful, and lodged deep within the skin. While nodules are hard, cysts are filled with pus [1].
Factors Leading to Acne
Acne doesn't just appear out of nowhere. It's often the result of a series of events happening underneath the skin's surface. Here are the key culprits.
Excess Oil Production
The skin naturally produces oil (sebum) to keep itself moisturized. However, an overproduction can lead to clogged pores, setting the stage for acne.
Clogged Hair Follicles
Dead skin cells can sometimes fail to shed and combine with the skin's natural oils. This combination can clog pores, making them a perfect breeding ground for pimples.
Bacteria
P. acnes is a type of bacteria that lives on our skin. In excess, it can infiltrate clogged pores, leading to inflammation and those dreaded red bumps.
Excess Activity of Androgens
Androgens are male hormones present in both males and females. An increase in their levels can lead to enlarged oil glands and increased sebum production, setting off a chain reaction leading to acne [2].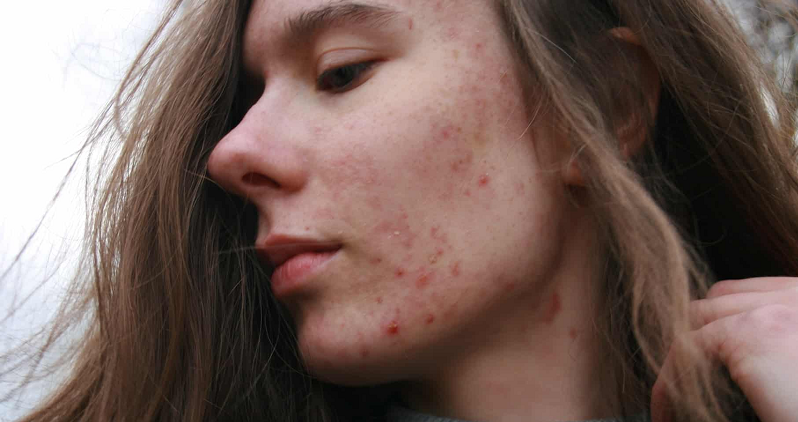 Hormones and Their Effect on the Skin
Hormones are intricate molecules that act as the body's internal messengers, regulating a wide range of physiological processes, from growth and metabolism to mood and, of course, skin health. To understand how hormones influence the health and appearance of our skin, especially in relation to acne, we need to delve into their functions and fluctuations.
What are Hormones?
Hormones are chemical messengers produced by various glands in our endocrine system. They travel through the bloodstream, instructing tissues and organs on how to function. It's a sophisticated network that ensures our body operates in harmony.
Definition and Purpose
At their core, hormones ensure that our body maintains a state of balance or homeostasis. They regulate our body's temperature, metabolism, stress responses, and even the growth and health of our skin. Any imbalance in hormone levels can lead to disruptions in these systems, including skin issues like acne.
Hormonal Fluctuations Throughout Life
Hormonal levels don't remain static. They vary depending on various factors, including age, stress levels, menstrual cycle, pregnancy, and underlying health conditions. These fluctuations are often the reason why we experience acne during specific periods in our lives.
Main Hormones Impacting Acne
Various hormones play a role in skin health, but a few are particularly influential when it comes to acne formation.
Androgens
These are commonly referred to as male hormones, although they are present in both males and females. Their primary role is to regulate the development of male characteristics, but they also have significant implications for our skin.
Testosterone: While typically associated with males, testosterone is present in females as well. Elevated levels of this hormone can lead to increased oil production in the skin, often resulting in clogged pores and acne.
Dihydrotestosterone (DHT): A derivative of testosterone, DHT can also increase oil production. In some cases, an individual's skin may be more sensitive to DHT, making them more prone to acne even if their DHT levels are not abnormally high.
Estrogens
Often labeled as female hormones, estrogens play an essential role in regulating the menstrual cycle, pregnancy, and other female-specific functions. When it comes to the skin, balanced estrogen levels can promote a healthy complexion. However, fluctuating levels, especially when low, can lead to acne breakouts [3].
Progesterone
Present in higher levels during the luteal phase of the menstrual cycle, elevated progesterone can lead to swelling and compression of skin pores, making it easier for them to become clogged.
Cortisol
Famously known as the "stress hormone", cortisol levels spike during periods of emotional or physical stress. Higher cortisol levels can stimulate oil glands, leading to an oily complexion and an increased risk of acne.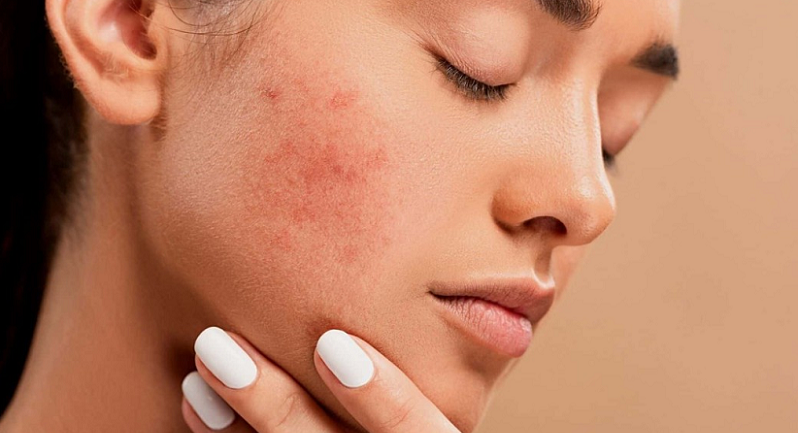 Acne Across Different Life Stages
Acne is often erroneously dubbed as a "teenage problem", but ask anyone beyond their adolescent years, and many will admit they've faced acne flare-ups well into adulthood. The ever-shifting hormonal landscape as we navigate through different life stages significantly influences our skin's behavior.
Teenage Years
The teenage phase is synonymous with puberty, a time of rapid growth, emotional changes, and yes, those dreaded acne breakouts.
Puberty and Hormonal Surges
Puberty is a hormonal roller-coaster. As the body matures, there's a significant increase in androgens, including testosterone. This surge often leads to sebaceous glands producing more oil, which can clog pores and result in acne.
Impact on Both Genders
While both boys and girls experience a rise in androgens during puberty, boys often see a more considerable increase in acne severity due to their higher testosterone levels. Girls, however, might experience more frequent flare-ups, often tied to their menstrual cycle.
Adulthood
The myth that acne magically disappears after the teenage years has been debunked by many adults staring back at their reflection, puzzled by the pimples staring back at them [4].
Women and Hormonal Changes
Menstrual Cycle: Monthly hormonal fluctuations, particularly the ebb and flow of estrogen and progesterone, can cause acne breakouts. Typically, many women notice pimples appearing a week or so before their period begins.
Pregnancy: A time of joy and anticipation, pregnancy also brings about significant hormonal shifts. The increase in hormones can lead to an oilier skin, culminating in acne for some women, especially during the first trimester.
Polycystic Ovary Syndrome (PCOS): A condition characterized by an imbalance in female and male hormones, PCOS can result in enlarged ovaries, cyst formation, irregular periods, and yes, acne. The excess androgens can cause the skin to produce more oil, leading to breakouts.
Stress-Induced Acne
The Role of Cortisol: Adulthood often comes with increased responsibilities and, consequently, stress. When stressed, our adrenal glands produce more cortisol, leading to increased oil production in the skin and, consequently, acne. It's not just a myth; stress truly can wreak havoc on our skin!
Menopause and Acne
As women approach menopause, estrogen levels start to decline, but testosterone remains at almost the same levels, leading to a hormonal imbalance.
Estrogen Decline and its Effects
Reduced estrogen can cause the skin to become drier. However, the relative dominance of testosterone can mean increased oil production in certain areas, leading to potential acne breakouts.
Treatments and Solutions
Fortunately, there are solutions. Hormone Replacement Therapy (HRT) can balance out hormone levels, alleviating some of the skin issues. Topical treatments, a balanced diet, and consulting with a dermatologist can also help address menopausal acne.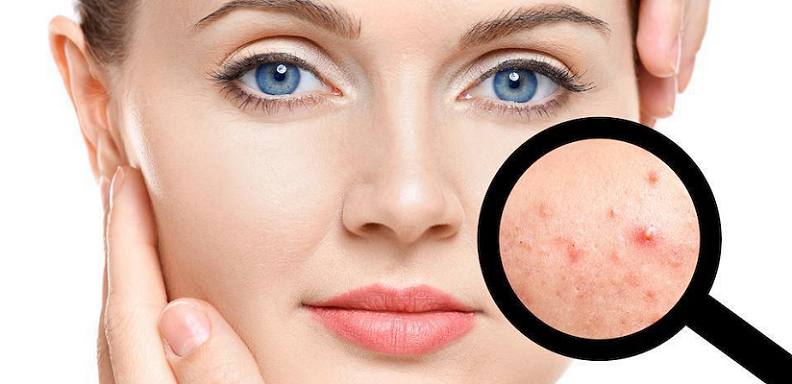 Acne Treatments and Preventative Measures
Understanding the role hormones play in acne development is a significant step in addressing and preventing breakouts. While we might not have total control over our hormonal fluctuations, there are both treatments and proactive measures we can adopt to maintain a clearer complexion.
Hormonal Treatments
For many, addressing the hormonal root cause is an effective way to combat acne. This often involves medical interventions that balance out hormone levels.
Birth Control Pills
For women, certain oral contraceptives can regulate hormones responsible for acne breakouts. These pills decrease the levels of androgens, which subsequently reduces sebum production.
Anti-androgen Drugs
These are medications that reduce the male hormone's effect on the skin. Spironolactone is a popular choice that prevents androgens from stimulating the oil glands.
Hormone Replacement Therapy (HRT)
Primarily for post-menopausal women, HRT can replenish declining estrogen levels, thereby mitigating acne that arises from the relative dominance of testosterone during this phase [5].
Comprehensive Skincare Regimen
Consistent and targeted skincare routines can be a game-changer in the battle against hormonal acne.
Topical Retinoids
These vitamin A derivatives speed up cell turnover and unclog pores. They are available both over-the-counter in milder forms, like retinol, and in stronger prescription forms.
Benzoyl Peroxide
A potent acne-fighting ingredient, benzoyl peroxide kills bacteria that can lead to breakouts and clears the pores. However, it can be drying, so it's essential to use a moisturizer alongside it.
Salicylic Acid
This beta-hydroxy acid exfoliates the skin and can penetrate oil to exfoliate inside the pore. It's excellent for reducing inflammation and unclogging pores.
Hydration and Moisturizing
Keeping skin adequately hydrated can combat the dryness that some acne treatments can cause. Opt for non-comedogenic moisturizers that hydrate without clogging pores.
Lifestyle and Preventative Measures
Beyond treatments, certain lifestyle habits can aid in preventing hormonal acne or at least in reducing its severity.
Dietary Choices
Foods with a high glycemic index can spike blood sugar levels, influencing hormone levels and sebum production. Opting for a balanced diet rich in whole foods and low in processed sugars can be beneficial.
Manage Stress
Given cortisol's role in acne, finding ways to manage and reduce stress is crucial. Techniques like meditation, exercise, and adequate sleep can play a significant role.
Regular Skin Cleansing
Keeping the skin clean, especially after sweating, ensures that excess oil, dirt, and dead skin cells are removed, reducing the chances of pore clogging.
Avoid Over-washing
Ironically, washing the face too often can strip the skin of natural oils, causing it to produce even more sebum. Stick to cleansing twice a day or after heavy sweating.
References

[1] Hormonal Acne: What Is It, Treatment, Causes & Prevention
[2] Role of hormones in acne vulgaris
[3] What Role Does Hormone Imbalance Play in Acne?
[4] Hormonal Pathogenesis of Acne
[5] Hormonal Therapy for Acne