Epidermal Growth Factor (EGF) and Its Role in Skincare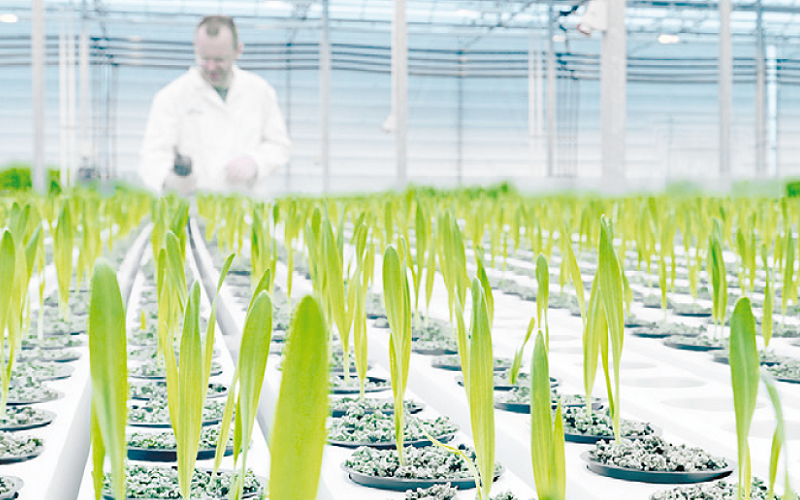 In the ever-evolving world of skincare, there's always a buzzworthy ingredient that takes the spotlight, promising youthful, radiant skin. Enter Epidermal Growth Factor, or EGF for short. Often heralded as a miracle worker for skin regeneration and repair, EGF has swiftly become a cornerstone in cutting-edge skincare formulations. But what exactly is this potent molecule, and how does it claim to transform our skin?
Understanding the Skin's Structure
The journey to grasp the efficacy of EGF begins with an essential primer on our skin's anatomy. The skin is our body's largest organ, not only serving as a protective barrier but also playing a crucial role in temperature regulation, sensation, and even vitamin production.
Layers of the Skin
Our skin isn't just a uniform sheet; it's a complex structure made up of multiple layers, each with its distinct purpose and characteristics.
Epidermis
The outermost layer, the epidermis, is what we see and touch. It primarily acts as the body's defensive shield, protecting us from external factors like environmental pollutants, UV rays, and microbes. Composed of keratinocytes, it's continually renewing itself, pushing old cells to the surface where they flake away and making room for new ones.
Dermis
Just beneath the epidermis lies the dermis, a thicker layer housing essential elements like collagen, elastin fibers, blood vessels, and sweat glands. This is the layer responsible for the skin's elasticity, resilience, and overall health. It's also where we find hair follicles and nerve endings.
Hypodermis
Also known as the subcutaneous layer, the hypodermis anchors the skin to the underlying fascia. Comprised largely of fat and connective tissue, it provides insulation, energy storage, and cushioning against trauma [1].
Cellular Turnover and Renewal
You might've heard of the term 'cell turnover' in beauty and skincare conversations. It's a natural process wherein old cells from the epidermis are shed, making way for fresh, new cells from the deeper layers. This cycle ensures our skin remains vibrant, smooth, and healthy. As we age, however, this turnover process slows down, leading to a buildup of dead skin cells on the surface. This accumulation can manifest as dullness, uneven skin tone, or even breakouts. Hence, understanding cellular turnover is pivotal when discussing the rejuvenating properties of ingredients like EGF, which aim to boost and optimize this vital skin function.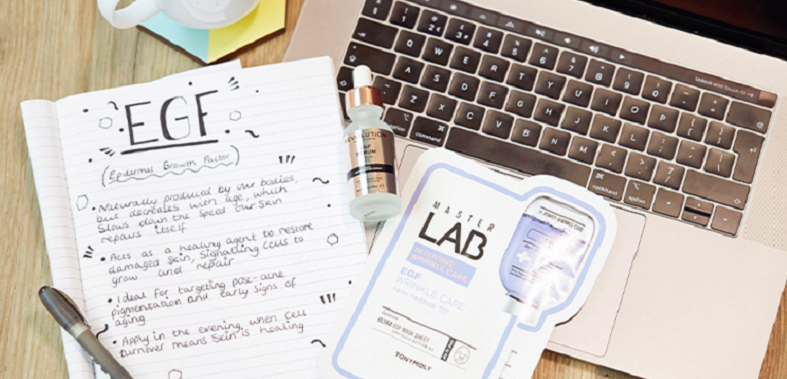 What Is Epidermal Growth Factor (EGF)?
Venturing deeper into our exploration of skincare marvels, we encounter Epidermal Growth Factor, a term that, while technical sounding, holds a realm of possibilities for skin rejuvenation.
Discovery and History
The tale of EGF begins in the mid-20th century. In 1986, biochemist Stanley Cohen and Rita Levi-Montalcini were awarded the Nobel Prize in Physiology or Medicine for their groundbreaking discovery of growth factors. EGF, in particular, was identified for its ability to stimulate cell growth and division, especially in the epidermal and dermal layers of the skin.
Initially observed in the salivary glands of mice, EGF opened new horizons in the realms of medicine and skincare alike. Its potential in wound healing, tissue regeneration, and more made it a molecule of significant interest in the subsequent decades.
Natural Production in the Body
EGF isn't just an external wonder molecule; it's naturally produced within our bodies. Found in various bodily fluids like urine and saliva, its primary function is to heal our skin by promoting DNA synthesis and cell proliferation [2].
As we age, the natural production of EGF in our skin decreases. This reduction is one of the reasons why wounds might take longer to heal, scars become more persistent, and the skin loses its youthful resilience and elasticity as years pass.
How EGF Functions
At the heart of EGF's allure in skincare is its fundamental mechanism of action. How does this molecule interact with our skin cells to bring about its touted benefits?
Signaling Cells to Divide
EGF works by binding to specific receptors on the cell surface, aptly named EGF receptors. Once activated, these receptors initiate a cascade of cellular events, leading cells to divide and multiply. This process is crucial for replacing damaged or dead skin cells with fresh ones, ensuring skin remains vibrant and youthful.
Wound Healing Process
In the aftermath of a wound or skin injury, EGF plays a pivotal role in accelerating the healing process. It not only promotes the rapid growth of skin cells around the wound but also stimulates collagen production, ensuring the new tissue is robust and resilient.
Collagen Production
Collagen is the main structural protein in our skin, giving it firmness and elasticity. As EGF stimulates skin cells, it indirectly promotes collagen synthesis, countering the natural degradation that occurs with age and ensuring the skin remains supple and taut.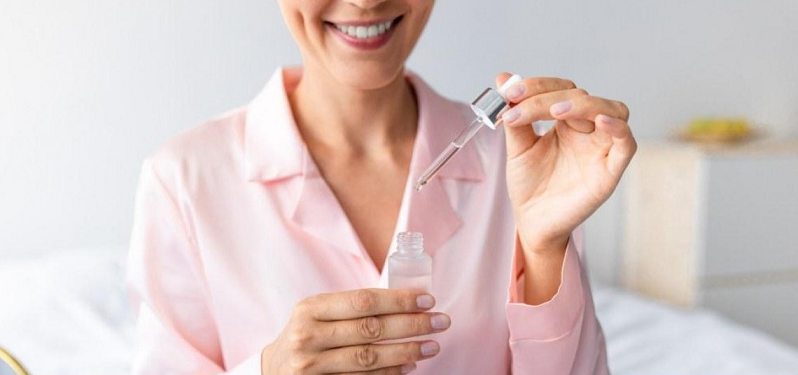 Benefits of EGF in Skincare
While the biological intricacies behind EGF are undeniably fascinating, what truly captivates the skincare enthusiast and expert alike are the tangible benefits this molecule promises. As more skincare products tout EGF as a primary ingredient, understanding these benefits can help users make informed decisions about incorporating it into their routines. So, what exactly does EGF bring to the table?
Boosting Skin Regeneration
EGF's reputation as a regeneration booster is well-earned. At its core, EGF accelerates the skin's natural turnover process. By stimulating cell growth and division, it promotes the quicker shedding of old, dead skin cells, allowing for newer, healthier cells to surface. This not only imparts a fresh, radiant glow but also helps maintain a smooth and even texture [3].
Reducing Appearance of Wrinkles and Fine Lines
Age, sun exposure, and environmental stressors gradually lead to the appearance of wrinkles and fine lines. As EGF promotes cell growth and collagen production, it helps replenish the skin's structural matrix. The result? A noticeable reduction in the depth and prominence of these age-related concerns. Users often find that consistent use of EGF-infused products imparts a more youthful and plump appearance to their skin.
Accelerating Wound Healing
In addition to its cosmetic appeal, EGF's therapeutic benefits are just as compelling. For those recovering from skin injuries or procedures, the application of EGF can be a game-changer. By jumpstarting the skin's natural healing mechanisms, it ensures wounds close faster, reduces the likelihood of scar formation, and ensures the newly formed skin is healthy and robust.
Enhancing Hydration and Elasticity
A well-hydrated skin is the foundation of a radiant complexion. EGF, in tandem with promoting cellular growth, aids in strengthening the skin's moisture barrier. This not only helps retain moisture but also ensures that the skin remains elastic and supple. The result is a complexion that not only looks hydrated but feels incredibly soft to the touch.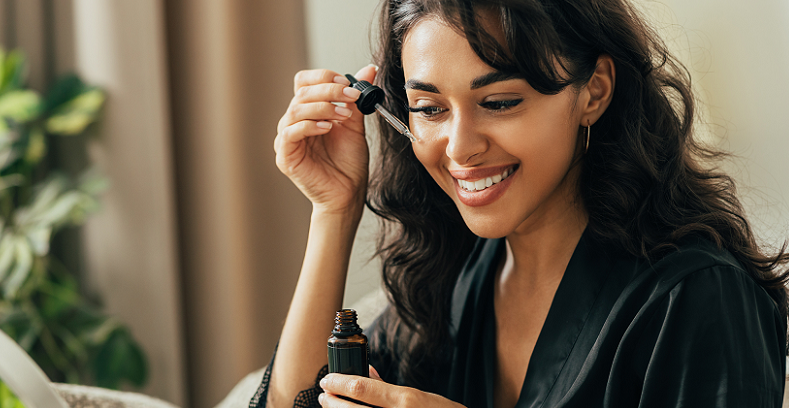 Using EGF in Skincare Products
The allure of EGF's benefits might be compelling, but how does one harness its magic in daily skincare routines? As with any potent ingredient, understanding the right way to integrate EGF into your regimen can make a world of difference in outcomes. From choosing the right kind of products to being aware of potential side effects, here's what you need to know.
Types of Products Containing EGF
The versatility of EGF has made it a favorite among skincare formulators. Depending on your skincare needs and preferences, there are various EGF-infused products available in the market [4].
Serums
Often lightweight and fast-absorbing, serums with EGF concentrate on delivering this powerful molecule deep into the skin's layers. Typically used post-cleansing and before moisturizing, EGF serums can offer targeted treatment for concerns like fine lines, wrinkles, and uneven texture.
Creams
For those seeking hydration alongside the rejuvenating properties of EGF, creams might be the ideal choice. These often combine the growth factor with moisturizing agents, ensuring that the skin remains plump and radiant.
Masks
An occasional treat for the skin, EGF masks aim to provide intensive care. Whether as sheet masks or cream-based formulations, they often combine other beneficial ingredients to boost skin health. Suitable for weekly or bi-weekly use, these masks can impart an immediate glow and freshness.
Best Practices for Use
EGF, while powerful, is best used with a touch of caution and knowledge. Here are some best practices to consider:
Patch Test
Before diving headfirst, it's always wise to perform a patch test when trying out a new EGF product. This helps ensure that you don't have an adverse reaction.
Follow Instructions
EGF products often come with specific application guidelines. Whether it's the amount to use or the sequence in a skincare routine, it's essential to adhere to these directions [5].
Combining Ingredients
While EGF can be a stellar ingredient on its own, it often plays well with others like hyaluronic acid or peptides. However, be cautious when using it alongside potent ingredients like retinol, as the combination can sometimes be too intense for sensitive skin.
Potential Side Effects and Precautions
Like all active ingredients, EGF isn't without its set of precautions:
Sensitivity
Some users might experience redness, itching, or minor irritation. It's crucial to listen to your skin and discontinue use if any of these persist.
Avoid Open Wounds
While EGF aids in wound healing, it's essential to avoid applying EGF products directly to open or fresh wounds.
Pregnancy and Breastfeeding
As with many active skincare ingredients, if you're pregnant or breastfeeding, it's a good idea to consult with a dermatologist before using EGF products.
References

[1] Epidermal Growth Factor in Aesthetics and Regenerative Medicine
[2] The use of epidermal growth factor in dermatological practice
[3] The Epidermal Growth Factor Receptor System in Skin Repair and Inflammation
[4] The Effect of a Combination of Recombinant EGF Cosmetic Serum and a Crosslinked Hyaluronic Acid Serum
[5] The Growing Popularity of Growth Factors