The Magic of Mushroom Extracts in Skincare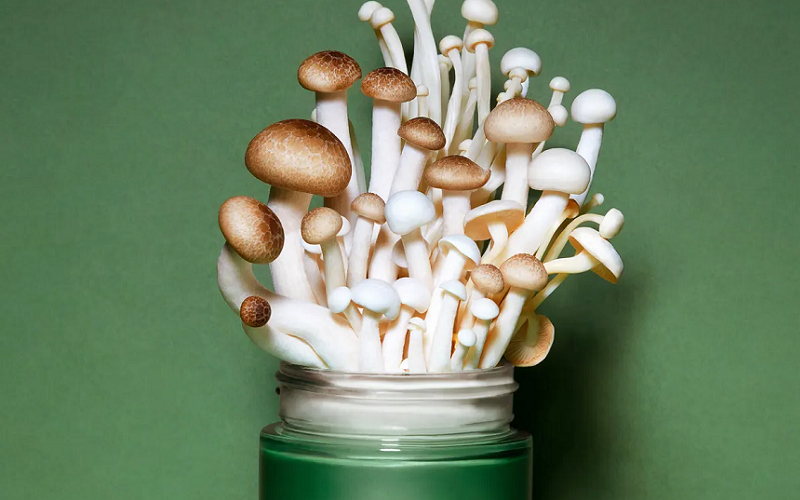 In the ever-evolving world of skincare, nature often reveals its age-old secrets, gifting us with ingredients that seem almost magical in their efficacy. One such treasure? Mushroom extracts. Once a cornerstone in ancient Asian wellness practices, these fungi are now making their mark in the modern skincare scene. Rich in antioxidants, hydrating properties, and a host of vitamins, mushroom extracts promise a range of benefits that cater to various skin needs.
Different Types of Mushroom Extracts in Skincare
When it comes to incorporating mushroom extracts into skincare, it's essential to know that not all mushrooms are created equal. Each type boasts its unique set of properties and benefits for the skin. From the revered Reishi to the radiant Shiitake, let's explore some of the most commonly used mushroom extracts in skincare products.
Reishi: The Mushroom of Immortality
Historically revered in traditional Chinese medicine, the Reishi mushroom has been used for over two thousand years, earning it the title "Mushroom of Immortality." This magical fungus stands out for its skin-calming properties, thanks to its rich content of antioxidants that help combat signs of premature aging and external stressors. Moreover, Reishi is known for its adaptogenic qualities, helping the skin to adapt to its environment and resist damage.
Chaga: The Super Antioxidant Powerhouse
Chaga mushrooms, primarily found on birch trees in colder climates, are packed with antioxidants. These mushrooms are rich in superoxide dismutase, an enzyme that plays a crucial role in protecting our skin against the harmful effects of free radicals and oxidative stress. Regular use of Chaga-infused skincare products can lead to a visible reduction in wrinkles, fine lines, and signs of sun damage [1].
Shiitake: The Radiance Booster
Shiitake mushrooms, popular in many Asian cuisines, offer more than just flavor. They are known to contain kojic acid, a natural skin lightening agent. When applied topically, Shiitake extract can help in reducing hyperpigmentation, dark spots, and uneven skin tone, revealing a brighter and more radiant complexion.
Cordyceps: Energizing and Revitalizing
Cordyceps, often termed the "miracle" mushroom, is renowned for its revitalizing properties. Apart from its health benefits, in skincare, Cordyceps extracts can enhance cellular energy, leading to rejuvenated and revitalized skin appearance. Furthermore, its anti-inflammatory properties help soothe redness and irritation, making it ideal for sensitive or easily aggravated skin.
Tremella: Nature's Hyaluronic Acid
Tremella fuciformis, or the snow mushroom, is a darling in the skincare world, especially in hydrating products. Tremella can hold nearly 500 times its weight in water, rivaling the hydration capacity of hyaluronic acid. When applied topically, it offers a burst of moisture, reducing the appearance of fine lines and leaving the skin supple and plump [2].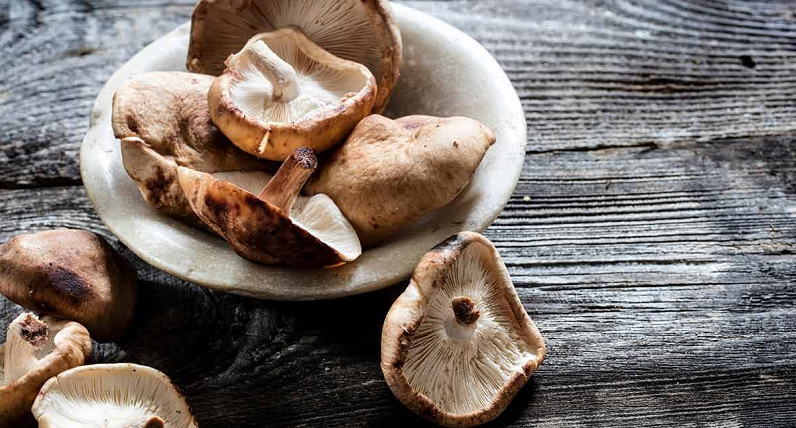 Science Behind the Magic: How Mushroom Extracts Benefit the Skin
While the historical and cultural reverence for mushrooms has been evident for millennia, modern science has brought to light the specific mechanisms through which these fungi benefit our skin. With a bevy of natural compounds, from polysaccharides to beta-glucans, mushrooms pack a punch that's both scientifically fascinating and practically effective for skin health.
Hydration Properties
The fundamental step towards radiant skin lies in maintaining its hydration. Mushrooms are an incredible source of hydrating components that lock in moisture, ensuring our skin remains plump and luminous.
Natural Polysaccharides
Polysaccharides found in mushrooms enhance the skin's natural barrier, preventing moisture loss. They also form a protective film on the skin's surface, ensuring hydration retention and promoting a smooth, even texture.
Humectants in Mushrooms
Similar to popular skincare ingredients like glycerin, mushrooms contain natural humectants. These molecules draw moisture from the environment and bind it to the skin, ensuring long-lasting hydration [3].
Anti-Inflammation and Soothing Effects
Inflammation is often the culprit behind many skin issues, from redness to acne. Mushrooms come equipped with properties that can calm our skin, ensuring it remains soothed and balanced.
Beta-Glucans and Their Role
Found abundantly in mushrooms, beta-glucans offer anti-inflammatory benefits, reducing skin redness and irritation. These compounds also boost skin immunity, aiding in faster recovery from external aggressors.
Anti-redness Properties
Some mushroom extracts, like Reishi, contain triterpenoids, compounds known for their potent anti-inflammatory and anti-redness effects. When applied topically, these can significantly reduce skin irritation and flare-ups.
Antioxidant Benefits
Free radicals and oxidative stress are significant contributors to premature aging. Thankfully, mushrooms are laden with antioxidants that combat these harmful agents, ensuring our skin remains youthful and vibrant.
Protection Against Free Radicals
Many mushrooms, notably Chaga, have high levels of antioxidants that neutralize free radicals. This protection shields our skin from environmental stressors like pollution and UV radiation [4].
Anti-Aging Effects
The antioxidants in mushrooms, combined with their hydration properties, contribute to reducing the appearance of wrinkles and fine lines. They promote skin elasticity, ensuring it remains taut and rejuvenated.
Natural Source of Vitamins and Minerals
A well-nourished skin is the cornerstone of a radiant complexion. Mushrooms, in their natural wisdom, offer a trove of vitamins and minerals essential for skin health.
Vitamins D and B Complex
These vital vitamins, found in mushrooms, support skin regeneration and collagen production. They play a pivotal role in maintaining skin elasticity and barrier function.
Essential Minerals like Selenium
Selenium, a powerful antioxidant mineral found in mushrooms, aids in protecting the skin against oxidative damage. It also supports skin elasticity, keeping signs of aging at bay.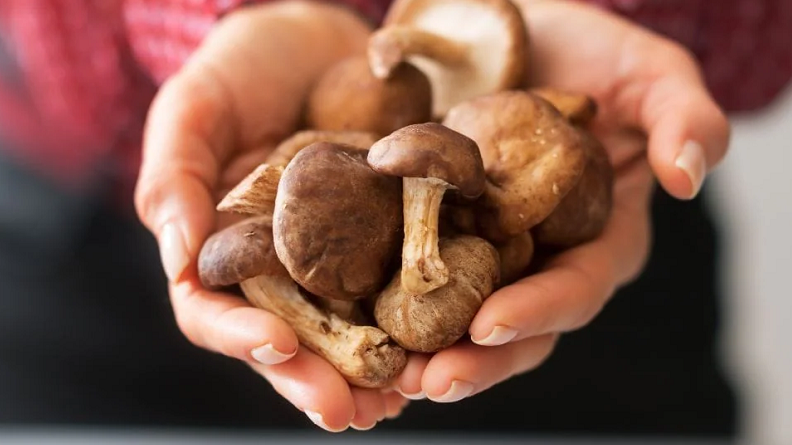 How to Incorporate Mushroom Extracts in Your Skincare Routine
As with any skincare ingredient, knowing how to effectively incorporate mushroom extracts into your regimen is crucial for reaping maximum benefits. The versatility of these fungal wonders means they can seamlessly blend into various stages of your routine, from serums to masks.
Serums and Essences
Serums and essences, with their lightweight and penetrative formulas, are the perfect vehicles for delivering the benefits of mushroom extracts deep into the skin layers.
Introducing Mushroom Serums: Start with a mushroom-infused serum post-cleansing. This ensures the active ingredients penetrate deeply, optimizing hydration, and antioxidant protection. Whether you're aiming for brightening effects with Shiitake or deep hydration with Tremella, always ensure you give the serum a minute to sink in before proceeding with the next skincare step [5].
Creams and Lotions
Moisturizers play a pivotal role in sealing in all the goodness of your skincare products, and when fortified with mushroom extracts, they offer an added layer of nourishment and protection.
The Magic of Mushroom Creams: After your serum application, layer on a mushroom-based cream or lotion. This not only locks in the benefits of the serum but also amplifies the hydrating and soothing effects, thanks to the rich consistency of creams. Opt for formulations that cater to your specific skin needs, be it anti-aging or calming redness.
Masks and Overnight Treatments
To truly indulge your skin and give it an intensive treatment, masks and overnight packs with mushroom extracts can be a game-changer.
The Ritual of Mushroom Masks: Once or twice a week, treat your skin to a mushroom mask. Leave it on for the specified duration, allowing the concentrated mushroom extracts to deeply nourish and repair the skin. For an added boost, you can also explore overnight mushroom treatments. Simply apply before bed and wake up to rejuvenated, plump skin.
Choosing Products Based on Skin Type
Understanding your skin type is the cornerstone of an effective skincare routine. Thankfully, mushroom extracts cater to a wide spectrum of skin needs, but choosing the right product formulation ensures optimal benefits.
Tailoring to Your Needs: If you have dry skin, look for products rich in Tremella for deep hydration. For those battling signs of aging, Reishi or Chaga-infused formulations can be beneficial. Oily or acne-prone skin types can benefit from the calming effects of Cordyceps or the brightening properties of Shiitake.
References

[1] Skincare With Mushrooms: No Longer a Fungi Fad
[2] Why mushrooms are the new frontier in skincare
[3] Development of Mushroom-Based Cosmeceutical Formulations with Anti-Inflammatory, Anti-Tyrosinase, Antioxidant, and Antibacterial Properties
[4] Cosmetic Benefits of Natural Ingredients: Mushrooms, Feverfew, Tea, and Wheat Complex
[5] Mushroom Cosmetics: The Present and Future