Syncing with your Cycle: Adapting Skincare Routines Throughout Menstruation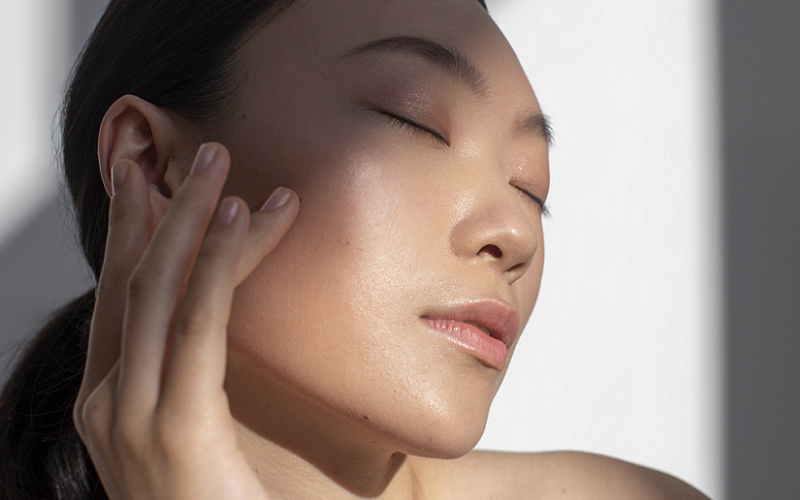 Every month, our body embarks on a hormonal rollercoaster ride known as the menstrual cycle. While we're often acutely aware of its more prominent symptoms, like mood swings or cramps, its subtler effects on our skin often go unnoticed. Our skin's texture, hydration levels, and even its proneness to breakouts can shift dramatically through each phase of our cycle. So, why stick to one skincare routine when your skin is constantly evolving? Here we examine the interplay between hormonal changes and skincare.
Understanding the Menstrual Cycle
Before delving into the nitty-gritty of skincare adjustments, it's crucial to have a foundational understanding of the menstrual cycle and its four main phases. These phases, influenced by hormone fluctuations, not only dictate our moods and energy levels but also play a significant role in the condition of our skin.
Basic Overview of the Four Phases
The menstrual cycle, averaging around 28 days for many individuals, can be broadly divided into four phases. Each phase comes with its hormonal shifts, impacting everything from our emotions to, most pertinently for this discussion, our skin.
Menstrual Phase
The menstrual phase marks the beginning of the cycle and is most commonly known as the period where bleeding occurs. This phase typically lasts between 3 to 7 days. During this phase, estrogen and progesterone levels are low, which can often lead to skin feeling drier and more sensitive than usual.
Follicular Phase
Following the menstrual phase, the follicular phase spans from around day 8 to day 14. It witnesses a steady increase in estrogen levels, leading to the thickening of the uterine lining. The skin may begin to regain its radiance and produce more oil, leading to potential fresh breakouts.
Ovulation Phase
The ovulation phase is short, lasting about 24 to 48 hours around days 15 to 17. This is when an egg is released from an ovary. Thanks to a peak in estrogen, the skin often appears radiant and glowing. However, this phase also brings increased skin sensitivity and susceptibility to breakouts due to the open pore structure [1].
Luteal Phase
The final phase, from around day 18 to day 28, sees progesterone levels rise and dominate. This hormone surge results in increased sebum (oil) production, making skin more prone to acne, especially PMS-related breakouts. Additionally, the skin may appear duller with more noticeable pores.
How Hormone Fluctuations Impact the Skin
Each hormonal shift in our cycle can be linked to specific changes in our skin's behavior. Estrogen, which peaks during ovulation, tends to promote skin hydration, giving it that sought-after glow. On the other hand, the rise in progesterone during the luteal phase increases sebum production, which can lead to oily skin and potential breakouts. Moreover, when both estrogen and progesterone dip during the menstrual phase, the skin may feel dry and sensitive. Recognizing these shifts and their implications is the first step in tailoring a skincare routine that addresses the skin's needs throughout the month.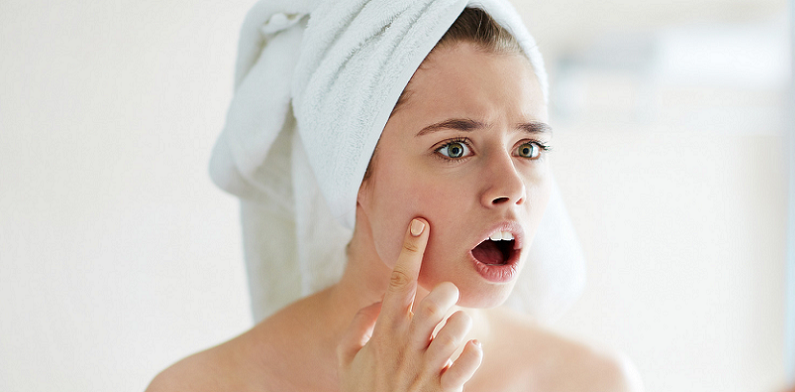 Skincare During the Menstrual Phase (Days 1-7)
As we step into the menstrual phase, our skin often reflects the internal changes happening within our bodies. As menstrual bleeding starts, both estrogen and progesterone levels take a dip, resulting in specific skin challenges. But by being attentive and adapting our skincare routines, we can effectively address these concerns, ensuring our skin remains as comfortable and healthy as possible during this phase.
Common Skin Issues
The menstrual phase is characterized by a few common skin issues, largely due to the declining hormone levels. While individual experiences can vary, many find that their skin undergoes these changes.
Dryness
With the drop in estrogen, the skin often loses some of its ability to retain moisture. This can lead to a parched, tight feeling, which, if not addressed, may cause flakiness or even exaggerate the appearance of fine lines.
Sensitivity
The lowered hormone levels can also reduce the skin's barrier function, making it more susceptible to irritants. Many individuals experience increased redness, itchiness, or even minor rashes during this phase [2].
Recommended Skincare Products and Ingredients
The key to managing skin during the menstrual phase lies in selecting the right products, focused on hydration and soothing potential irritations.
Gentle Cleansers
Switching to a mild, hydrating cleanser can prevent further stripping the skin of its natural oils. Look for sulfate-free formulas that are bolstered with moisturizing ingredients like glycerin or hyaluronic acid.
Hydrating Serums
Incorporate a hydrating serum into your routine. Serums with hyaluronic acid can draw moisture into the skin, while ceramides can help reinforce the skin's barrier, preventing moisture loss.
Calming Masks
A calming mask can be a game-changer during this phase. Ingredients like aloe vera, chamomile, and calendula offer soothing properties, reducing redness and any inflammation.
Tips and Tricks for Extra Care
While the right products are essential, a few additional practices can amplify the care your skin receives during this time.
Limit Hot Showers
While it might be tempting to stand under a steaming shower, especially if you're experiencing menstrual cramps, hot water can further dehydrate the skin. Opt for lukewarm showers and ensure you moisturize immediately after to lock in hydration.
Stay Hydrated
Internal hydration plays a significant role in skin health. Drinking enough water can combat dryness from the inside out, assisting your skincare products in their mission.
Avoid Harsh Exfoliants
Your skin is more delicate during this phase. Consider skipping any aggressive physical scrubs or high-concentration chemical exfoliants to prevent unnecessary irritation.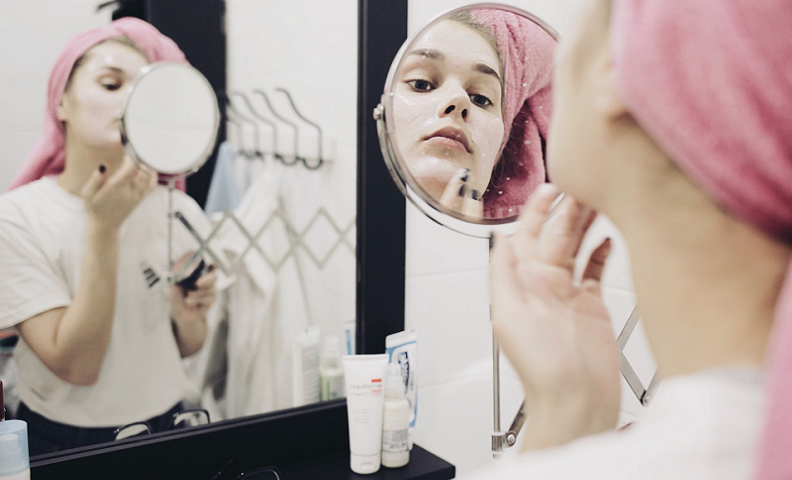 Skincare During the Follicular Phase (Days 8-14)
The conclusion of menstruation marks the onset of the follicular phase. This period sees a notable rise in estrogen, causing a variety of changes in the skin. As our bodies gear up for potential ovulation, our skin begins its journey from the dryness and sensitivity of the menstrual phase to a more radiant and potentially oilier state. Understanding and anticipating these changes can help you provide your skin with precisely what it needs during this rejuvenating phase.
Common Skin Issues
The follicular phase, while bringing about a revitalized skin appearance, comes with its set of challenges. Here are some of the most common ones.
Increasing Oil Production
As estrogen levels rise, so does the skin's sebum production. While this oil can give the skin a youthful, dewy appearance, it might also lead to a shiny T-zone or even the early stages of acne [3].
Appearance of Fresh Breakouts
With increased oiliness, there's a potential for clogged pores, leading to fresh breakouts or blackheads, especially if the skin isn't cleansed effectively.
Recommended Skincare Products and Ingredients
Embracing the renewed vitality of the skin during this phase also means being proactive about potential concerns. Here are some products and ingredients to consider.
Exfoliants
This is an excellent time to reintroduce exfoliants, especially if you've paused their use during the menstrual phase. Alpha hydroxy acids (AHAs) like glycolic or lactic acid can help slough off dead skin cells, preventing pore-clogging and imparting a radiant glow.
Non-comedogenic Moisturizers
Ensure your moisturizer is lightweight and non-comedogenic (won't clog pores). Gel-based formulations or those with hyaluronic acid can provide hydration without adding to the oiliness.
Salicylic Acid Treatments
If you notice breakouts starting to form, consider spot treatments containing salicylic acid. This beta hydroxy acid (BHA) penetrates oil to exfoliate inside the pore, helping prevent and treat acne.
The Importance of Sun Protection
With the inclusion of exfoliants, your skin might be more susceptible to sun damage. Hence, sun protection is paramount.
Broad Spectrum SPF
Ensure you're applying (and reapplying) a broad-spectrum sunscreen with at least SPF 30. This protects against both UVA (aging) and UVB (burning) rays.
Physical Barriers
Consider wearing hats or seeking shade, especially during peak sun hours, to give your skin an added layer of protection.
Vitamin C Serums
This antioxidant not only combats free radicals from UV exposure but also helps in brightening the complexion. It's a valuable addition to morning routines.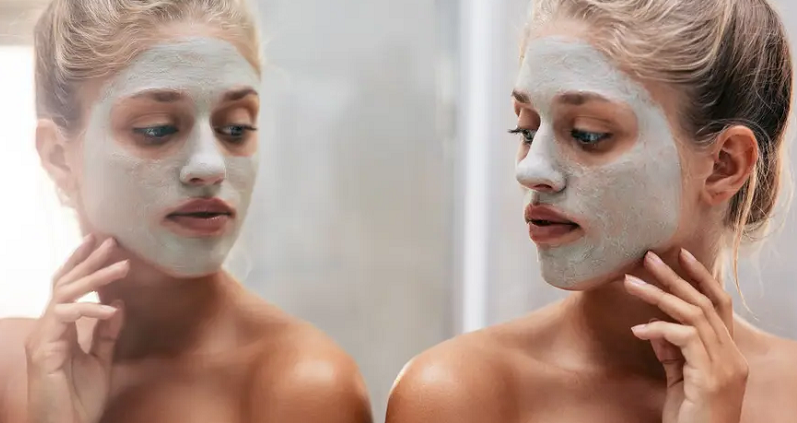 Skincare During the Ovulation Phase (Days 15-17)
As we transition into the ovulation phase, the hormonal tides continue to ebb and flow, with estrogen reaching its pinnacle. This peak often translates into what many term as the "ovulation glow," where skin can appear at its most radiant. However, with this surge in hormones also comes an increased susceptibility to certain skin challenges.
Common Skin Issues
The ovulation phase, while being the shortest, is potent in terms of skin impacts. These are the primary concerns one might encounter.
Increased Skin Sensitivity
With the skin's barrier slightly compromised during ovulation, there's a heightened sensitivity. This means reactions to new products or even ones you've used for a while might be more pronounced [4].
Pore Visibility
With increased sebum production and skin sensitivity, pores might appear more prominent, especially around the T-zone area.
Breakout Continuation
If you experienced breakouts during the follicular phase, they might persist or even amplify during ovulation due to the skin's heightened sensitivity and open pore structure.
Recommended Skincare Products and Ingredients
Balancing the skin's needs during ovulation requires a gentle touch, emphasizing soothing and protective ingredients.
Barrier Repair Creams
These creams are formulated to strengthen the skin's natural barrier. Ingredients like niacinamide, ceramides, and fatty acids can help fortify the skin, making it less prone to irritants.
Gentle Exfoliation
While exfoliation remains crucial, opt for milder exfoliants like lactic acid or enzymes, which can clear out pores without causing irritation.
Antioxidant Serums
Serums rich in antioxidants like vitamin E or ferulic acid can provide an added layer of protection against potential environmental damage and keep the skin radiant.
Staying Attuned to Your Skin's Needs
During ovulation, it's vital to be especially attentive and responsive to your skin's signals.
Patch Testing
If introducing new products, always do a patch test first, given the heightened sensitivity during this phase.
Stay Hydrated
Drinking ample water can help maintain the skin's radiance and flush out toxins, reducing the chances of breakouts.
Opt for Non-irritating Makeup
If you wear makeup, consider mineral-based formulations which are less likely to clog pores or irritate the skin.
Skincare During the Luteal Phase (Days 18-28)
The luteal phase, often the most challenging in terms of skincare, is marked by the dominance of progesterone. As we inch closer to the onset of the menstrual phase once again, our skin may manifest signs of the upcoming hormonal shifts. Although this phase is synonymous with pre-menstrual symptoms for many, with the right care, it's possible to minimize its impact on the skin and maintain a radiant, healthy appearance.
Common Skin Issues
As progesterone takes center stage, the skin's behavior alters, leading to several challenges.
Acne and PMS-Related Breakouts
Increased sebum production can clog pores, resulting in the flare-up of acne, particularly along the jawline and cheeks.
Dull Skin
A decline in estrogen can lead to reduced skin turnover, which might make the skin appear less vibrant and more lackluster [5].
Enlarged Pores
With heightened oil secretion, pores can become more visible, especially around the nose and cheeks.
Recommended Skincare Products and Ingredients
Given the skin's unique needs during the luteal phase, focusing on targeted ingredients can make a world of difference.
Clay Masks
Masks formulated with kaolin or bentonite clay can help absorb excess oil, reducing shine and the appearance of enlarged pores.
BHAs and Oil Control
Beta hydroxy acids, like salicylic acid, can penetrate the oil to exfoliate inside the pore, helping in the management of acne and preventing further breakouts.
Brightening Ingredients
To combat dullness, introduce ingredients that promote brightness and even skin tone, such as vitamin C, licorice root extract, or niacinamide.
Lifestyle Adjustments for Skin Health
During the luteal phase, some lifestyle adjustments can bolster your skincare routine, ensuring the best possible outcome for your skin.
Balanced Diet
Prioritize a diet rich in omega-3 fatty acids (like flaxseeds or fatty fish) and antioxidants (like berries and leafy greens) to combat inflammation and promote skin health.
Limit Dairy and Sugar
Some studies suggest a link between dairy, sugar, and acne. If you're prone to breakouts during this phase, it might be worth reducing their intake and monitoring any changes.
Stress Management
Elevated stress can exacerbate skin issues. Incorporate relaxation techniques, such as meditation, yoga, or deep breathing exercises, to keep stress in check.
References

[1] Syncing Your Skincare Routine to Your Period
[2] Should You Be Syncing Your Cycle With Your Skincare?
[3] Skin and Hormones: How Your Cycle Can Influence Your Skincare
[4] I tailored my skincare routine to my menstrual cycle to see if it really works
[5] The effects of your cycle on your skin