Urban Shield: Skincare Strategies for Air Pollution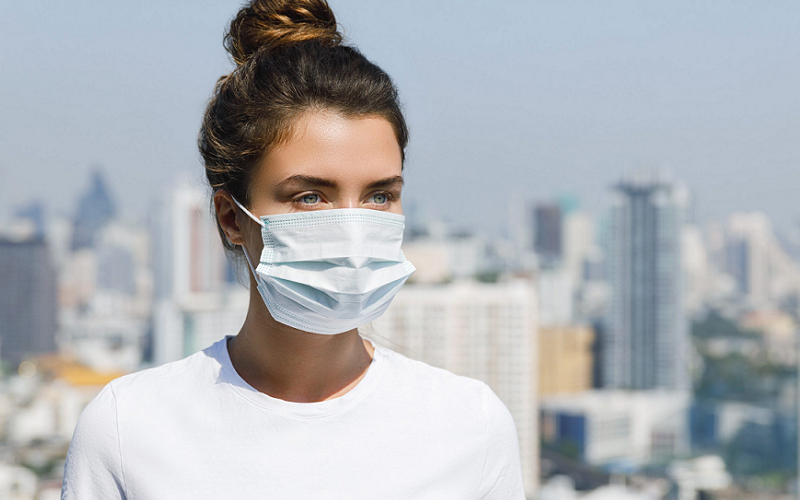 City life is exciting, dynamic, and filled with endless possibilities. However, with the hustle and bustle comes exposure to air pollution — an invisible foe that takes a toll on your skin. Air pollution is not just a buzzword; it's a reality that millions face daily, and its effects on skin health can be alarming. But fear not, city dwellers, as we've got you covered. Here we arm you with the knowledge and tools to fortify your skin against the harmful elements lurking in city air.
Introduction to Air Pollution and Skincare
Before we dive into the air pollution-fighting skincare strategies, let's first define what Urban Shield means in the context of skincare. Urban Shield is a holistic approach that aims to protect and fortify the skin against the environmental stressors found in urban areas, primarily air pollution. This concept focuses on creating a protective barrier on the skin, detoxifying it, and nourishing it with essential nutrients to combat the harmful effects of pollutants.
Background Information on Air Pollution
Air pollution is a pressing concern, especially in metropolitan areas. It arises from various sources, such as vehicle emissions, industrial activities, and construction work. The air we breathe in cities is often a cocktail of particulate matter, gases, and chemicals, all of which can wreak havoc on our skin. Understanding air pollution is critical to realizing the importance of creating an Urban Shield for our skin.
The Importance of Skincare in Urban Environments
In urban environments, where air pollution levels are typically higher than in rural areas, skincare takes on additional significance. The skin is our body's largest organ and our first line of defense against environmental aggressors. Prolonged exposure to pollution can lead to a plethora of skin issues, including premature aging, irritation, and a higher susceptibility to skin diseases. By adopting a targeted skincare routine and making lifestyle adjustments, we can create an effective shield that not only protects the skin but also promotes its health and vitality.
Understanding the Effects of Air Pollution on Skin
As we venture through bustling city streets, our skin is constantly interacting with the surrounding environment. Air pollution, an omnipresent aspect of urban life, can have detrimental effects on skin health. To effectively combat these harmful impacts and build our urban shield, we must first understand the components of air pollution and how they affect our skin.
The Role of Particulate Matter in Air Pollution
One of the major culprits in air pollution affecting our skin is particulate matter (PM). Particulate matter consists of tiny particles suspended in the air, and it varies in size. PM10, for instance, refers to particles with a diameter of 10 micrometers or less, whereas PM2.5 refers to those with a diameter of 2.5 micrometers or less. The latter is particularly concerning because its small size allows it to penetrate the skin's outer layers more easily. These particles often carry a plethora of chemicals and toxins that can be damaging to the skin [1].
How Air Pollution Impacts the Skin
The skin is our body's protective barrier, but it's not impervious. Particulate matter and other pollutants can cause various issues when they come into contact with or penetrate the skin.
Accelerated Aging
Exposure to air pollution has been linked to signs of premature aging. Pollutants generate free radicals, which can damage collagen and elastin – proteins vital for maintaining the skin's elasticity and firmness. This leads to wrinkles and sagging skin.
Inflammation and Irritation
Air pollution can also cause skin inflammation and irritation. The particles and chemicals in polluted air can trigger oxidative stress, leading to redness, itching, and general discomfort. In some cases, this can exacerbate pre-existing skin conditions like eczema.
Uneven Skin Tone
Pollutants like heavy metals and polycyclic aromatic hydrocarbons (PAHs) can cause hyperpigmentation, leading to an uneven skin tone and dark spots.
Increased Risk of Skin Conditions
Prolonged exposure to pollutants can also increase the risk of developing various skin conditions, including acne and dermatitis, by disrupting the skin's natural barrier function.
The Importance of Antioxidants in Combatting Pollution's Effects
Understanding the detrimental effects of air pollution on skin calls for the importance of protection. One of the most effective ways to counteract the damage caused by pollutants is through the use of antioxidants. Antioxidants neutralize free radicals, protecting the skin cells from damage. Ingredients such as Vitamin C, Vitamin E, and green tea extract are potent antioxidants that can be integrated into your skincare routine to fight the harmful effects of pollution [2].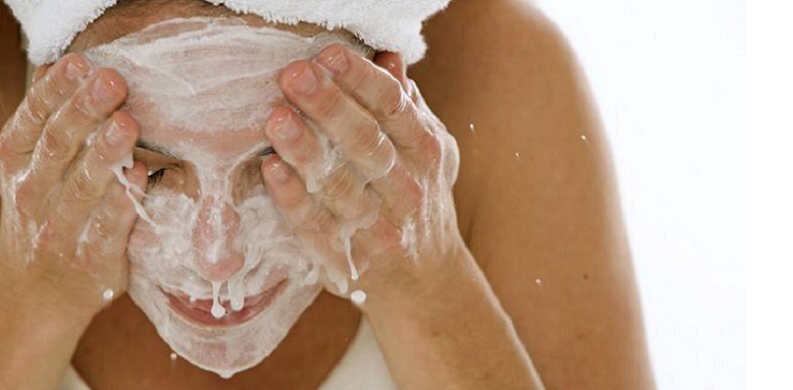 Creating a Barrier: The First Line of Defense
Now that we've discussed the damaging effects of air pollution on the skin, it's time to build our armor. The primary step in combating the effects of pollutants is to create a protective barrier on the skin. This barrier serves as a shield, preventing harmful particles from penetrating the skin's surface.
The Concept of a Physical Shield
The idea behind creating a physical shield is to apply topical products that can either block pollutants from reaching the skin or neutralize their effects. This shield is essential, especially in urban environments, where the concentration of harmful particles in the air is high. Incorporating moisturizers, sunscreens, and specific ingredients into your skincare regimen can contribute to building this shield.
The Importance of Moisturizers
Moisturizers play a crucial role in maintaining the skin's natural barrier. They lock in moisture, keeping the skin hydrated, and some also form a film that can prevent pollutants from adhering to the skin [3].
Ingredients to Look For
When selecting a moisturizer to combat air pollution, look for products containing antioxidants, as these neutralize free radicals generated by pollutants. Additionally, ingredients like niacinamide, ceramides, and hyaluronic acid are beneficial in strengthening the skin's barrier function.
How to Properly Apply Moisturizer
To maximize the benefits of your moisturizer, it is important to apply it correctly. Start with a clean face. Take a dime-sized amount and gently spread it over your face and neck. Use upward strokes and ensure that the product is evenly distributed. It is best to apply moisturizer while the skin is still slightly damp, as this helps lock in hydration.
Sunscreen as a Pollution Shield
While sunscreens are primarily known for protecting the skin from UV rays, they also play a significant role in shielding the skin from pollution.
Broad Spectrum Protection
It is essential to use a broad-spectrum sunscreen, which means it protects against both UVA and UVB rays. Besides, some sunscreens are now formulated with antioxidants and other ingredients to offer protection against pollution.
How Pollution and UV Rays Interact
There's a synergistic effect between pollution and UV rays, where each exacerbates the harm caused by the other. Polluted environments can make the skin more susceptible to UV damage, and UV rays can enhance the skin's sensitivity to pollution. As such, wearing sunscreen daily is a two-fold protective measure against both UV rays and pollution.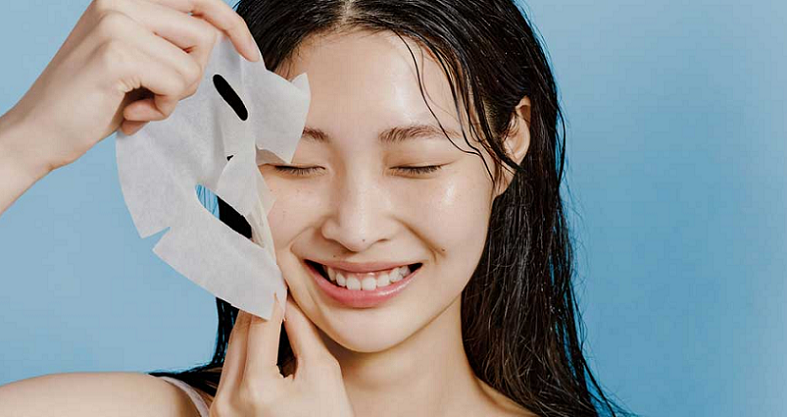 Deep Cleaning: Detoxifying the Skin
Having a protective barrier is essential, but it's only part of the equation. Throughout the day, pollutants and toxins accumulate on the skin's surface. This accumulation can lead to clogged pores and exacerbate the harmful effects of pollution. Therefore, deep cleaning and detoxifying the skin are vital in maintaining a robust urban shield. In this section, we will explore the different ways to effectively cleanse the skin and rid it of harmful pollutants [4].
The Importance of Regular Cleansing
Regular cleansing is the cornerstone of any skincare routine. It is especially crucial in urban environments where the skin is continually exposed to pollutants. Cleansing helps remove not only the dirt and excess oils but also the microscopic particles that have settled on the skin's surface throughout the day.
Choosing the Right Cleanser
Not all cleansers are created equal, especially when it comes to combating the effects of air pollution. When selecting a cleanser, look for ingredients that can remove pollutants without stripping the skin of its natural oils. Some ingredients to look for include activated charcoal, which binds to dirt and helps lift it from the pores, and salicylic acid, which can help penetrate oil glands and unclog pores.
Masks and Exfoliation
In addition to daily cleansing, periodic deep cleaning through masks and exfoliation is vital in detoxifying the skin.
Clay Masks
Clay masks are particularly effective at drawing out impurities from the skin. Ingredients like bentonite or kaolin clay have a natural absorbency that helps remove excess oil and draw out deeply lodged pollutants. Applying a clay mask once a week can be a potent addition to your detoxifying regimen.
Chemical Exfoliants
Exfoliating helps remove the outer layer of dead skin cells, making it easier for the cleanser to remove impurities. Chemical exfoliants, such as alpha-hydroxy acids (AHAs) or beta-hydroxy acids (BHAs), are effective in removing dead skin cells and improving skin texture. They can also enhance the penetration of antioxidants and other protective ingredients. However, it is important to use chemical exfoliants sparingly, as overuse can lead to skin irritation.
The Role of Toners in Removing Pollutants
Toners can be a beneficial step in your cleansing routine. They help remove any residual impurities left behind after cleansing and can restore the skin's pH balance. When selecting a toner, look for ingredients like witch hazel, which can remove excess oils, and antioxidants like green tea extract, which can neutralize free radicals.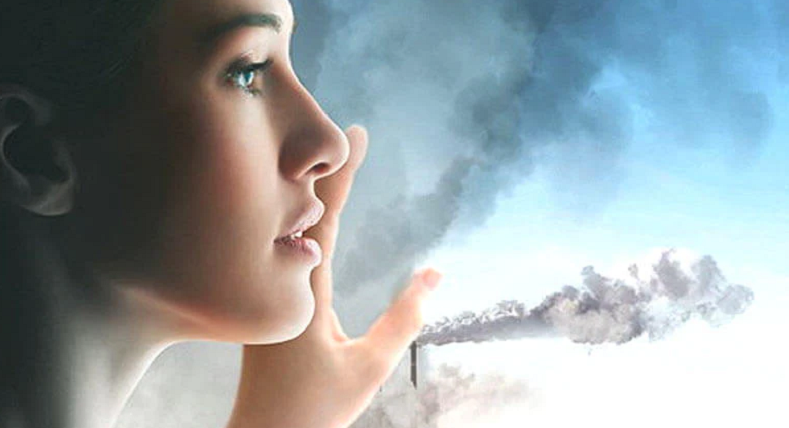 Strengthening the Skin with Antioxidants and Vitamins
Having built a defensive barrier and integrated deep cleaning into your routine, it's time to focus on fortifying your skin from within. Strengthening the skin is vital in ensuring its resilience against environmental stressors like air pollution. Antioxidants and vitamins are key players in this aspect, helping to neutralize free radicals and nourish the skin.
The Power of Antioxidants
Antioxidants are like the knights in shining armor for your skin. They protect skin cells from damage caused by free radicals, which are generated through exposure to pollutants and UV radiation. By neutralizing these free radicals, antioxidants help prevent premature aging and maintain the skin's health [5].
Vitamin C
Vitamin C is one of the most potent antioxidants and is essential for the synthesis of collagen. It also helps in brightening the skin and reducing hyperpigmentation. Incorporating a Vitamin C serum into your daily routine can significantly boost your skin's defense against pollution.
Vitamin E
Vitamin E is another powerful antioxidant that helps protect the skin from oxidative damage. It also has moisturizing properties and helps in wound healing. Combining Vitamin E with Vitamin C can enhance the antioxidative properties of both.
Green Tea Extract
Green tea extract, rich in polyphenols, is another excellent antioxidant for the skin. It helps reduce inflammation and protect the skin from UV radiation and pollution. Look for products with green tea extract or indulge in a cup of green tea for added benefits.
Essential Vitamins for Skin Health
Besides antioxidants, other vitamins play a critical role in maintaining and enhancing skin health.
Vitamin A
Vitamin A, often found in the form of retinoids, is essential for cell regeneration. It helps in smoothing wrinkles, combating acne, and promoting a more even skin tone.
Vitamin B3 (Niacinamide)
Niacinamide is a form of Vitamin B3 that helps improve the skin's barrier function. It also helps in reducing redness, lightening dark spots, and improving skin texture.
Vitamin D
While excessive sun exposure can be harmful, a moderate amount is necessary for the synthesis of Vitamin D. Vitamin D has anti-inflammatory properties and is essential for skin cell growth.
Incorporating Antioxidants and Vitamins in Your Routine
To incorporate these antioxidants and vitamins into your routine, look for serums, moisturizers, and other skincare products that contain them. Additionally, maintain a balanced diet rich in fruits and vegetables, as many of these antioxidants and vitamins are also beneficial when ingested.
References

[1] For skincare brands, urban pollution is good for business
[2] #SkinSchool: What does air pollution really do to our skin?
[3] Anti-pollution skincare: can a cream really help you 'face the city'?
[4] Can Poor Air Quality And Pollution Damage Skin?
[5] Air Pollution Might Age Skin, But Is Anti-Pollution Skincare the Fix?