Ditch the Sugar: The Little-Known Impact of Glycation on Skin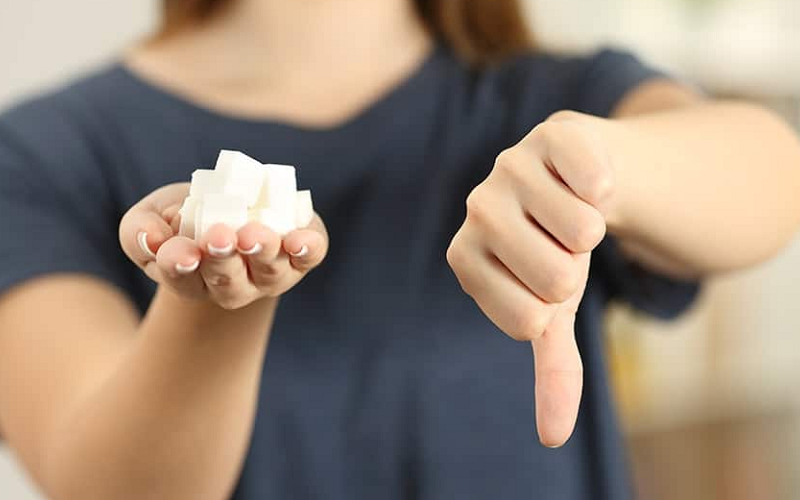 Who doesn't love to indulge in a sugary treat now and then? But what if that innocent sugar rush was secretly wreaking havoc on your precious skin? Glycation is a natural yet intricate biochemical reaction in which molecules of sugar attach themselves to proteins or fats without the aid of enzymes. This attachment can render proteins, especially collagen and elastin found in the skin, less effective. Consequently, this can lead to a range of signs of aging and different skin problems.
Introduction to Glycation and Skin Health
Sugar — the delightful substance that has a way of making food and drinks tastier and life a bit sweeter. From candies to cakes, the allure of sugar is often too tempting to resist. But this sweet substance, when consumed in excess, can have a not-so-sweet impact on our health.
Definition of Glycation
Glycation is a natural but complex biochemical process where sugar molecules bind to proteins or lipids without the assistance of enzymes. This binding can cause the proteins, particularly collagen and elastin in the skin, to become less functional. This, in turn, can contribute to various signs of aging and other skin issues.
Importance of Skin Health
Before we delve deeper, let's briefly touch upon the importance of skin health. Our skin is the largest organ in the body and serves as the first line of defense against environmental factors like UV radiation, pollution, and pathogens. Furthermore, healthy skin is often associated with beauty and youthfulness, and plays a significant role in our self-esteem and psychological well-being. Knowing the ins and outs of what could potentially damage our skin, such as glycation, empowers us to make better choices for our skin's health and, by extension, our overall wellness.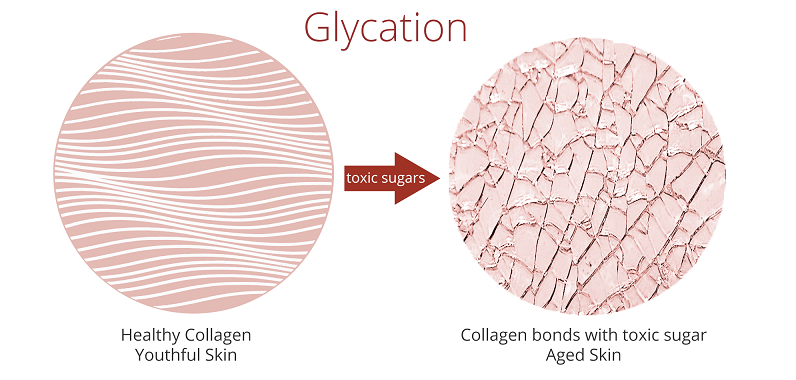 Understanding Sugars in Our Diet
When it comes to dietary intake, sugar is a component that tends to sneak its way into our meals more often than we realize. It's essential to understand the different types of sugars that exist, the roles they play in our diets, and the overall sugar consumption trends.
Different Types of Sugars
The world of sugars is more varied than it might appear at first glance. They are not all created equal and have different impacts on our health. Let's take a look at the two main categories: natural sugars and added sugars.
Natural Sugars
Natural sugars, as the name suggests, are found naturally in foods. These include fructose, present in fruits, and lactose, found in milk and other dairy products. Consuming natural sugars is generally less concerning as these foods are often high in other nutrients as well, providing a well-rounded contribution to our diet.
Added Sugars
On the other hand, added sugars are those added to foods during processing or preparation. This includes sugars like sucrose (table sugar), high fructose corn syrup, and others used in baked goods, candies, sodas, and processed foods. These sugars can quickly add up, leading to excessive consumption which could potentially lead to health problems, including its impact through glycation.
The Role of Sugars in Our Diet
Sugar, particularly in the form of glucose, plays a crucial role in our diet by providing the energy our bodies need to function. However, not all sugars are metabolized the same way in our body. Natural sugars are usually accompanied by fiber, water, and various beneficial compounds, so they don't raise blood sugar levels as quickly as added sugars. The latter are often associated with 'empty calories' as they add to your calorie intake without providing any additional nutrients.
The Modern Sugar Epidemic
In the past few decades, there has been a dramatic increase in the consumption of added sugars. This has largely been driven by the increased production and consumption of processed foods and sugary drinks. According to the American Heart Association, the average American consumes about 17 teaspoons of added sugar per day — significantly higher than the recommended limit of six teaspoons for women and nine for men. This excessive sugar intake is not without consequences and contributes to several health issues, including obesity, type 2 diabetes, and heart disease [1].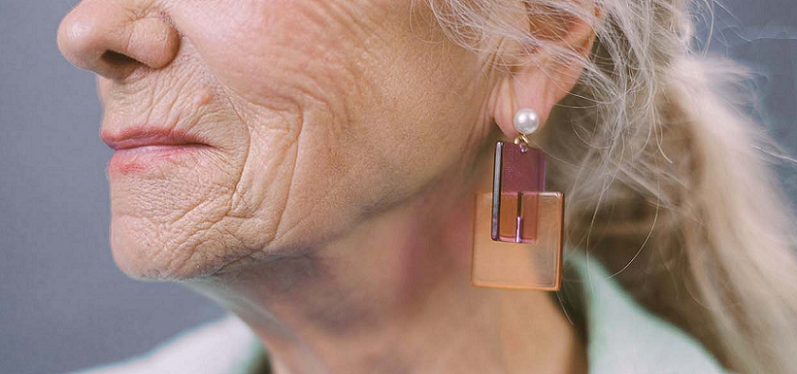 Glycation and Its Biochemical Process
Now that we have a better understanding of the sugars in our diet, let's explore what happens when these sugars interact with proteins and lipids in our body through the process of glycation.
What Is Glycation?
Glycation is an innate yet intricate biochemical reaction in which molecules of sugar attach themselves to proteins or fats without the aid of enzymes. During this process, sugar molecules, particularly glucose and fructose, bond to amino acids present in proteins or lipids, resulting in the formation of new molecules known as Advanced Glycation End Products or AGEs.
The Maillard Reaction
One of the key components of glycation is the Maillard reaction. This reaction, initially described in the context of food browning, occurs when reducing sugars react with amino acids. It's essentially the first step in glycation and contributes to the formation of AGEs. This reaction is not inherently bad; in food, it can create desirable flavors and colors, like the browning of bread. However, within the human body, it can lead to less desirable outcomes [2].
Advanced Glycation End Products (AGEs)
As we touched on previously, the final products of the glycation process are known as AGEs. These are compounds that can have diverse effects on the body's tissues and are particularly influential when it comes to skin health.
Definition and Formation
AGEs are formed when the sugar molecules that have bonded with proteins or lipids undergo further rearrangements and cross-link with other proteins. This cross-linking can affect the structure and function of these proteins.
Sources of AGEs
AGEs can either be ingested through certain foods or formed endogenously within our bodies. Foods that are high in added sugars and processed at high temperatures tend to be richer in AGEs. Inside the body, AGEs are naturally produced through metabolic processes, but their formation is accelerated by high levels of sugar in the bloodstream [3].
The Relationship Between Sugar and Glycation
By now, it's clear that sugar plays a central role in the glycation process. The higher the concentration of glucose and other sugars in the bloodstream, the more likely they are to react with proteins and form AGEs. This is why individuals with uncontrolled diabetes, where blood sugar levels are often high, tend to experience more significant issues related to glycation.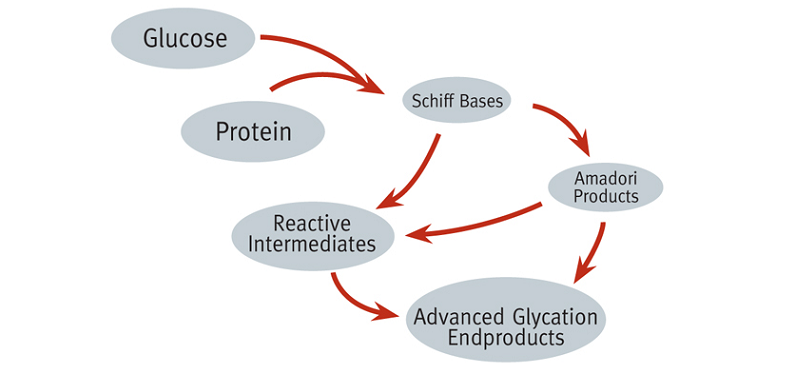 The Impact of Glycation on the Skin
Having delved into the glycation process, let's now focus on its impact on the skin. The skin, being rich in proteins like collagen and elastin, is particularly susceptible to the effects of glycation. These proteins are essential in maintaining the skin's structure, so understanding how glycation affects them is crucial for understanding skin aging and how to potentially counteract it.
Collagen and Elastin: The Building Blocks of Skin
Collagen and elastin are the primary proteins that keep the skin looking youthful and vibrant. They form the structural support for the skin, ensuring it remains firm, plump, and elastic [4].
The Structure of Collagen and Elastin
Collagen is a fibrous protein that provides strength and structure to the skin. It's like the scaffolding that holds the skin up. Elastin, on the other hand, gives the skin its elasticity, allowing it to return to its original shape after being stretched or compressed.
The Role in Maintaining Skin Health
Together, collagen and elastin are vital in maintaining the skin's firmness, suppleness, and elasticity. As we age, the production of these proteins naturally decreases, but external factors such as sun exposure, pollution, and, as we're focusing on here, glycation, can accelerate their breakdown.
How Glycation Affects Collagen and Elastin
Now, let's look at how glycation specifically affects these vital skin proteins.
Formation of AGEs in Skin
As mentioned earlier, AGEs are formed when sugars attach to proteins. In the case of the skin, when sugars attach to collagen and elastin, they become discolored, weak, and less supple. This is due to the cross-linking of AGEs, which makes these proteins more rigid and less elastic.
Cross-Linking and Rigidity
The cross-linking of AGEs causes collagen and elastin fibers to lose their ability to move freely, making them brittle and prone to breaking. This contributes to the loss of elasticity in the skin, and the weakened collagen structure causes the skin to sag and wrinkle.
Visible Signs of Skin Damage
The damage caused by glycation is not just at the microscopic level. Over time, it manifests in visible signs of aging and other skin issues [5].
Wrinkles and Fine Lines
One of the most noticeable effects of glycation on the skin is the formation of wrinkles and fine lines. As the collagen and elastin fibers break down, the skin loses its support structure, leading to sagging and the development of wrinkles.
Loss of Elasticity
With the rigidity caused by AGE cross-linking, the skin becomes less elastic. This means it doesn't bounce back as it used to, and this loss of elasticity is a hallmark of aged skin.
Dullness and Uneven Skin Tone
AGEs can also cause the skin to become dull and can contribute to an uneven skin tone. This is partly because the damaged collagen and elastin impair the skin's ability to retain moisture, leading to dryness and a lackluster appearance.
Scientific Studies Supporting the Effects of Glycation on Skin
Several studies support the connection between glycation and skin aging. For instance, a study published in the journal Clinical Dermatology in 2011 highlighted how AGEs contribute to the aging of skin by affecting collagen and elastin. Furthermore, research is ongoing into how dietary interventions and skincare products can help mitigate these effects.
Other Health Risks of Excessive Sugar Consumption
While this article primarily focuses on the impact of sugar consumption on skin health through glycation, it's essential to acknowledge that excessive intake of sugars can have a wide range of adverse effects on overall health. These effects go beyond the skin, impacting various organs and bodily functions.
Weight Gain and Obesity
One of the most common consequences of consuming excessive amounts of sugar, especially in the form of sugary drinks and processed foods, is weight gain.
Empty Calories and Increased Appetite
Added sugars often contribute to empty calories, meaning they add to your calorie intake without providing any essential nutrients. Moreover, consuming sugar can sometimes increase your appetite, leading to overeating [6].
The Link to Obesity
There is a well-established link between high sugar consumption and obesity. Obesity, in turn, is a risk factor for a host of other health issues, including heart disease, diabetes, and certain types of cancer.
Type 2 Diabetes
The relationship between excessive sugar consumption and type 2 diabetes is complex and multifactorial.
Insulin Resistance
Regularly consuming high amounts of sugar can lead to the body's cells becoming resistant to insulin, a hormone that regulates blood sugar levels. This can eventually result in the development of type 2 diabetes.
Glycation and Diabetes
Glycation is especially relevant in the context of diabetes, as elevated blood sugar levels can lead to the formation of AGEs, which contribute to the complications often seen in diabetes.
Heart Disease
Excessive sugar consumption is also linked to an increased risk of heart disease.
Elevated Blood Pressure and Cholesterol
High sugar intake can lead to elevated blood pressure and cholesterol levels, both of which are risk factors for heart disease.
Inflammation
AGEs formed through glycation can also contribute to inflammation, which is another critical factor in the development of heart disease [7].
Dental Health
The impact of sugar on dental health is also significant.
Tooth Decay
Sugars in food and drinks provide a source of food for bacteria in the mouth, which produce acids as they break down the sugar. These acids can weaken the enamel on the teeth, leading to cavities.
Periodontal Disease
Glycation can also play a role in gum disease as AGEs may contribute to inflammation and damage in the gums.
Mental Health
Interestingly, excessive sugar consumption has also been linked to various mental health issues.
Mood Disorders
There is evidence to suggest a link between high sugar intake and depression and anxiety. Fluctuations in blood sugar levels can affect mood and energy levels.
Cognitive Decline
Some studies have suggested that a diet high in sugar could be linked to cognitive decline and an increased risk of dementia in later life.
References

[1] What's Glycation and How Can You Fight It?
[2] Research Advances on the Damage Mechanism of Skin Glycation and Related Inhibitors
[3] Glycation and Skin Aging
[4] What Is Glycation? How Sugar Affects Your Skin
[5] Reaction of glycation and human skin: The effects on the skin and its components, reconstructed skin as a model
[6] 5 Ways Glycation Harms Your Skin and What to Do About It
[7] The Hazards of Skin Glycation and Related Inhibitors