Desert Skin Survival: Skincare for Dry Climates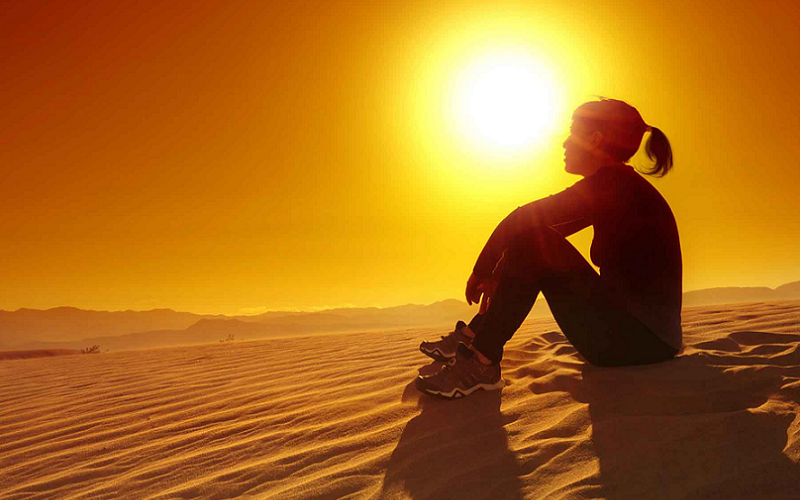 Deserts evoke images of breathtaking dunes, radiant sunshine, and unique landscapes. But amidst this beauty, the skin is silently waging a battle against the arid environment. Dry climates, characterized by low humidity and high UV radiation, can take a toll on our skin, often leaving it parched, sensitive, and susceptible to premature aging. Adapting your skincare to these challenging conditions is not just beneficial — it's essential.
Understanding Dry Climate Skin Challenges
Deserts and dry climates are unique, not just in their landscapes but in the challenges they present to our skin. The glaring sun, gusty winds, and sheer lack of moisture can make these regions particularly trying for skin health.
Loss of Moisture and its Effects
The atmosphere in dry climates is notably lacking in humidity. Without ambient moisture, our skin tends to lose its natural hydration quickly, leading to:
Dryness and flakiness: The skin's topmost layer can become brittle and start to peel off.
Tightness: A dehydrated skin barrier may feel constricted, especially after cleansing.
Increased sensitivity: A lack of moisture can weaken the skin's defense, making it more susceptible to irritants.
Accentuated fine lines and wrinkles: Dehydrated skin can make existing lines appear more pronounced.
Increased Exposure to UV Rays
While sun exposure is a concern everywhere, dry climates, especially those at higher altitudes, can intensify the effects of UV rays.
Faster sunburn: With fewer obstacles like clouds or fog, the sun's rays hit the skin more directly, increasing the chances of sunburn.
Heightened risk of photoaging: Persistent exposure without adequate protection can lead to signs of premature aging, such as sunspots, fine lines, and uneven skin tone.
Risk of skin cancers: Over time, unchecked UV exposure can increase the likelihood of skin malignancies [1].
The Challenge of Wind and Sand Abrasion
Those who've experienced a desert windstorm know it's not just air that's blowing.
Physical exfoliation: Sand particles carried by the wind can act as natural exfoliants, sometimes too aggressively, leading to microtears in the skin.
Barrier breakdown: Constant abrasion can weaken the skin's protective barrier, making it vulnerable to external aggressors and infections.
Elevated Risks of Premature Aging
Dry climates don't just accelerate aging via sun exposure. The combined effects of dehydration and environmental stressors can fast-track the aging process.
Collagen degradation: Prolonged dryness can impact collagen production, the protein responsible for skin's elasticity.
Loss of skin plumpness: Hydrated skin appears plump and youthful. Without adequate moisture, the skin can appear deflated and lackluster.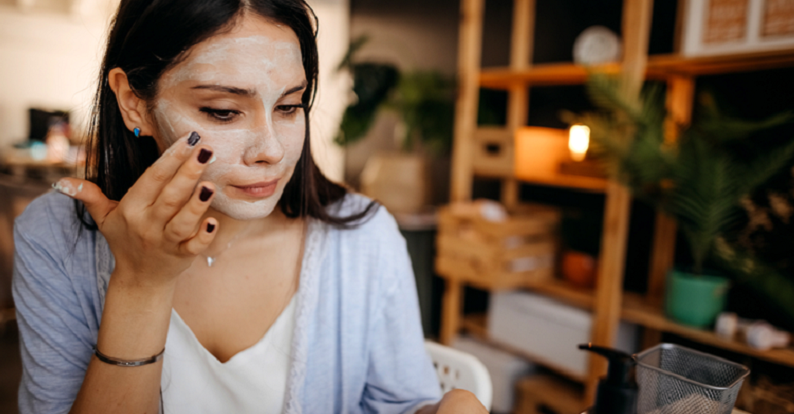 Fundamental Elements of Desert Skincare
Navigating the complex terrain of desert skincare requires more than just a moisturizer. It demands a holistic approach that targets the unique challenges presented by arid climates. As we arm ourselves with the right products and knowledge, there are fundamental elements every desert dweller — or visitor — should incorporate into their regimen.
Importance of Hydration
Hydration is the cornerstone of skincare, particularly in parched conditions. But it's crucial to differentiate between hydration and moisturization, as they serve distinct purposes [2].
Difference Between Hydration and Moisturization
Hydration refers to the increase of water content within the skin cells, making the skin look fuller and more youthful. Think of it as quenching the skin's thirst. Moisturization, on the other hand, involves locking in that hydration and forming a protective layer on the skin's surface to prevent water loss.
Benefits of Water-Based Products
Water-based products are lightweight and quickly absorbed, ensuring the skin is immediately quenched. Unlike heavy creams, water-based products don't leave a residual greasy feeling, making them comfortable for daily wear.
Sun Protection
Dry climates, with their unobstructed sunshine, demand diligent sun protection. The sun might feel good, but its UV rays can be silently causing harm.
Broad Spectrum SPF Recommendations
Opt for sunscreens labeled 'broad spectrum' to ensure protection against both UVA and UVB rays. Aim for an SPF of at least 30, though SPF 50 is ideal for prolonged exposure [3].
Reapplication and Maximizing Protection
Sunscreen isn't a one-time application in the morning. It's vital to reapply every 2 hours, and more frequently if swimming or sweating. Seek shade during peak sun hours (usually 10 a.m. to 4 p.m.) and wear protective clothing, like wide-brimmed hats, to complement your sunscreen.
Barrier Reinforcement
Our skin's barrier acts like a fortress, shielding us from external aggressors. Strengthening this barrier becomes all the more crucial in taxing environments.
Role of Ceramides and Fatty Acids
Ceramides are lipid molecules that fortify the skin's barrier, preventing moisture loss and keeping irritants out. Fatty acids nourish and replenish the skin, maintaining its health and resilience.
Balancing Oil Production in Dry Conditions
It's a misconception that dry climates demand heavy, oil-based products. Instead, opt for products that balance the skin's oil production, ensuring hydration without clogging pores or causing breakouts [4].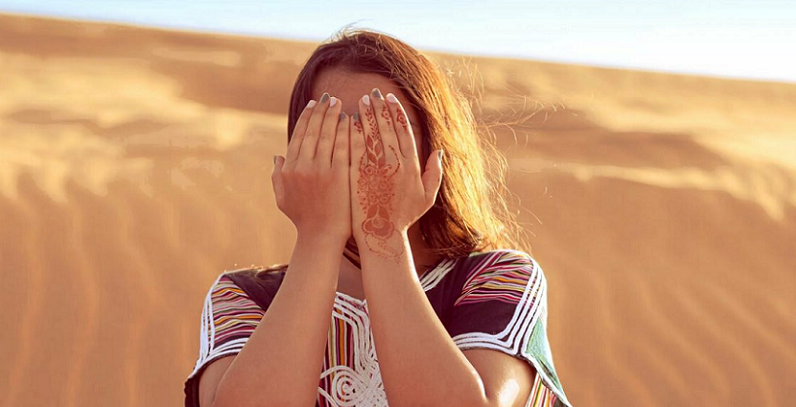 Daily Desert Skincare Routine
Stepping out into the vast expanse of a desert or any dry environment daily can seem like a daunting task for your skin. However, with a carefully curated routine that targets the specific challenges these climates pose, you can confidently face the day.
Morning Routine
Waking up to a new day in a dry climate calls for a routine that preps and protects your skin for the challenges ahead. Let's ensure your skin starts the day on the right foot.
Gentle Cleansing
Morning cleansing removes any residual products from the night before and provides a fresh canvas for the day's skincare. Opt for a hydrating cleanser that won't strip the skin of its natural oils, ensuring you retain as much moisture as possible.
Antioxidant-rich Serums
Antioxidants combat free radicals caused by environmental stressors, including sun and wind. Vitamin C is an excellent choice for morning use, as it not only fights free radicals but also brightens the complexion and can boost the efficacy of your sunscreen.
Hydrating Moisturizer
After feeding your skin with potent serums, lock in the benefits with a hydrating moisturizer tailored for dry environments. Look for ingredients like hyaluronic acid, which can hold up to 1000 times its weight in water, ensuring maximum hydration [5].
Sunscreen Application
As previously emphasized, diligent sun protection is non-negotiable. Apply a broad-spectrum SPF to all exposed areas. Don't forget often-overlooked spots like the backs of the hands, neck, and ears.
Evening Routine
Evenings are a time for repair and rejuvenation. After a day in harsh conditions, your skin craves restorative care to heal and regenerate.
Double Cleansing for Thorough Pollutant Removal
Start with an oil-based cleanser to break down sunscreen, makeup, and any pollutants. Follow with a gentle hydrating cleanser to cleanse the skin without over-drying.
Exfoliation (Frequency and Best Practices)
Exfoliating removes dead skin cells and allows for better product penetration. However, in dry climates, it's essential not to over-exfoliate. Aim for 2-3 times a week, using a mild chemical exfoliant or gentle scrub.
Night Creams and Overnight Hydrating Masks
Nighttime is when our skin does most of its repairing. Use a richer cream or an overnight mask to provide intense hydration and essential nutrients while you sleep.
References

[1] How Living in the Desert Completely Changed My Skin
[2] How To Care for Your Skin In the Desert & Dry Climates
[3] How to get soft, healthy skin in Utah's high desert climate
[4] Winter Vs. Summer Skin Care In the Desert
[5] Desert-Inspired Skin Care