Bathing Rituals of the Far East: The Skincare Secrets of Japanese Onsens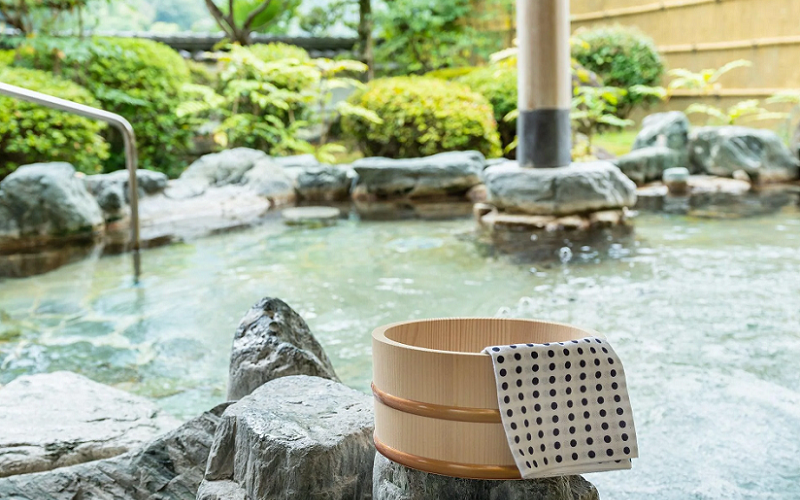 Tucked away in the heart of Japan's serene landscapes lie bubbling springs of rejuvenation — the onsens. These traditional hot spring baths are more than just a place to cleanse; they are a profound fusion of history, culture, and unparalleled skincare secrets. While the West has witnessed a surge in skincare trends and products, the East, particularly Japan, has long enjoyed the natural blessings of the earth to nurture and pamper their skin.
What is an Onsen?
Japan is sprinkled with thousands of natural hot springs, each with its distinct personality and charm. To the uninformed traveler, they might seem like luxurious hot tubs. Yet, there's so much more to the onsen experience. Let's delve deeper to understand what makes an onsen special.
Definition and Characteristics
An onsen, in its most essential form, is a natural hot spring bath that has been utilized for both therapeutic and relaxation purposes for centuries in Japan. By definition, for a bath to qualify as an onsen, the water must contain at least one of 19 designated natural minerals and be naturally heated to at least 25°C (77°F) without the aid of external heating methods. These baths are often integrated into a spa-like setting, where individuals can soak and relax, taking in the surrounding scenery, be it lush forests, snow-capped mountains, or the ocean's calming expanse.
The Natural Minerals Present in Onsen Waters
Onsen waters are renowned for their rich mineral content. These minerals, absorbed from deep within the earth's crust, are what impart the therapeutic properties to the baths. The most common minerals found in onsen waters include:
Sulphur: Known for its antiseptic properties, it's excellent for treating skin issues like acne and eczema.
Sodium Chloride: Helps to retain moisture in the skin, leaving it supple and hydrated.
Bicarbonate Salts: They soften the skin and provide a smooth texture.
Iron: Enriches the water, aiding in improving circulation and providing a unique reddish tint to certain onsen baths.
Different onsens will have varying concentrations of these minerals, and each onsen is often known for its specific dominant mineral and its accompanying benefits.
The Difference Between Onsens and Regular Hot Baths
At first glance, one might wonder how an onsen differs from any other hot bath or Jacuzzi. The distinction lies in the naturalness and authenticity of the experience. Unlike regular hot baths that are typically heated artificially, onsens are naturally warmed by geothermal energy [1].
The mineral content in onsens is unique, a gift from nature, and can't be easily replicated in artificial settings. Beyond the physical attributes, onsens also offer a spiritual and cultural immersion. The act of bathing in an onsen is not just about cleanliness; it's a ritual, a communion with nature, and an opportunity to cleanse the soul.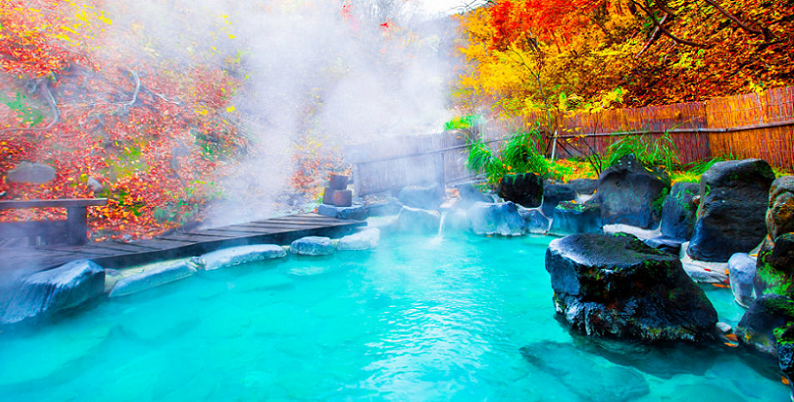 The Traditional Onsen Experience
The onsen experience is a cherished tradition, a step back in time where the hustle and bustle of modern life melt away, leaving only tranquility in its wake. This isn't simply about dipping into a hot bath; it's about embracing a holistic ritual that has been perfected over centuries. To appreciate an onsen's full allure, it's essential to understand the traditional practices and etiquettes associated with it.
Choosing the Right Onsen
Before delving into the intricacies of onsen rituals, one must first select the appropriate onsen. With Japan being home to thousands of these hot springs, the choice can be overwhelming.
Types of Onsens: Outdoor vs. Indoor
Outdoor onsens, or rotenburo, offer bathers the chance to immerse themselves in nature. Whether it's the rustling of leaves, the soft fall of snow, or the chirping of cicadas, rotenburo provides a multisensory experience. Indoor onsens, on the other hand, provide a more private, controlled environment, often with traditional architecture and serene interiors [2].
Regional Variations in Onsen Characteristics
Japan's geographical diversity means that onsens from different regions can offer varied experiences. Some are nestled in snowy mountains, while others overlook the vast ocean. Each onsen will have its unique mineral composition, temperature, and landscape, so part of the adventure is discovering which ambiance and therapeutic benefit resonate most with you.
Onsen Etiquette: Dos and Don'ts
Stepping into an onsen is akin to entering a sacred space. Respecting the etiquettes ensures a harmonious experience for all bathers.
Pre-Bathing Rituals
Cleanliness is paramount. Before entering the communal bath, one must rinse and wash their body thoroughly. Small stools and basins, along with soap and shampoo, are typically provided in washing areas for this purpose. This pre-cleansing ritual ensures that the onsen water remains pure for everyone.
The Bathing Process
Once cleaned, it's time to enter the onsen. Always do so slowly, allowing your body to acclimate to the temperature. Submerging yourself abruptly can be a shock to the system. It's important to note that swimsuits are not allowed in traditional onsens; nudity is the norm. However, bathers use a small towel to maintain a level of modesty, but remember not to soak the towel in the onsen water. Most place it on their heads or set it aside.
Post-Bathing Practices
After soaking and relaxing, there's no need to rinse off the onsen water, as you'd want the minerals to continue benefiting your skin. Once out, gently pat your skin dry without rubbing, allowing it to retain as much moisture as possible. Hydrating with water or tea is also recommended post-bath to rehydrate.
The Social Aspect of Onsen Bathing
Beyond the tangible benefits of the onsen waters, there's a social richness to this experience. Communal bathing in onsens fosters a sense of unity and connectedness. Stripped of worldly distractions and status symbols, bathers come together in a shared moment of relaxation and reflection. For many, this shared experience, coupled with the therapeutic waters, is the essence of the onsen ritual [3].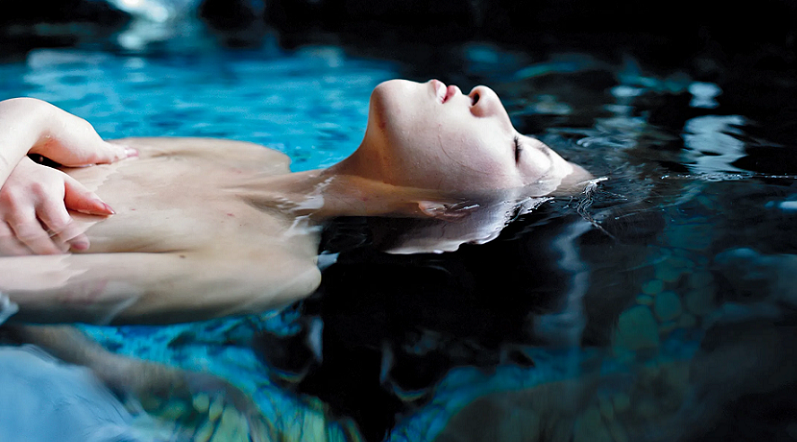 The Science Behind Onsen's Skincare Benefits
While the spiritual and relaxation aspects of the onsen experience are deeply embedded in Japanese culture, the allure of onsens extends far beyond this. The warm, mineral-rich waters promise a myriad of skincare benefits that have been vouched for by generations.
How Mineral-rich Waters Benefit the Skin
The geothermal waters of onsens naturally absorb a plethora of minerals from deep within the earth. When our skin comes in contact with these minerals, it can absorb them, leading to a host of skincare advantages.
Sulphur: For Acne and Eczema Relief
Sulphur is a natural antiseptic and antibacterial agent. When absorbed by the skin, it can help reduce inflammation and combat bacteria, making it beneficial for those with acne or eczema. The mineral also assists in promoting collagen production, aiding in skin's elasticity and youthfulness [4].
Bicarbonate Salts: For Smoother Skin
Bicarbonate salts work wonders in softening the skin. By neutralizing skin acids, they help maintain a balanced pH level, ensuring the skin remains moisturized and less prone to irritations. The result? A silky, smooth skin texture.
Iron: For Improving Circulation
Iron-infused onsen waters can enhance blood circulation when absorbed by the skin. Improved circulation means better oxygen and nutrient delivery to skin cells, leading to a radiant and refreshed complexion.
The Relaxing Properties: Stress Reduction and Skin Health
Beyond minerals, the warmth of onsen waters plays a significant role in its skincare benefits. Immersing oneself in these warm waters helps dilate blood vessels, leading to better blood flow.
Furthermore, the act of relaxation in itself can't be overlooked. Stress is a known culprit for various skin issues, from acne breakouts to premature aging. The deep relaxation onsens offer counters these effects, promoting both mental and physical well-being, which in turn reflects positively on the skin.
Enhancing Natural Detoxification and Skin Cleansing
One of the unsung heroes of the onsen experience is its detoxifying potential. The warm waters encourage sweating, which is one of the body's natural detoxification pathways. As we sweat, toxins and impurities are expelled, leaving the skin clearer and more radiant.
Additionally, the minerals present in the water can assist in deep cleansing. They help in unclogging pores and ensuring the skin remains free from dirt and pollutants, paving the way for healthier, blemish-free skin.
Incorporating Onsen Principles into Your Skincare Routine
While the allure of the onsen is undeniable, not everyone has the luxury of regular trips to these magical hot springs. Fortunately, the core principles that make onsens so beneficial for our skin can be adapted and integrated into daily skincare routines.
DIY Onsen-inspired Bathing Rituals at Home
Yearning for an onsen soak but can't make the trip? By drawing inspiration from onsens, you can craft a similarly rejuvenating experience at home.
Ingredients to Add to Your Bath
To emulate the mineral richness of onsen waters, consider adding ingredients that mimic those beneficial properties:
Epsom Salts: Rich in magnesium, they can help relax muscles and ease tension.
Sulfur Crystals: For those acne and eczema benefits, available at health stores.
Baking Soda: Acts as a bicarbonate salt substitute, softening the skin.
Iron Supplements: Can be dissolved in bath water for improved circulation benefits.
Techniques for the Best Onsen-like Experience
Temperature Regulation: Make sure the water is comfortably warm but not too hot, typically around 40°C (104°F).
Duration: Soak for 20-30 minutes to allow the body to absorb the minerals and fully relax.
Ambience: Consider using low lighting, calming music, or nature sounds to recreate the serene environment of an onsen.
Post-Bath Care: As with onsens, avoid rinsing immediately after your soak. Pat dry gently and hydrate your skin with a good moisturizer or oil.
Products Inspired by Onsen Minerals
The beauty industry has recognized the allure of onsens and has begun formulating products that capture their essence [5]. When shopping:
Look for skincare products with labels mentioning "onsen water" or "onsen minerals."
Seek out products that boast ingredients like sulfur, magnesium, bicarbonate, and iron, which are commonly found in onsen waters.
Brands that highlight traditional Japanese ingredients and methods often integrate onsen-inspired benefits into their formulations.
Maintaining a Holistic Approach: Diet, Hydration, and Relaxation
Remember, the magic of the onsen experience isn't just about the water; it's the holistic approach to well-being.
Diet: Incorporate foods rich in minerals and antioxidants to complement your external skincare efforts. Think leafy greens, berries, nuts, and seeds.
Hydration: Drinking ample water supports skin health from the inside out. Consider infusions with herbs or fruits to enhance mineral intake.
Relaxation: Embrace relaxation techniques like meditation, deep breathing, or even regular baths to keep stress at bay, promoting better skin health.
References

[1] Japanese Skin Care: Onsen Hot Spring Beauty Secrets Almost Every Japanese Woman Follows
[2] Japanese wellness methods that can transform your skin
[3] A Day In A Japanese Onsen
[4] 7 Japanese Beauty Secrets You Can Start Using Right Now
[5] 5 Japanese Skin Care Tips You Need To Know