Piercing Care: Skincare for Punctured Skin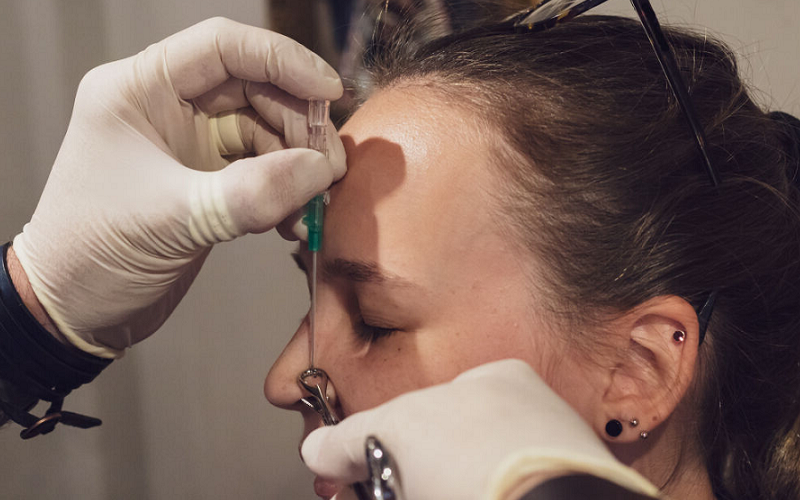 Piercings are more than just a fashion statement — they're a form of self-expression, a rite of passage, and a testament to our ability to endure a bit of pain for the sake of beauty. However, the journey doesn't end once the needle has done its job. Proper care of your new adornment is crucial, not just to keep it looking its best, but to ensure your skin remains healthy and infection-free. Whether you're a piercing veteran or someone considering their first piece of body art, understanding the skincare for punctured skin is paramount.
The Physiology of Punctured Skin
Piercings, at their core, involve creating a puncture wound in the skin. To best care for this specialized wound, it's essential to understand the body's natural healing process. From the moment the needle pierces the skin, your body kicks into action, setting off a series of physiological responses.
Understanding the Skin's Healing Process
The skin, our body's largest organ, has an intrinsic ability to heal itself. When the skin is punctured, whether by accident or design, it follows a systematic healing procedure.
Inflammatory Phase
This is the initial response. The body sends white blood cells to the piercing site to fend off potential infections. This is why the area around a fresh piercing may appear red and feel warm or swollen.
Proliferative Phase
New skin cells start forming around the wound. Collagen, a protein essential for skin strength and elasticity, is produced. This phase can last several weeks and is when the piercing might feel itchy—a sign of healing.
Maturation Phase
This is the final stage and can last from several months to years. The collagen restructures itself, and the wound fully closes. For piercings, this is when the channel created by the needle becomes a permanent fixture, allowing jewelry to sit comfortably.
How Piercings Impact the Skin's Integrity
While piercings are designed interventions, they're still a disruption to the skin's natural barrier. Here's how they affect skin integrity.
Introduction of Foreign Material
The body recognizes the jewelry as a foreign object. This can cause an initial inflammatory reaction, even with hypoallergenic materials [1].
Increased Risk of Infection
The piercing creates an open channel, making it easier for bacteria and other pathogens to enter, especially if the piercing is not kept clean.
Potential Allergic Reactions
Even metals labeled "hypoallergenic" can sometimes cause reactions in certain individuals. Monitoring for prolonged redness, itching, or swelling can help in early detection.
Scar Tissue Formation
Especially in cases where the piercing becomes infected or is subjected to undue stress (like pulling or tugging), the body may produce scar tissue, which can affect the appearance and feel of the piercing.
Immediate Aftercare for Fresh Piercings
The moments, days, and weeks immediately following a piercing are crucial for its longevity and health. As exhilarating as the experience might be, a fresh piercing is essentially an open wound that requires diligent care. By paying attention to this immediate post-piercing phase, you can set the stage for a smooth healing process and avoid common complications.
Cleaning Essentials: Saline Solution and Antiseptics
The paramount rule for any new piercing is keeping it clean. But not all cleaning solutions are created equal.
Saline Solution
A saline (salt water) solution is gentle yet effective. It mimics the body's natural salinity, helping to cleanse the area without causing irritation. Most piercers recommend using a warm saline solution to rinse the area at least twice a day. You can purchase pre-made saline solutions or make your own by mixing a teaspoon of sea salt in a cup of warm distilled water.
Avoiding Alcohol and Hydrogen Peroxide
These might be common in wound care, but they're not ideal for piercings. They can be overly drying and can delay the healing process. Stick to saline for best results.
How to Clean
Using a clean cotton ball or gauze, gently apply the saline solution to the pierced area. Do not rotate or play with the jewelry, as this can introduce bacteria and cause trauma to the healing skin.
Avoiding Common Irritants: Alcohol, Hydrogen Peroxide, etc.
Fresh piercings can be sensitive, and certain substances can exacerbate this sensitivity.
Cosmetic Products
Be cautious with makeup, lotions, and perfumes around the pierced area. They can cause irritation or even lead to infections if they clog the piercing channel [2].
Physical Irritants
Avoid sleeping on the side of a fresh ear or facial piercing, as the pressure can cause pain and delay healing. Also, be cautious with clothing, towels, or hair that might snag on the jewelry.
Environmental Irritants
Swimming pools, hot tubs, and even lakes or oceans can introduce harmful bacteria to your piercing. It's best to avoid these until the piercing is fully healed.
Recognizing Normal vs. Abnormal Healing
While everyone's body is unique, there are common signs that can help you differentiate between typical healing processes and potential problems.
Normal Symptoms
Mild redness, a sensation of heat, and some swelling are common in the first few days. A whitish-yellow liquid (not pus) might form a crust around the jewelry—this is lymph fluid, a part of the healing process.
Signs of Complications
Persistent redness, dark yellow or green pus, excessive swelling, a radiating heat, or intense pain could indicate an infection. If you suspect your piercing is infected, seek medical attention and contact your piercer for advice.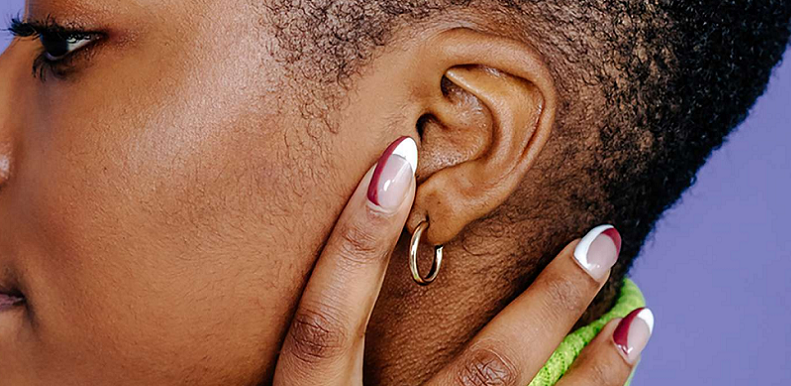 Skincare Routines for Punctured Skin
Just as you curate skincare routines to cater to your skin type and concerns, punctured skin from piercings demands its unique regimen. This is to ensure the health of the piercing and the surrounding skin. As time progresses from the day of the piercing, aftercare transitions from a reactive approach to more of a maintenance and preventative strategy.
Daily Cleansing
Keeping the Area Clean without Over-Cleaning
Maintaining cleanliness around your piercing is crucial, but there's a balance to strike. Over-cleaning can strip the area of natural oils, leading to dryness and irritation.
Routine Cleaning
Even after the initial healing phase, it's essential to keep the piercing site clean. Gently cleanse the area with a saline solution once a day, especially if it has been exposed to sweat, makeup, or other potential irritants [3].
Avoid Harsh Cleansers
Strong soaps or facial cleansers with active ingredients like retinoids or alpha hydroxy acids can irritate the piercing. Opt for gentle, fragrance-free cleansers when washing your face or body.
Pat Dry
After cleansing, always pat the area dry with a clean, lint-free cloth or paper towel. This prevents moisture from getting trapped, which can encourage bacterial growth.
Moisturizing
Finding Piercing-Safe Lotions and Ointments
Hydration is key, even for pierced skin. However, it's essential to be selective with the products you use.
Opt for Hypoallergenic
Just as you'd choose hypoallergenic jewelry, go for moisturizers that are free from common allergens and irritants.
Avoid Petroleum-Based Ointments
While these can feel soothing, they can trap bacteria against the skin. Instead, use lightweight, breathable moisturizers.
Application
When moisturizing around the pierced area, be gentle. Avoid excessive tugging or pulling, and ensure the moisturizer doesn't clog the piercing.
Protection: Keeping the Piercing Shielded from External Harm
A piercing, though small, is still a vulnerable spot on your body. It's essential to safeguard it from potential hazards.
Sun Protection
Just like the rest of your skin, the pierced area can be damaged by UV rays. If the piercing is in an exposed area, use sunscreen or protective clothing to shield it.
Physical Barriers
During activities where there's a risk of snagging or trauma—like certain sports or even sleeping—consider using breathable bandages or other protective gear [4].
Avoiding Contaminants
Be mindful of environments that might expose your piercing to contaminants. This includes dirty water, excessive dust, or chemicals.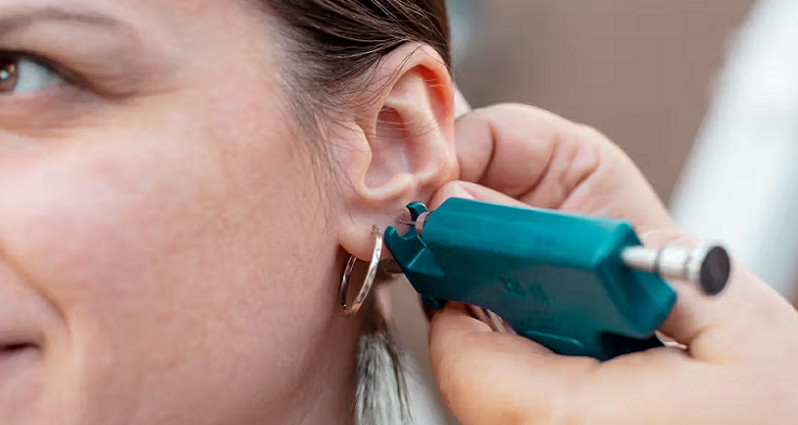 Potential Complications and Solutions for Punctured Skin
No matter how meticulously we care for our piercings, the body can sometimes respond in unpredictable ways. Recognizing potential complications early can be the difference between a minor setback and a significant issue. By understanding these complications, you're better equipped to address them swiftly and effectively, ensuring your piercing remains a positive addition to your aesthetic.
Infections: Causes, Symptoms, and Treatments
Infections are among the most common concerns with fresh piercings, but they can occur even after the piercing seems to have healed.
Causes
Infections often result from introducing bacteria or other pathogens to the piercing. This can come from touching the piercing with unwashed hands, exposure to contaminated water, or using unsanitary jewelry.
Symptoms
While some redness and swelling are normal in the days following a piercing, persistent symptoms might indicate an infection. Other signs include dark yellow or green pus, increased heat around the piercing, sharp or throbbing pain, and an unpleasant odor.
Treatments
If you suspect an infection:
Continue cleaning the area with saline solution.
Avoid removing the jewelry, as this can cause the piercing to close up with the infection trapped inside.
Consult with your piercer and seek medical attention. A healthcare professional may prescribe antibiotics or recommend other treatments.
Migration and Rejection: Understanding and Mitigating Risks
Not all piercings stay put. Sometimes, the body tries to "eject" or move the foreign object.
Migration
This is when the piercing moves from its original position but doesn't exit the body completely. While slight movement is common in the initial days, significant shifts can change the piercing's appearance or cause discomfort [5].
Rejection
This is more severe than migration. The body pushes the jewelry out of the skin entirely, similar to how a splinter might be ejected over time.
Mitigation
To reduce the risk of migration or rejection:
Ensure you're pierced with the appropriate jewelry type and material for the specific piercing location.
Avoid trauma or constant pressure on the piercing.
Monitor the piercing regularly and consult your piercer if you notice significant movement.
Keloids and Scarring: Prevention and Remedies
Scarring can sometimes occur, especially if the piercing experiences trauma or infection.
Keloids
These are raised scars that grow larger than the original wound. They can be itchy, painful, and are more common in individuals with darker skin tones.
Hypertrophic Scars
These are similar to keloids but stay within the boundary of the wound. They can manifest as raised bumps around the piercing.
Prevention and Treatment
To prevent scars:
Follow aftercare instructions diligently.
Avoid unnecessary trauma or pressure on the piercing.
If scarring does occur:
Silicone gel sheets or ointments can help reduce the appearance.
In more severe cases, consult a dermatologist for treatments like steroid injections or surgical removal.
References

[1] Caring for New Piercings
[2] How to Take Care of a New Piercing, According to a Professional Piercer
[3] How to Care for a New Piercing, According to Dermatologists
[4] Cleaning and Healing of Pierced Body Parts
[5] Piercings: How to prevent complications