Post-Op Glow: Skincare After Cosmetic Surgery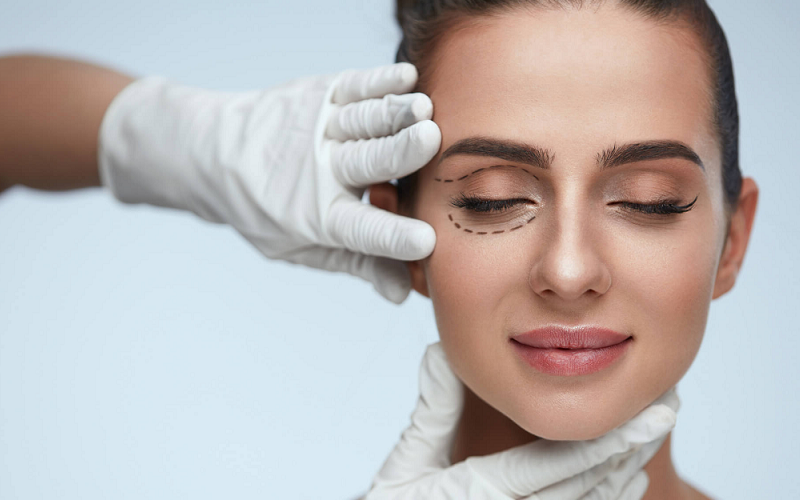 In the realm of beauty and self-expression, cosmetic surgery has paved the way for countless individuals to feel more confident in their skin. However, the journey doesn't end once you leave the operating room. Ensuring that your skin heals beautifully and maintains its radiance is crucial. Here we explore the intricacies of post-operative skincare, shedding light on how to nurture your skin after surgery, minimize scarring, and achieve that sought-after post-op glow.
Why Post-Op Skincare is Different
Embarking on a cosmetic surgery journey is both exciting and nerve-wracking. It's a bold step towards transformation and, in many cases, a realization of self-confidence. But the post-operative period demands its own unique attention. To nurture our skin effectively, we must first understand why post-op skincare stands apart from our routine regimens.
Skin Sensitivity After Surgery
Following any surgery, your skin is bound to react. This sensitivity often results from the trauma your skin undergoes during the procedure, regardless of how minimally invasive it may be.
Incisions and Bruising
Where incisions are made, the skin is particularly vulnerable. These areas may be prone to swelling, tenderness, and bruising.
Anesthesia Effects
Anesthetics, whether local or general, can cause skin to react differently for a short while. Some individuals might notice drier skin, while others might experience bouts of oiliness.
Protective Barrier Disruption
The skin's natural barrier may be compromised post-surgery. This barrier keeps harmful agents out and moisture in, and a disruption means your skin may be more susceptible to irritation and dryness.
The Post-Op Healing Process and Its Demands
The skin's journey to recovery post-surgery is an intricate one, and understanding its demands can make all the difference.
Increased Need for Moisture
Healing skin can often be drier, necessitating richer moisturizing products.
Blood Flow and Nutrition
As the skin heals, there's an increased flow of blood to the affected areas. This is the body's natural response, supplying the skin with nutrients to repair itself. However, this can sometimes result in prolonged redness or warmth in the area [1].
Formation of New Skin Cells
Your body will work overtime to produce new skin cells, especially if there's been any loss of skin. This rapid turnover might leave the surface layer of your skin feeling rougher than usual.
Potential for Post-Op Scarring
Scarring is a concern for many post-op. The body's response to an incision is to heal, and sometimes this healing process can result in scar tissue.
Types of Scars
While some scars remain flat and are hardly noticeable, others can be raised (hypertrophic) or even sunken (atrophic). Some might even grow larger than the original injury (keloids).
Factors Affecting Scar Formation
Genetics play a role, but so do factors like age, skin type, and the location of the surgery. Additionally, how one cares for the wound post-surgery can significantly impact scar formation.
Evolution Over Time
Scars tend to evolve. They might start off red and raised but can fade and flatten out over time with proper care.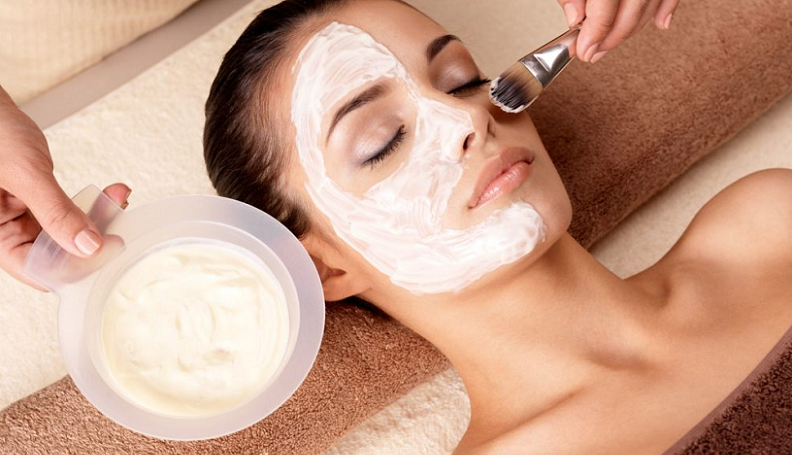 Immediate Post-Op Skin Aftercare: The First 48 Hours
The first two days post-surgery are crucial in setting the stage for your skin's recovery journey. These initial hours can significantly impact how your skin heals, its resilience against potential complications, and the overall results of your procedure. By understanding and implementing an effective immediate aftercare regimen, you are ensuring a smoother recovery and paving the way for that coveted post-op glow.
Importance of Keeping the Area Clean
In the immediate aftermath of surgery, the primary concern is preventing infection, and the cleanliness of the surgical site is paramount.
Recommended Cleansers
Mild, Non-irritating Cleansers: Opt for gentle, soap-free cleansers. Brands like Cetaphil and Vanicream, for instance, offer cleansers that can cleanse without stripping the skin of its natural oils.
Saline Solution: Often recommended by surgeons, a simple saline solution can be used to keep the surgical area clean. It's gentle and mimics the body's natural pH.
Technique to Avoid Irritation
Pat, Don't Rub: When cleaning the area, use soft patting motions. Rubbing can cause further irritation or even dislodge stitches or staples.
Use Lukewarm Water: Avoid extremes in water temperature. Hot water can be irritating, and cold water might be uncomfortable. Lukewarm water is gentlest on healing skin.
Air Dry or Soft Cloth: After cleansing, either let the area air dry or use a soft, clean cloth to pat dry gently.
Moisturizing and Hydrating
Hydration is key to the healing process. Moisturized skin can heal more efficiently and with less noticeable scarring.
Products to Consider
Hyaluronic Acid Serums: This naturally occurring molecule can hold up to 1000 times its weight in water, making it a top choice for hydration. Look for serums that list hyaluronic acid as a primary ingredient.
Fragrance-Free Moisturizers: Fragrance can be an irritant, especially on sensitive post-op skin. Brands like Cerave or Eucerin offer great fragrance-free options.
Ingredients to Avoid
Alcohol: Can be drying and irritating.
Retinoids: These can be too harsh for freshly post-op skin.
Acids (like glycolic, salicylic, etc.): These can be irritating and are best avoided during the initial recovery phase.
Sun Protection
The importance of sun protection post-surgery cannot be stressed enough. Freshly operated skin is particularly susceptible to sun damage, which can lead to complications and more visible scarring [2].
Why It's Essential Post-Op
Hyperpigmentation Risks: New skin is more prone to discoloration when exposed to the sun. Keeping it protected can prevent uneven skin tone.
Scar Protection: Sun exposure can darken scars, making them more noticeable.
Choosing the Right SPF
Broad Spectrum: Ensure the sunscreen protects against both UVA and UVB rays.
SPF 30 or Higher: Dermatologists typically recommend SPF 30 as a daily minimum, but higher is even better for post-operative care.
Physical Sunscreens: Ingredients like zinc oxide or titanium dioxide offer physical barriers to sun rays and are often less irritating than chemical sunscreens.
Skincare in the Weeks Following Surgery
Once you've navigated the crucial first 48 hours post-surgery, the journey of healing continues. The subsequent weeks see your skin gradually regaining its strength, resilience, and vibrancy. However, this period still requires a specialized approach to skincare. By adapting to the evolving needs of your post-operative skin, you can ensure a smoother healing process and better overall results.
Exfoliation: When and How
Exfoliation might seem counterintuitive in the weeks following a procedure, but as your skin starts to heal, it may benefit from gentle exfoliation. This helps remove dead skin cells and facilitates smoother skin texture. But remember, timing and technique are everything [3].
Gentle Exfoliation Techniques
Manual Exfoliation: Soft washcloths or silicone facial brushes can be effective for gentle exfoliation. The key is to be incredibly gentle and avoid any vigorous rubbing.
Enzymatic Exfoliators: Products with ingredients like papain (from papaya) or bromelain (from pineapple) can gently dissolve dead skin cells without abrasive action.
Products to Consider and Those to Avoid
Choose: Look for products specifically labeled as "gentle" or "for sensitive skin." Hydrating exfoliants with ingredients like lactic acid can be mild enough for post-op skin.
Avoid: Strong chemical exfoliants like high-concentration glycolic acid, or physical exfoliants with coarse particles, should be avoided in the early weeks to prevent irritation.
Maintaining Moisture Levels
As your skin continues its recovery, maintaining optimal hydration levels remains a priority. Ensuring your skin stays moisturized aids in cell regeneration and minimizes the chances of dryness-induced complications.
Intensive Hydration Products
Rich Creams and Ointments: Products like Aquaphor or Eucerin can provide a protective barrier and intense moisturization.
Sheet Masks: Hydrating sheet masks can offer both hydration and relaxation. Opt for those with calming ingredients like aloe vera or chamomile.
Importance of Humectants and Emollients
Humectants: Ingredients like hyaluronic acid, glycerin, and urea draw moisture into the skin.
Emollients: Ingredients such as ceramides, fatty acids, and oils help smooth skin and retain moisture. They play a key role in reinforcing the skin's natural barrier during the healing process.
Addressing Potential Redness and Irritation
It's not uncommon for skin to display signs of redness or minor irritation as it heals. Recognizing and addressing these symptoms promptly can enhance your comfort and skin health.
Soothing Ingredients
Aloe Vera: Known for its cooling and calming properties, aloe vera can be a godsend for irritated skin.
Chamomile and Calendula: These botanicals have natural anti-inflammatory properties that can alleviate redness and soothe the skin.
Avoiding Common Irritants
Fragrances and Dyes: Always opt for fragrance-free products in these weeks. Dyes can also be potential irritants and are best avoided.
Strong Actives: Ingredients like retinol, benzoyl peroxide, and high-strength vitamin C might be too intense during this recovery phase.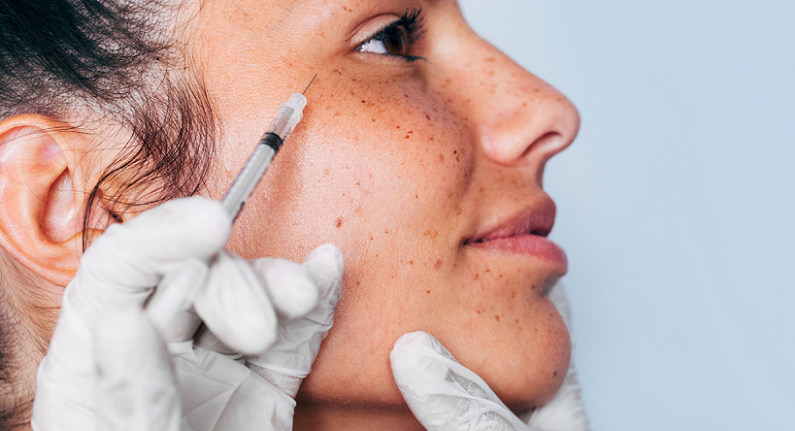 Minimizing Scarring Post-Op
Scarring is a natural part of the body's healing process. However, for many individuals who undergo cosmetic surgery, the prospect of noticeable scars can be a concern. While some scarring may be inevitable, there are several steps you can take in the post-operative weeks and months to minimize their appearance and improve the skin's overall texture. By understanding the factors that influence scar formation and implementing targeted treatments, you can significantly reduce the prominence of post-surgical scars.
Factors Influencing Scar Formation
Before delving into the treatments, it's crucial to understand the variables at play when it comes to scarring. By being aware of these factors, you can tailor your skincare approach more effectively [4].
Skin Type and Genetics
Some skin types, particularly darker complexions, may be more prone to certain types of scars, such as keloids. Additionally, genetics can play a role; if family members are prone to pronounced scarring, you might be too.
Surgical Technique and Location
The type of incision, its depth, and its location can all impact scar formation. For instance, incisions in areas with high skin tension (like the chest) might produce more noticeable scars.
Post-Op Care
The way the surgical wound is cared for post-operation has a significant impact. Infections, undue tension, or premature removal of sutures can all influence scar development.
Topical Treatments for Scar Reduction
Numerous topical treatments are designed to reduce the appearance of scars. However, always consult with your surgeon or dermatologist before applying any product directly to the surgical site.
Silicone Gel Sheets
Silicone has been shown to hydrate the skin surface, leading to softer and flatter scars. Silicone sheets can be applied over the scarred area to promote healing and minimize texture.
Scar Reduction Creams
Products containing ingredients like onion extract (found in brands like Mederma) can aid in reducing scar prominence.
Vitamin E
While its efficacy in scar reduction is still debated, some individuals find that gently massaging vitamin E oil onto scars helps improve their appearance.
Advanced Scar Treatments
For scars that are raised, recessed, or particularly noticeable, more advanced treatments might be required. It's essential to work closely with a dermatologist or your surgeon for these interventions.
Laser Therapy
Lasers can resurface the skin and improve the texture, color, and overall appearance of scars.
Steroid Injections
For hypertrophic scars or keloids, steroid injections can help flatten and reduce them.
Microneedling
This procedure involves using tiny needles to puncture the skin and stimulate collagen production, which can improve scar appearance.
Fillers
For atrophic scars (those that are sunken), dermal fillers can be used to elevate the skin and bring it level with the surrounding area.
The Role of Sun Protection in Scar Care
Sun exposure can darken scars and make them more noticeable, especially during the initial months when they're still maturing.
Using SPF
Regularly applying sunscreen to the scarred area can prevent discoloration. Opt for a broad-spectrum sunscreen with an SPF of at least 30.
Physical Barriers
If possible, shield the scarred area with clothing or bandages, especially if you'll be out in the sun for prolonged periods.
Nourishing From Within: Diet and Supplements for Post-Op Skincare
While external skincare post-operation is undeniably essential, what you nourish your body with internally plays a significant role in the healing process. Adopting the right diet and considering specific supplements can boost recovery, improve skin health, and potentially reduce complications. It's a holistic approach to post-operative care, emphasizing that what we put into our bodies is just as crucial as what we apply to our skin.
Dietary Choices for Enhanced Recovery
Eating a balanced diet rich in certain nutrients can expedite wound healing, reduce inflammation, and promote overall skin health. It's about providing your body with the building blocks it needs during this critical recovery phase [5].
Protein
Essential for tissue repair and regeneration. Incorporate lean meats, fish, eggs, legumes, and tofu into your diet.
Omega-3 Fatty Acids
These help reduce inflammation and can be found in fatty fish like salmon, walnuts, chia seeds, and flaxseeds.
Vitamin C
Crucial for collagen production, a component vital for wound healing. Citrus fruits, strawberries, bell peppers, and broccoli are excellent sources.
Zinc
This mineral plays a role in cell growth and immune function. You can find it in nuts, seeds, whole grains, and lean meats.
Hydration
Drinking plenty of water supports all bodily functions, including skin health. Aim for at least 8 cups a day, more if you're active or in a hot environment.
Beneficial Supplements for Skin Health
While it's best to derive nutrients from whole foods, certain supplements can support the healing process. Before introducing any supplement, it's crucial to consult with your healthcare provider, especially in the context of recent surgery.
Collagen
Often hailed for its skin benefits, collagen supplements can potentially support the skin's structure and enhance its elasticity.
Bromelain
Found naturally in pineapples, bromelain is believed to reduce swelling, bruising, and pain post-surgery.
Vitamin E
Known for its antioxidant properties, vitamin E can help protect skin cells and potentially improve scar appearance when taken orally.
Probiotics
Maintaining a healthy gut can indirectly benefit skin health. Probiotics can help balance the gut flora, potentially reducing inflammation and promoting overall wellbeing.
Foods and Supplements to Avoid Post-Surgery
Just as certain foods and supplements can aid in recovery, others might hinder the process or increase the risk of complications.
Salt
Excessive sodium can lead to increased swelling. It's wise to limit salt intake in the initial weeks post-surgery.
Sugar
High sugar intake can impair immune function and potentially delay wound healing.
Certain Supplements
Some, like vitamin E (when taken in large doses), gingko biloba, ginseng, and garlic, can increase bleeding risk. Always consult with your surgeon about any supplements you're considering or currently taking.
References

[1] Taking Care of Your Skin After Plastic Surgery
[2] Skin Care Management For Medical And Aesthetic Procedures To Prevent Scarring
[3] Cosmetic Surgery & Skincare
[4] Skin Rejuvenation and Resurfacing
[5] Cosmetic Care