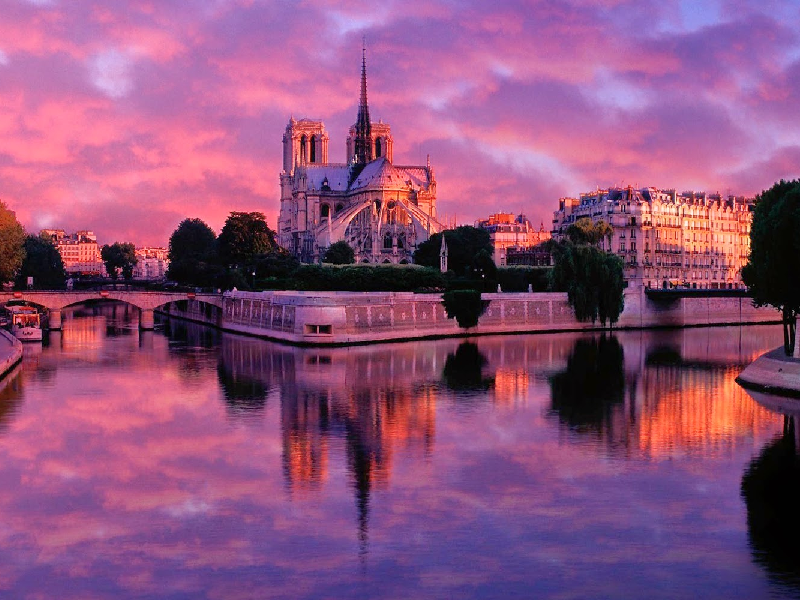 The Global Language Monitor, the media-analytics company that publishes the Top Global Fashion Capitals list, announced this year's Top Global Fashion Capitals in New York City on September 8th. To no one's surprise, Europe dominated with a whopping seven cities placing in the top ten.
You may ask what this has to do with travel? Fashion is an integral part of a city's culture and the trends seamlessly tie back into other elements of the culture. For example, Tokyo has a much different fashion scene then Los Angeles because these cities have two very different cultures. Europe, in particular, has a long legacy of fashion, going back to Marie Antoinette and Queen Elizabeth.
If you're anything like me, you get excited observing a destination's fashion scene and make time to drop by some of the shopping centers to get a quick retail fix, or "souvenirs" as I like to call them. Maybe you even read up on current trends for that city to help you pick what outfits to pack. That's why we decided to compile a list of the Top 5 European cities for the globetrotting fashionista.
Berlin
Berlin came out of left field as the eclectic newcomer to the list of Fashion Capitals. Definitely the more alternative of the other European contenders, Berlin is now the 8th Global Fashion Capital. The best way to describe fashion out of Berlin is innovative and creative. Berlin's style is like abstract art with it's outside-the-box silhouettes, urban flair, and funky patterns. There's not one specific look for Berlin, it's a melting pot of unique tastes that play to the new diverse vibe that emerged post the Berlin Wall coming down. Some notable designers from Berlin include: Karl Lagerfeld, Lala Berlin, Kaviar Gauche, and Vladimir Karaleev.
Unlike the other cities on this list, Berlin doesn't have a particular shopping district. Definitely stop by Hackescher Markt for cool finds at their weekly clothing flea-market. Just north of Hackescher Markt you'll find popular streetwear brands along Rosenthaler Strasse and Munzstrasse. The neighborhood Kreuzberg has a lot of local favorites, like Voo, and some trendy boutiques.
Milan
What do you get when you combine top quality materials and glamorous streetwear? Italy's fashion mecca, Milan. This beautiful metropolis has a long history of textile production and expert craftsmanship dating back to the 19th century. Milanese fashion is said to be influenced by the Haute Couture movement in Paris, but they made their own way by toning down the extravagance of couture and concentrating on prêt-à-porter or ready-to-wear fashion. Milan is home to some of the biggest brands in fashion including: Valentino, Gucci, Versace, Prada, Armani, Moschino and Dolce & Gabbana.
Milan boasts some of the most amazing shopping avenues and plazas your eyes will ever behold. The Galleria Vittorio Emanuele II, built in 1877, is one of the oldest shopping plazas in the world. The architecture is absolutely gorgeous with old world elegance, two glass-vaulted ceilings, and exquisite wall murals. The Quadrilatero della Moda, one of Vogue's favorite shopping districts, is the center for high-end designer shops. These elegant streets are lined with world-renowned designer storefronts and crowds of well-dressed fashion lovers from around the world (usually rocking designer stilettos). You might even run into some celebrities getting their designer fix. More into bohemian threads? Then visit the Brera district for independent shops and chic boutiques.
London
London, like Paris, has a long history of dominance in fashion dating back to the slim silhouettes and adorned headpieces of Queen Elizabeth. London's influence in fashion was amplified in the 60's, during the "Swinging London" era. Post World War baby boomers influenced by the music and party scene of the city, began experimenting with block colors and shorter hemlines. This style of fashion become known as mod, an abbreviation of the word "modern."
Mod fashion was so influential that it spread from London to the rest of the world, before globalization was even a thing. In the 70's, London turned heads once more as punk rock fashion, born in underground rock bars, which took the world by storm.
With popular designers like Alexander McQueen and Burberry, London is still a mecca of global fashion. Even the Duchess of Cambridge, Kate Middleton, is an international fashion icon. When travelling to London make sure to consider a luxury train ride as an option.
So, where should you go in London for some cool threads? Camden Market should be at the top of your list, especially if you're into unique pieces and scoping alternative trends. You can shop for a range of apparel and accessories from vintage, to clubwear, to punk. People watching is highly recommended in Camden Market. You'll see so many different clothes, hairstyles, tats, piercings, the whole nine yards.
Next stop: Soho! Soho has recently been going through commercialization with big chain stores opening up, but the boutique shops and designers that made this neighborhood a fashion district of London give the neighborhood it's lasting charm. You can get great deals on cheap streetwear, get some art-deco inspired statements pieces, or shop London essentials in quaint boutiques. Soho also boasts lots of trendy bars, so you can get a nice drink after a delightfully exhausting day of shopping.
Paris
Home of Coco Chanel, Dior and Yves Saint Laurent, Paris has a long legacy in fashion dating back to the inception of Haute Couture in the 18th century. Paris doesn't just reign based on legacy: the fashion scene and couture houses have stayed relevant thanks to their ability to evolve with globalization. The designers of Paris have a strong understanding of changing tastes and are pros at starting trends.
Paris has a shopping scene for a diverse array of fashionistas. Into unique vintage pieces? Hit up The Saint-Ouen flea market, which dates back to the 19th century; the mecca for vintage clothes and accessories. Love designers and high-end fashion? Check out Avenue Montaigne and the Champs-Elysées for Chanel, Dior, and trendy chains like Zara. Prefer to check out the major chain shops and trendy boutiques? The huge underground mall in Rivoli, "Le Forum des Halles" is a must-go.
Barcelona
Unlike the previous three fashion capitals, Barcelona doesn't have a long history as a fashion capital, but has been taking the fashion world by storm in the past decade. Barcelona first appeared on the Top Global Fashion Capitals list in 2007, and has held a spot in the top 25 ever since. As the homebase of global brands like Balenciaga, Desigual, Zara, and Mango, Barcelona has been transformed into a top fashion Europe. This city emphasizes the art of dressing down and is much more casual (and affordable) than Milan or Paris. Think hotpants and wedges over pencil skirts and stilettos.
Barcelona has a huge sale every summer with ridiculous price cuts on their most popular chain stores (many boutiques participate as well). The sales start the first week of July and end in August. Europeans flock to Barcelona for these sales so try to get there in early July to pick from the cream of the crop. You can find all the major designer stores, from Valentino to Mango, on Passeig de Gràcia, a landmark avenue for the city. The awesome thing about Passeig de Gràcia is that you can find an apparel for any budget!
Another area you have to visit it Las Ramblas near Plaza de Catalunya. You'll find chain stores like Zara, chic boutiques, and second-hand stores all on the main street, La Rambla, or on one of the many smaller streets that are off it.